Do other bloggers ruin things for you when reading? I don't mean blogger hype, which I talked about last week/many times before, but I mean actually ruin or change your opinion on certain aspects of books or plot devices.
The biggest one for me is love triangles.
Before I started blogging, love triangles honestly never bugged me that much. I thought it was a semi-interesting way to add some drama into the plot. For me, the real winner of the love triangle is always clear from the beginning. Did anyone actually think Bella would end up with Jacob instead of Edward? No. Come on. The second guy in a love triangle is just thrown in to cause some conflict. Is this a cliched plot device? Sure. Did it really bother me? Nah. Then, I joined the blogging world, and pretty much found that my love triangle opinion was wrong.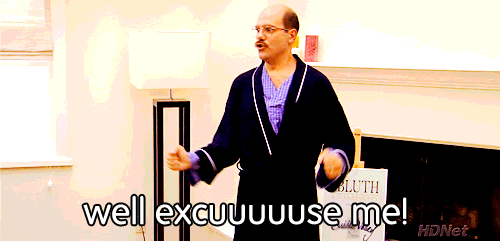 I get why people hate them. They're done too often. They're never done right. They're a cliche. They cause unnecessary drama… The list goes on. It sucks for me now because whenever I read a book about love triangles, I can't help but think of these other bloggers. Their negative opinion has become my opinion and my first thought when reading these books. It sucks! So many books are ruined for me because I can't get that out of my head. People have SUCH strong opinions about them that I can't help but think my opinion is just wrong.
I'm sorry to say to all of the hopeless romantics out there – love triangles happen in real life. They really do. Maybe it hasn't happened to you personally, but I can almost guarantee it's happened to someone you know. Maybe the person has been in a relationship for a really long time and they're suddenly a LITTLE attracted to someone else. Maybe the moment passes; no harm, no foul. Maybe the person acts on it. I'm not saying I agree that it's okay to cheat or give in to feelings like that, but that doesn't mean it doesn't happen.
Books, no matter what genre, offer some picture of real life.
Even fantasy or paranormal books have many elements that the reader can relate to because no matter what, people are people. They fall in and out of love, they have happy and sad moments, they have fights with their friends and family, etc… no matter what kinds of books you read, you'll come across basic human emotions and actions in the characters (even if they're a witch or a zombie or a robot). I want to see some semblance of reality in the books I read so that I can relate to them while being entertained.
Let it be known that it's not my favorite plot device and I DO generally avoid them and dislike them.
If the main character is conflicted between two people, I'm not going to scream and throw the book out the window. I'll read the story and figure out what's going on. If the love triangle is full of insta-love AND if it's written poorly as just a plot device to add unnecessary drama for an otherwise happy couple, I will run the other direction. All in all, my personal opinions have certainly been changed a bit from other bloggers and I'm afraid of being judged by them for liking a book that had a love triangle. The point of this Musing Monday is to just point out that in a lot of instances, bloggers can impact each other's opinions on SO many things. I just need to remind myself that everyone is allowed to have different opinions and to stick to my guns, instead of hiding behind the popular opinion.
---
Musing Mondays is a meme at Should Be Reading, where we respond to one of these questions: describe one of your reading habits; talk about a book you recently bought (for yourself or for someone else) and why; discuss the book you're currently reading and your thoughts on it; talk about a rant or complaint about the industry, books, or reading in general; or discuss anything else related to books. My archives can be found here.
Related Posts