The Maze Runner by James Dashner
Read my review of the book here.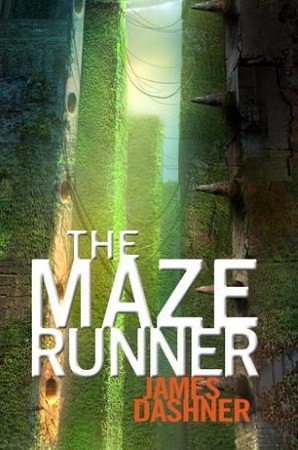 True to Book: 
Casting: 

Enjoyability: 
Overall Score: 

Goodreads Book Plot Summary:
If you ain't scared, you ain't human.
When Thomas wakes up in the lift, the only thing he can remember is his name. He's surrounded by strangers—boys whose memories are also gone.
Nice to meet ya, shank. Welcome to the Glade.
Outside the towering stone walls that surround the Glade is a limitless, ever-changing maze. It's the only way out—and no one's ever made it through alive.
Everything is going to change.
Then a girl arrives. The first girl ever. And the message she delivers is terrifying.
Remember. Survive. Run.
---

I'm not happy. Aside from the general outline of the plot, this was nothing like the book. The way events transpired was just…not the same. I'm okay with creative liberties being taken when needed, but it just makes a movie very hard to watch when you're literally taking notes on what is different from the book.
Be cautious with reading this review if you haven't read the book yet. Mild spoilers ahead.
True to the Book
Just no. Not at all. Some things may seem nitpicky, but I really wanted to record everything so that I could show just how many differences there were. Here are all the ways (that I could remember!) the movie failed compared to the book:
Movie: Thomas didn't remember his name until he randomly starts fighting with Galley. Book: Galley and him didn't tussle at their random party (because there was no party/gathering) and Thomas remembers his name the second he pops out of the hole.
Movie: They all lived in random hammocks and huts. Book: They had the homestead where everyone lived and slept.
Movie: A group of guys go back into the maze to track down the griever and see what they can salvage from it. They pull out a random tank thing that is going to apparently save their lives later. Book: Just not even a thing.
Movie: Theresa arrives. There is no telepathy between her and Thomas. Book: Theresa arrives with "wicked is good" written on her arm, which is kinda important. There is telepathy between her and Thomas, which is also important.
Movie: The maze is separated into quadrants that alternate opening and closing. They have the maze mapped out with a mini model of it. Book: The maze shifts its walls at night and creates a pattern/letters to spell out a message. They have a map room where they have paper maps to plan out how the maze has changed each day. Albie burns it all down.
Movie: They find a random spot in the maze that they never found before and there's a literal hole in the wall where the grievers come from. Book: They get to the edge of the maze where it just kind of drops off and there's a griever hole inside the fog and over the edge.
Movie: Albie is killed somewhat early through the hut. Book: Albie makes it with them to the edge and sacrifices himself so everyone else can live.
Movie: They insert the random tank from the griever into a hole and they get through to save themselves. Book: They have to type in the words that the maze created in order to get through.
Movie: Galley maybe dies?  Book: Galley becomes important in the later books.
Movie: Ava tells them about the scorch and the flare before they're taken away in a helicopter. Book: Ava tells the reader in the epilogue about the scorch, flare, and trials. The people from the Glade don't find about that from her and are taken away in a van once they think they've escaped.
Overall, just a really bad adaptation. A lot of things from the movie just seemed awfully convenient and easy compared to how things transpired in the book. Maybe that's just how they decided to adapt it – to simplify it to fit into a movie-length amount of time? Not sure. But the whole way out of the maze where SUDDENLY they found a new door and area that had previously never been seen… come on. Really. After three years they didn't find that? They didn't think to try to kill a griever and see if anything interesting was inside? The explanations and events in the book just make more sense and seem more legit.
Casting
I think Thomas was a perfect casting. I loved Chuck (be still my heart. I'm still so sad.) I didn't think Newt was the best casting but he grew on me. Albie, Theresa, and Galley were decent. I wasn't wow'ed by the casting like I have in some adaptations, but everyone did a really good job portraying the characters.
Enjoyability
To be honest, I would have liked this a lot more if I wasn't constantly thinking about how different it was from the book. It's hard to pull my mind away from that and watch it objectively. If I had watched this movie without reading the book first, would I have been entertained? Yeah. Would I have enjoyed it? Probably. But it's really hard to know for sure, since I was so distracted by the glaring differences and wondering why it was necessary. I would be interested in watching it again later when the book isn't as fresh in my mind. I'm now nervous for the next movies because I already liked those books less. Will I like those movies more or less than the books? Ugh.
Have you seen The Maze Runner yet? Did you read the book? How do you think it stacked up?
Related Posts