Ten 2016 Debuts Novels I'm Looking Forward To
Top Ten Tuesdays are hosted by The Broke and the Bookish, where we make lists of our top ten books (or something else!) based on that week's prompt. The topics are provided ahead of time and can be found here. Book links bring you to Goodreads or my review.
I'm actually terrible about knowing which authors qualify as debuts each year, but thank glob for Goodreads Listopia! Here are some of the 2016 debuts I'm excited for, as well as the sentence in their synopses that had me say YAAAAS GIMME.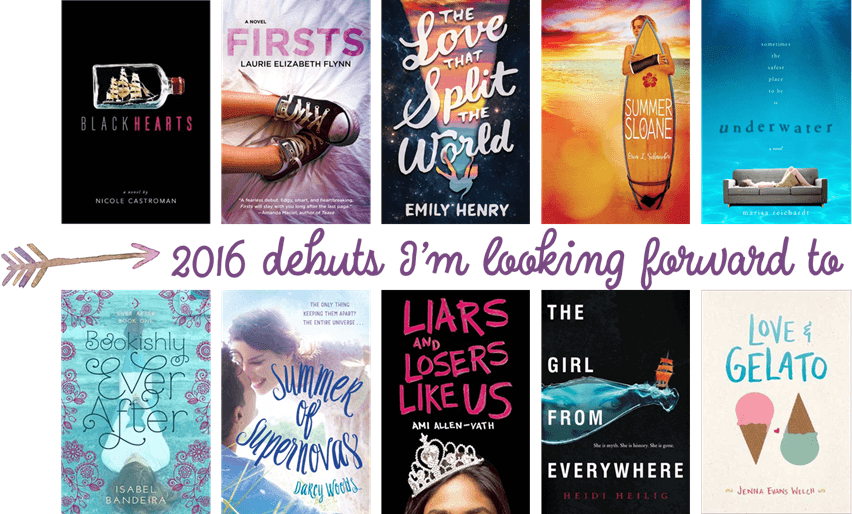 Blackhearts by Nicole Castroman
"Drawn to each other, they're trapped by society and their own circumstances."
Firsts by Laurie Elizabeth Flynn
"Seventeen-year-old Mercedes Ayres has an open-door policy when it comes to her bedroom."

The Love that Split the World by Emily Henry
"The next night, under the stadium lights of the high school football field, she meets a beautiful boy named Beau, and it's as if time just stops and nothing exists."
Summer of Sloane by Erin L. Schneider 
"Warm Hawaiian sun. Lazy beach days. Flirty texts with her boyfriend back in Seattle. These are the things seventeen-year-old Sloane McIntyre pictured when she imagined the summer"
Underwater by Marisa Reichardt 
"But her kind act inadvertently played a role in a deadly tragedy."
Bookishly Ever After by Isabel Bandeira
"In a perfect world, sixteen-year-old Phoebe Martins' life would be a book. Preferably a YA novel with magic and a hot paranormal love interest."
Summer of Supernovas by Darcy Woods
"As the daughter of an expert astrologer, Wilamena Carlisle knows that the truth lies within the stars."
Liars and Losers Like Us by Ami Allen-Vath
"But when a cheating-love-triangle secret hits the fan after a night of sex, drinks, and video games, she's left with new information about Sean and the class Pageant Queen."
The Girl from Everywhere by Heidi Heilig
"Sixteen-year-old Nix has sailed across the globe and through centuries aboard her time-traveling father's ship. But when he gambles with her very existence, it all may be about to end."
Love & Gelato by Jenna Evans Welch
"But then Lina is given a journal that her mom had kept when she lived in Italy. Suddenly Lina's uncovering a magical world of secret romances, art, and hidden bakeries."
Related Posts