After reading yet another book I felt like a huge black sheep about, I decided to work through my feelings about hype and how much I often want to punch it. There have been lots of books that bloggers love and I feel the need to add to my TBR. I'm totally okay with this because GIMME THE BOOKS. But, sometimes the books are so effing hyped that my expectations skyrocket. I don't mind hype it leads me to great books, but I hate when I have the highest of hopes that this book will be utter perfection. Anything less than than that leads to utter disappointment, regardless of how good the book actually is.
I try not to get bogged down by the hype, but I can't help it.
Usually my expectations are too high and the books won't meet them.
Here's my hype-o-meter to show seven levels of hype that I see surrounding some books. This is just my personal opinion and scale, so hop off me if you don't agree. It's just based on what I've observed and how I've perceived certain books.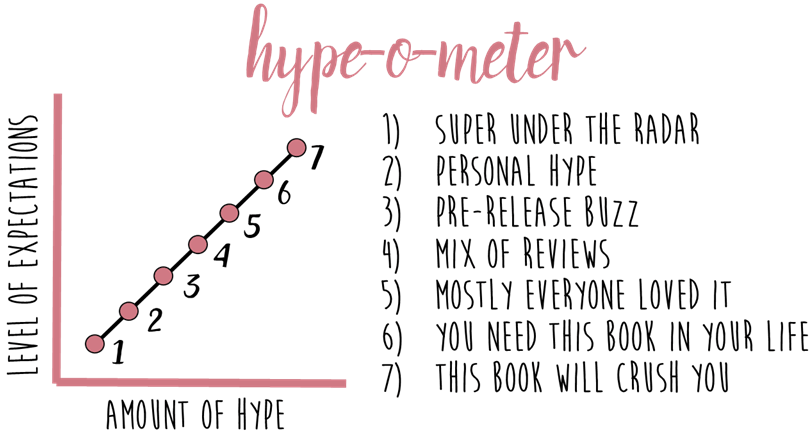 Let me explain my categories a bit more:
Level One includes books that are very under the radar, underrated, or not widely buzzed about. Not a lot of people have read them or heard about them. Not many reviews = not a lot of expectations. You can set your own.
Level Two are books that 

you

personally hype up for yourself, even if others haven't. (For me, this was definitely Even In Paradise. I waited forever to read it because I was so excited… and became so disappointed. SIGH)
Level Three includes books that have a lot of pre-release buzz. The early reviews may or may not show how great the book is, but there are Bestseller talks before publication. I think of Red Queen when I think of Level Three. Lots of people loved it right away; even more people felt MEH about it after some time. (Yet it won the GR awards…..)
Level Four has books that receive a good mix of reviews. Some people loved it, some people didn't. You have reasonable expectations because it could go either way.
Level Five includes books that pretty much everyone loved. There are a few outliers, but it seems like the majority of people are huge fans of the book, or at least generally enjoyed it.
Level Six starts getting to intense hype. Just about everyone screams that you NEED THIS BOOK IN YOUR LIFE. It became some people's favorites and pretty much every blogger agrees it was wonderful. Lots o' hype.
Level Seven is the hypey-est of all. This book will crush you, murder your soul, make you cry, make you laugh. It will make you feel ALL THE THINGS because it's perfection and anyone who doesn't love it is a big, huge weenie without a heart.
With all of this in mind, I want to explore some different reactions I've personally had to hyped books. Sometimes I get lucky and I feel like the hype was well-founded… but (more often than not) my expectations can get the best of me and I end up as the black sheep. There are also a few books I haven't read yet that I know I need to get a round to, but hype is scaring me away.
---
I'll Meet You There by Heather Demetrios | LEVEL 6 | 

I wasn't sure I wanted to read this one – not even just because of the hype, but also because the subject matter didn't interest me. I finally decided to give it a go and really ended up enjoying it. Sometimes it's nice to try something new and be pleasantly surprised. I will say that this book didn't murder me as much as everyone else, but I did highly enjoy it.
My Life Next Door by Huntley Fitzpatrick | LEVEL 5 | 

I've seen primarily wonderful reviews for this book and knew I would love it. It took me a while to read it (not necessarily because of the hype), but once I did, I wondered what took me so long! I loved the entire family next door and relationship between Samantha and Jase.
Simon vs. the Homo Sapiens Agenda by Becky Albertalli | LEVEL 6 | 

The number of M/M books I've read is close to zero. (Not for any particular reason; just a fact!) I heard lots of wonderful Oreo-related things about this book and was so excited to feel all the feelings. It definitely kept me engaged at the beginning, tapered off a little in the middle, and then improved a lot at the end. I SHIP IT HARD GUYS.
All the Bright Places by Jennifer Niven | LEVEL 4-7 | 

This book definitely didn't have ALL glowing reviews, but it does have a 4.21 rating on Goodreads – so yeah, super high – but I know a lot of people who didn't connect as much as I did. I had to keep the hype rating somewhere between "mix of good/bad" and "this book will crush you." It CRUSHED ME REAL HARD. The last 50 pages = the death of me.

I'll Give You the Sun by Jandy Nelson | LEVEL 6-7 | 

Lots of people list this as one of their favorite books, or Jandy Nelson as a favorite author. I could kind of appreciate her writing style, but anything overly metaphorical is just NOT for me. This one definitely had too much of that. I predicted the major twists in this book, too. It just didn't work for me overall but I increased my rating because the ending left a cute impression.
Jellicoe Road by Melina Marchetta | LEVEL 7 | 
Ugh I could go on about this one for a while 🙁 Everyone told me to get past the first *insert number here* of pages and the book would click into place. Unfortunately, that number kept increasing and I kept reading. I was expecting some huge reveal that broke me or shocked me, but it never happened. I felt ridiculously disconnected from everything. To be fair, I probably will reread at some point now that I know what happens. Maybe the audio version will give me feels? Until then, this remains one of the biggest black sheep incidents of my life.
Fangirl by Rainbow Rowell | LEVEL 6 | 

I feel like a jerk for not liking this book. So many people say that they relate to Cath or just ARE CATH in real person form… and I did not like her at all. I don't know what it was, but I couldn't get past it. She annoyed me. I PROMISE YOU GUYS DON'T ANNOY ME IF YOU ARE A SELF-PROCLAIMED CATH. I don't have issues with people with anxiety by any means. I really don't. I just felt so bored by the whole story.
Where the Stars Still Shine by Trish Doller | LEVEL 6-7 | 

I guess it's not a huge black sheep issue because I still gave this book a good rating, but it's worth mentioning for me. I didn't feel a lot of connection to anyone or anything in this book for some reason. I really enjoyed reading it overall and the premise was interesting, but nothing hooked me like I expected. Most people L O V E this book.
Rites of Passage by Joy N. Hensley | LEVEL 7 | 

Sam was a fucking badass in this book; there's no doubt about it. However, this book was really repetitive for me. Also I was not a fan of the ending. I can really appreciate the message of this book and the GIRL POWER vibes, but nothing else worked for me. I was bored. Everyone else wasn't.
We Were Liars by E. Lockhart | LEVEL 7 | 
This one was a little polarizing, especially for the people who were able to guess the twist. I didn't see it coming and it pissed me off when it was revealed. I couldn't stand the metaphorical writing style. It made me feel confused, and as a result, stupid. I just didn't connect with anything and the ending pissed me off quite a bit. This was my first review on the blog and my snark levels are off the charts. The audiobook bugged me as well.

You all know the hype is real for these! There are plenty more on my TBR but these ones have been more recent. I have a hard time with fantasy occasionally. If there's not a perfect mix of action and world-building, I'll either become bored or confused. I've heard almost nothing but fantastic things about these three books (two of which are series-starters), so I'm nervous! [The Orphan Queen by Jodi Meadows | Throne of Glass by Sarah J. Maas | Uprooted by Naomi Novik]
---
Now I need some advice! How do you deal with hype? Does it affect you as much as it affects me? Why or why not? SHOW ME YOUR WAYS.
Seriously though. Do you have any tips for drowning out the hype? My expectations skyrocket before reading these books and there's almost no way for them to measure up. If you're someone who doesn't get intimidated by it or manages it all somehow, tell me your secrets.
Related Posts