You finished the book! WOOO. Now what? You liked most of it, but there were some things that bugged you. Do you think it's in the 3-star range or would you give it a nice 4-star? Was it as good as that OTHER book you rated 4 stars or was it worse? 3.5 feels like not enough, but 4 feels like too much. THIS IS THE WORST FEELING, especially if you then have to change your whole decision because Goodreads doesn't even let you use half-stars. If you decide on 3.5 stars, will you round up on Goodreads because you liked it overall, or will you round down because it really doesn't feel worthy? I deal with this all the time. I've previously talked about rating with your head or your heart, rating books critically, and changing ratings… so clearly this is something that plagues me.
To mitigate some of the issues I have with determining a rating, I've developed a really easy plan when rating my books. It helps me out the vast majority of the time.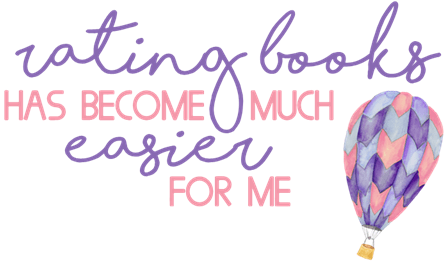 I like to follow a couple of different steps if the first one doesn't work out. There are plenty of books that I read where I just know the rating in my gut, right off the bat. When that isn't the case, I move to step two. If that doesn't finalize things for me, I move to step three. It's a really easy system but it's made my life a LOT easier.

As I said, sometimes you just finish a book and KNOW what the rating is. It's obvious and clear to you. If that works, then go for it! No problem at all. There are plenty of instances where I can't decide right away what rating works for me and I feel stuck between two. Usually half-stars are my best friend and my biggest enemy; it can help you find great middle ground or plague you with rounding. Regardless, I try to think about which general rating I think the book deserves, or which rating range I'm suck on. Once I know this number, I kind of keep it in my mind throughout the rest of the process.


I developed a rating report like many people use in their reviews. It's not foolproof, because there are so many other factors that go into my enjoyment of a book. I did select six categories specifically because they would come together to create my overall impression. I look at the following aspects of a book and rate them on a scale of 0 to 5:
Plot and premise: what happens during the book, the actual idea behind the book, if the concept or premise was interesting or unique, etc.
Characters: if I liked the characters, related to them, and/or felt like they were fleshed out (note: likeable characters doesn't usually mean a high rating; unlikeable characters that feel like REAL humans can definitely get a higher rating)
Writing style: if it felt choppy or needed more editing, if I followed along easily because of the accessible style, if it was particularly lyrical or enjoyable to read
Pacing and flow: if the main plot points feel evenly paced, how the whole book flows together and creates a whole story
Feels or swoons: most books have some kind of romance or family vibe, so this involves how believable or swoony the romance is, how the family feels hit me, etc. (some books may not even get this category factored in if it doesn't apply at all)
Addiction level: if I wanted to keep reading regardless of having to leave for work, how quickly I finished the book because I couldn't put it down
Everyone knows I'm a sucker for covers, and that could be included if I wanted to share my thoughts about the book's cover… but it doesn't feel like something that will factor into my actual enjoyment of the book or the rating. Some great books have bad covers and some bad books have great covers, so I didn't want that element to muddy up the rating. All of those categories get averaged together to give me some kind of rating. This can be a clear-cut answer (it comes out to 3.5 exactly) or it can confuse me more (it comes out to 3.7 when I'm not sure of 3.5 and 4). So, I usually move on to the next step…

If my rating report looks something like the one below, I have to decide if the book needs to be rounded up or down. I decide this based on a couple of factors.
| | |
| --- | --- |
| Plot & Premise | |
| Characters | |
| Writing Style | |
| Pacing & Flow | |
| Feels or Swoons | |
| Addiction Level | |
| Overall: | 3.7 |
Again half-stars become a killer. I have to go for what my final feelings are. If I get a 3.7 on the rating report, was I left with an overall positive feeling about the book, or a more negative one? Depending on my answer, I can decide how to round. There are some books that feel good while I'm reading and then the ending leaves a bad taste in my mouth. If I'm left with a stronger UGH feeling about the book, it makes more sense for me to round down. If I finish the book and feel like I had some issues with the book, but my overall lingering feeling is positive, I'll round up. It's not a perfect system but it just kind of makes sense for me. I remember the gut feeling I had at the beginning of the process too. My gut was telling me it was a 3.5 star book and then the rating report shows me 3.7, I'm more likely to round down to match my instincts!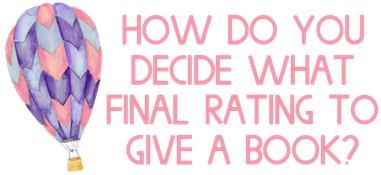 Lots of other bloggers have covered ratings recently, too! Check out other thoughts:
Related Posts