If you aren't familiar with the Love-a-Thon, check out the the sign-up post! 
Mini Challenge: Mix and Match
Objective: We all love books, but there are other things we're passionate about too! Mash-up a non-bookish hobby/passion/talent/fandom with your bookish life. Do it through photos, art, videos, etc. Get as creative as you'd like!
---
One of my goals for 2016 was to actually read less. I am somewhat succeeding with this so far. Instead of reading nonstop, I take breaks to binge shows and re-watch the Marvel movies with Chris, decorate my planner, start a bullet journal, and get back into Lego. I'll be highlighting all of these fandoms, hobbies, and passions below… and connecting them to books!
One of my bigger hobbies (and I mean this just by sheer volume of Lego bricks within my apartment) is Lego. My boyfriend, Chris, and I collect sets, come up with our own creations (the Lego term for this is "MOC," or "my own creation"), and build together. Here's one project I worked on completely by myself: a Disney Princess apartment building. The pictures are terrible, so I apologize, but hopefully you see the idea. Lego has Princess sets out right now, so I took some of mine and reworked a lot of the elements. I made the entire building myself. It has three floors and contains beds for multiple princesses: Rapunzel, Cinderella, Ariel, Jasmine, Aurora, Elsa, and Anna. Each of their rooms and beds are reminiscent of the characters themselves and feature pieces from their Lego sets… but the entire build is done by me.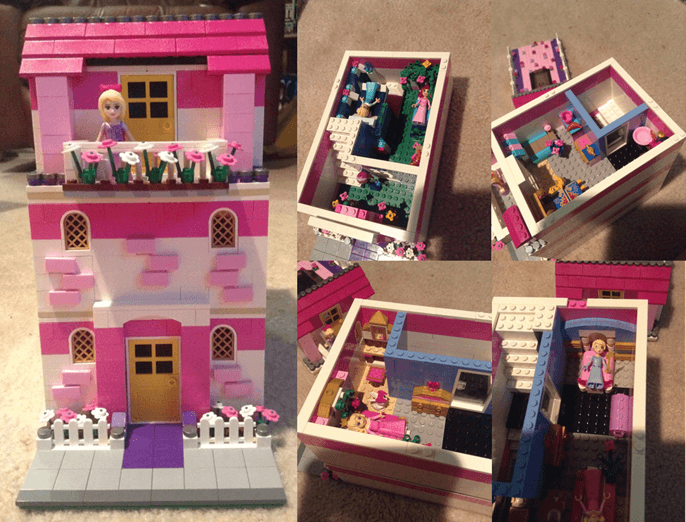 So, with this, I figured I would "mix and match" my Lego hobby with fairytale retellings I've read, and some I plan to read! Here are the retellings that I've generally enjoyed. I haven't read many, so I can't lie and say they were all 4 or 5 star reads… but they were all pretty good enough to recommend and feature here 😉
The Summer of Chasing Mermaids by Sarah Ockler
Princess of Thorns by Stacey Jay • Cress by Marissa Meyer
Ella Enchanted by Gail Carson Levine • Cinder by Marissa Meyer
Damsel Distressed by Kelsey Macke
Winter by Marissa Meyer • Mirrored by Alex Flinn
Of Beast and Beauty by Stacey Jay • A Court of Thorns and Roses by Sarah J. Maas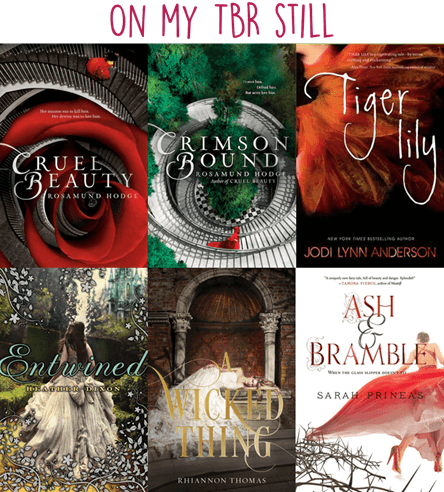 I definitely have a LOT of retellings on my TBR as well! Have you read any of these? (I started Ash & Bramble but didn't have time to finish before I needed to send the book back to its owner. I hope to pick it up again at some point!)
---

We've been really Marvel-hyped lately. This relates to books in general, as this is our current Marvel collection of graphic novels (picture below). We also have this cool metal vintage-looking comic book covers to put up and decorate! You can see Spiderman here, but we have a few more hanging out, ready to go up on the wall.
Other than reading the graphic novels and adding to our Marvel collection, we have been doing the following Marvel-related ~things~ around our apartment and outside:
Yep, all of this has happened over the past few months. It's been a lot of fun!  Are you a Marvel fan? It's okay if you like DC more… I won't hold it against you 😉  I'm excited for Suicide Squad and Batman vs. Superman too. Any recommendations for more comics to read??
---
I've talked a lot about how I organize my bookish activities, and I find that I'm always improving and altering them. Lately, I've acquired a new journaling/planning system. I plan to go in more detail on this within the next few weeks on the blog as a part of my organizational series. If you're curious, here are some more detailed posts about my somewhat organized life:
Organization Series: Book Bag • Traveler's Notebook • Planners • Reading Notebook • Goodreads
One of my major hobbies lately is planning. I love decorating my planner with stickers, washi, and other pretty colored things. I've also started bullet journaling to keep organized with everything in my life. As I said in my planner-related post, I use a Happy Planner for life and blog things, Day Designer for work meetings and tasks, bullet journal for everything rolled into one (plus future planning), spiral-bound notebook for book notes while reading, and Foxy Fix Traveler's Notebook for bookish things. Here are some pictures of my planners: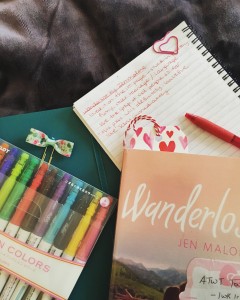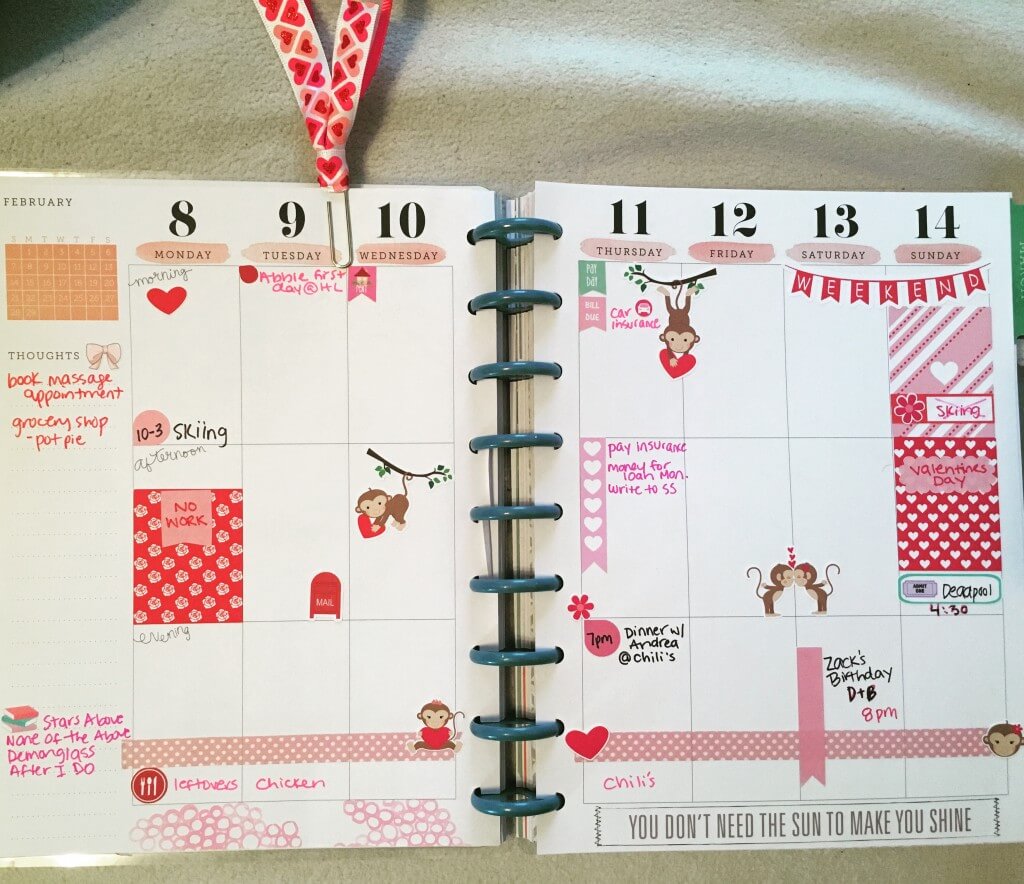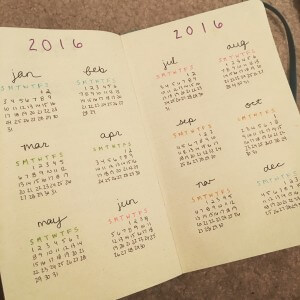 I'll definitely be talking more about my bullet journal because it's kind of a new obsession, but the point of me sharing my planning stuff is to explain how it helps me read and organize my bookish activities. Here are some methods I use to keep my blog/reading going strong: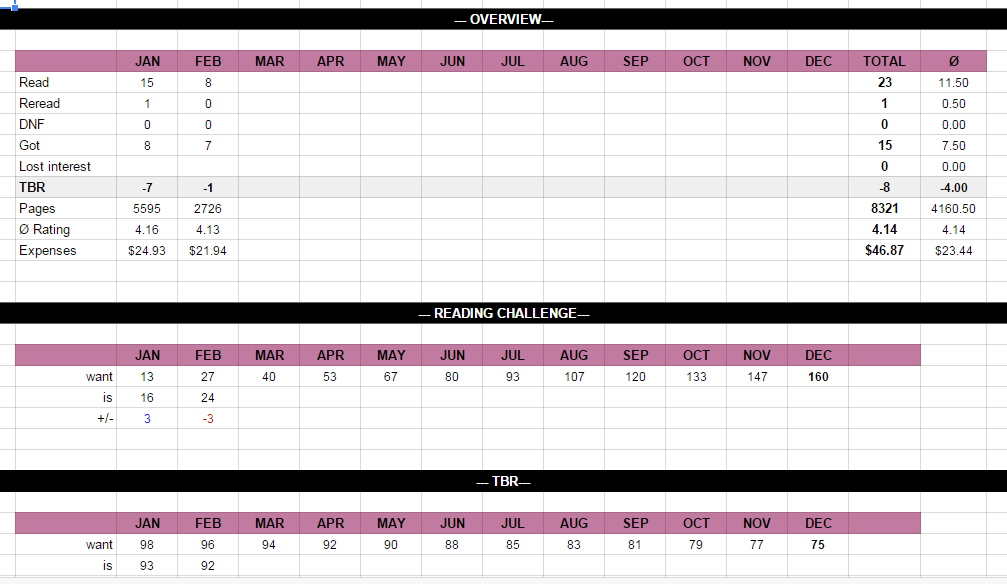 I use Crini's spreadsheet to track books as I read them. I get such amazing automated statistics using her sheets every year! The picture you can kind of see above shows the first page of the spreadsheet, but the other sheets inside it have SO MANY stats and lists and wonderful things. I also use Google Calendar to put my blog posts in. The reason I don't do this on paper is because I change them around A LOT. I move things based on what I think makes sense, or if I don't finish a book by the time I want to. Red is for a review placeholder that hasn't been written yet, green is for a completed and scheduled review, pink is usually a discussion post of some kind, purple is for Book Buddies reviews, yellow is for Bookmark Lit Bulletins, orange is for memes, and the rest of the colors are for random things.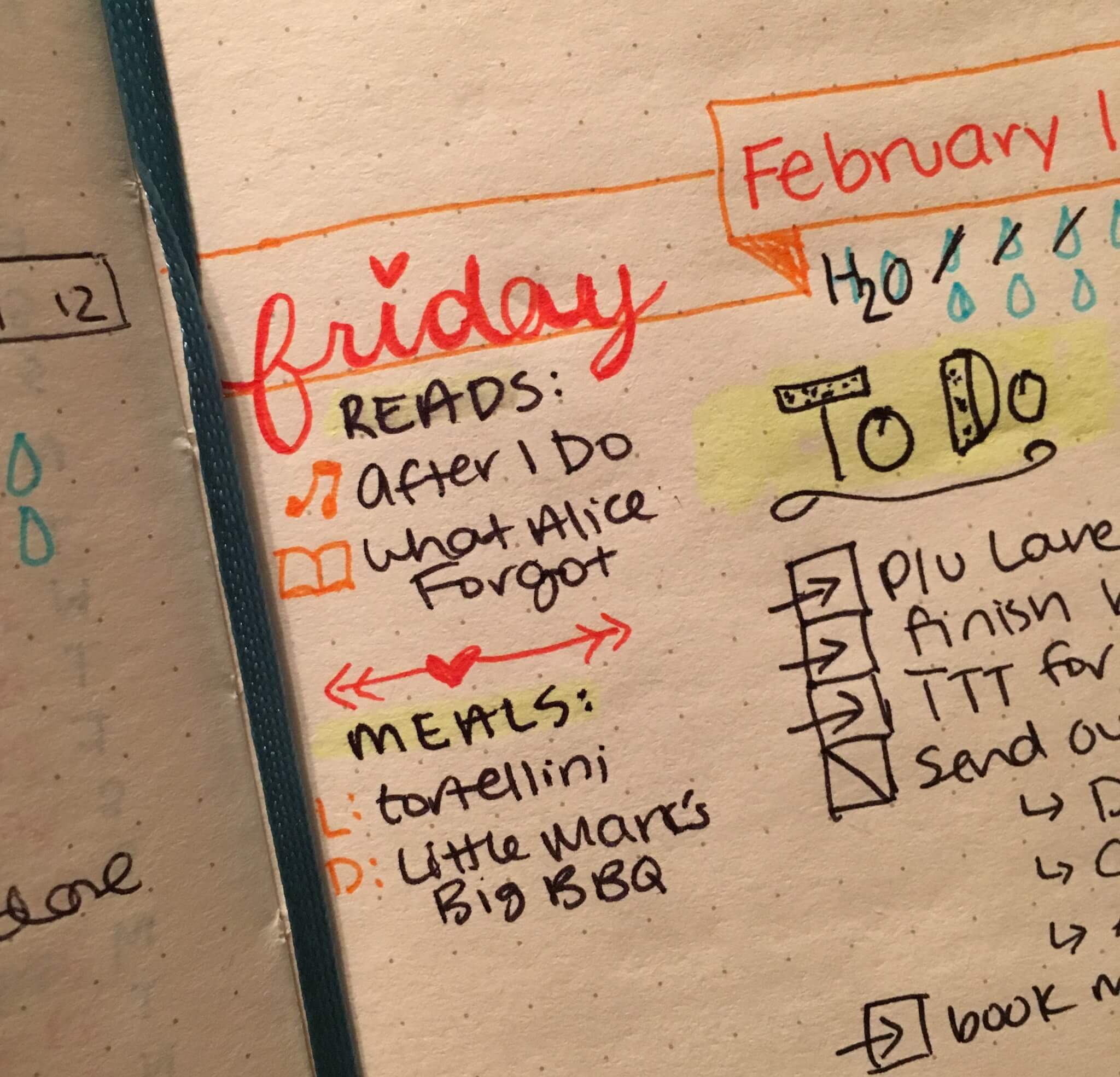 Again, more on this journaling system later! For now, you can get a peek inside and see how I track my daily reads. I just like to keep track of what I'm reading and listening to – obviously you can tell which is which based on the symbols there! My bullet journal is for daily tasks, to-do lists, and tracking information.
I bought the spiral-bound notebook with #CurrentlyReading on it from Evie's shop. I liked using my Foxy Fix to store a bunch of notebooks, but it was stopping me from using it too often. I was sick of the whole thing shutting because the leather was too stiff. I don't like writing in notebooks like that; I need it to be flat or spiral-bound. So, here's my new reading notebook! I use it, obviously, while I read. (My reviews are a million times better when I take notes!)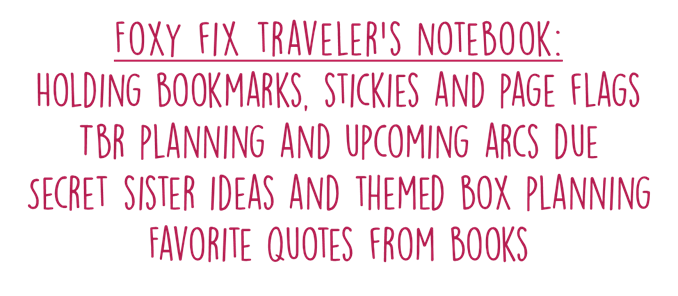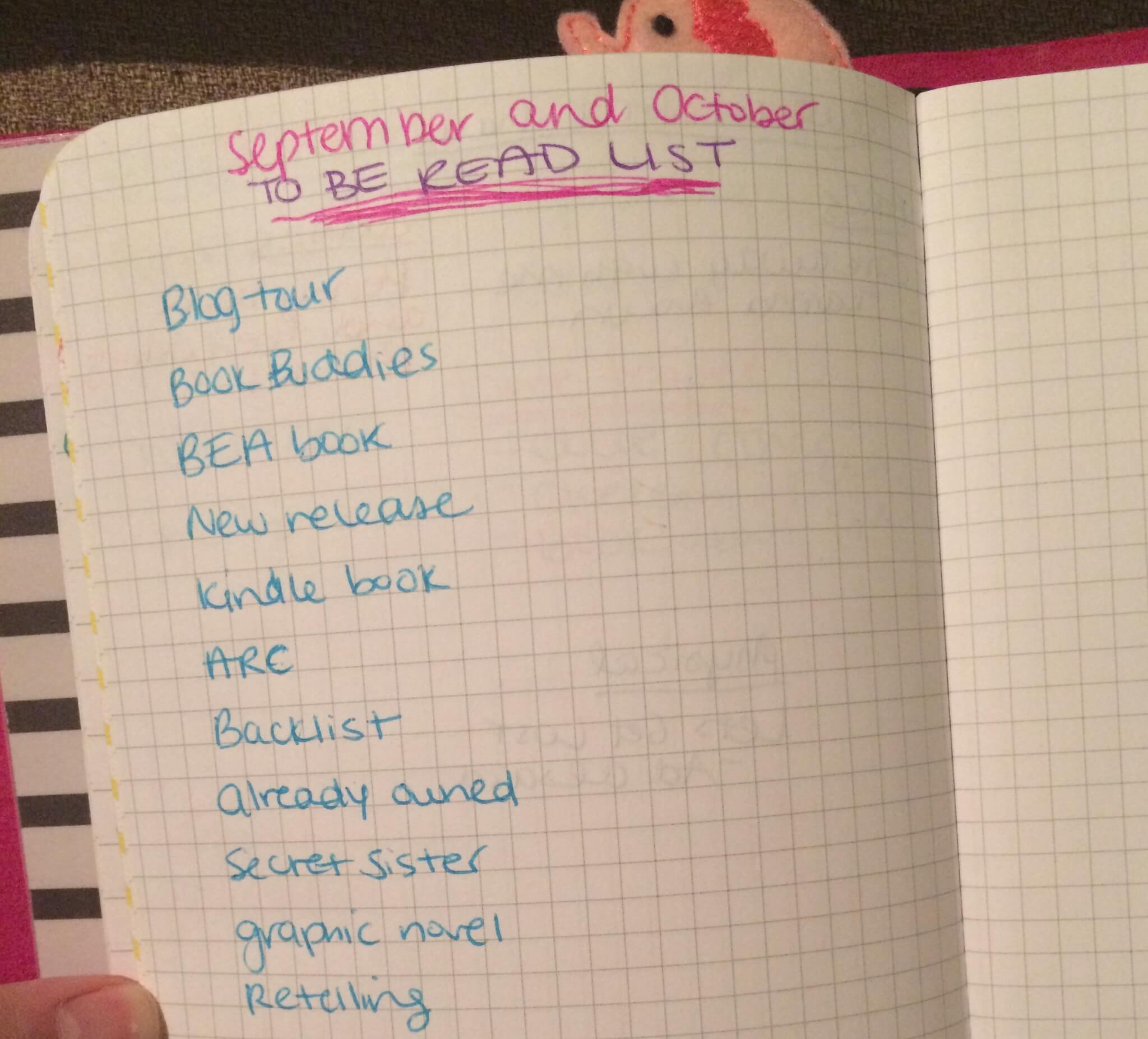 I've already shown lots of pictures of my traveler's notebook, so this is all for now! I shared this picture a few months ago during a TTT. I wanted to get into the habit of varying my TBR like Andi does, by using categories. I didn't do the best job of sticking with it. I'm just terrible with sticking to any kind of reading order system! Regardless, when I have busy reading times (towards the end of the month I have more "required" reading for Book Buddies and my real-life Book Club), it helps to remind myself what needs to be read and when. Right now, I've had a total of 5 books I needed to read within one week. Kind of insane. My TBR journal  helps with that, plus I keep all of my bookmarks and other notes for my blog in here.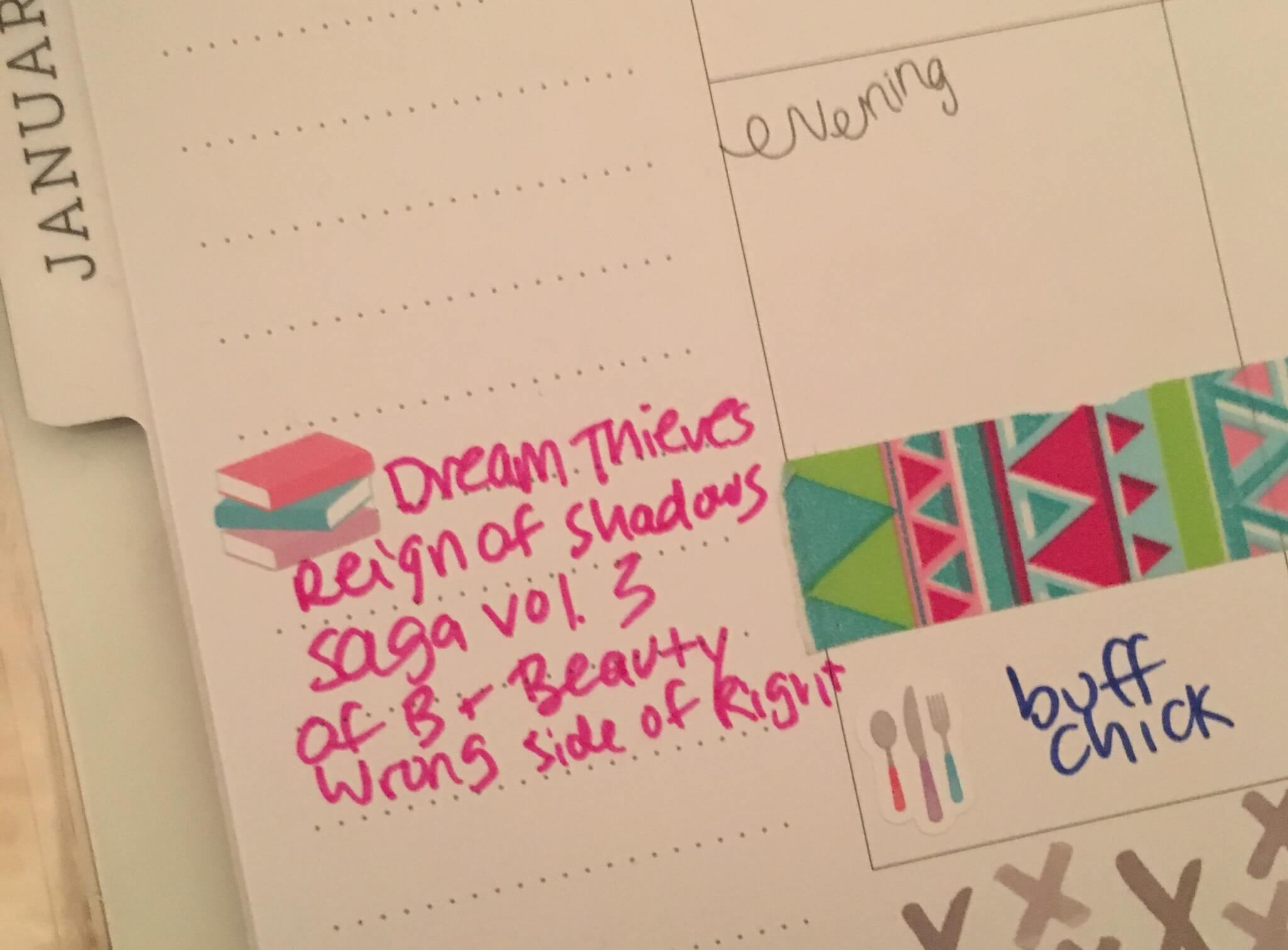 My Happy Planner involves all the cute, colorful stuff. I keep everything in this. I like to have a little running list of the books I've read or am reading within the week on the left side of the layout. I have some fun book stickers and just got some "books read" stickers to put across the line. I also write my blog posts in the morning section of each day.
---

My favorite thing lately is to just hang out on the couch with Chris and watch shows. We used to be insane binge-watchers in our old apartment, but for some odd reason we don't do it as often anymore. I don't know why I'm blaming this on the new apartment, but hey, whatever. I've decided to do some mixing and matching of my current television shows with books that somewhat remind me of them. Or at least bookish recommendations based on the show? Many of them are not THAT related but WHATEVER MAN. Mixing and matching, it is!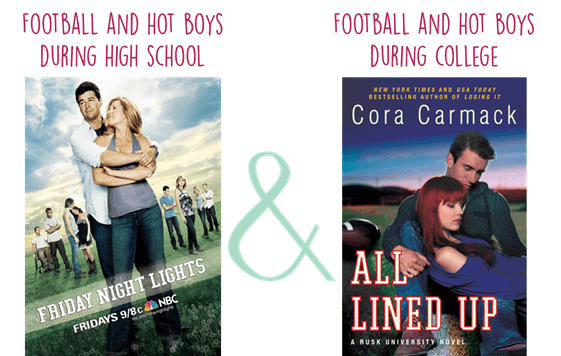 ---
This was easily one of the most fun posts I've put together in a while! What do you think? Any recs or comments for me?!
Related Posts