I received this book for free (hey, thanks!) in exchange for an honest review. I promise that this does NOT affect my opinion of the book or the content of my review. For real.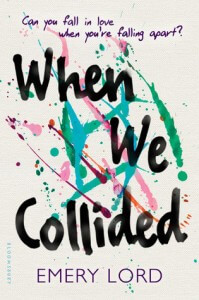 When We Collided
by
Emery Lord
on April 5th 2016
Also by this author:
Open Road Summer
,
The Start of Me and You
,
The Names They Gave Us
,
Meet Cute: Some People Are Destined to Meet
,
Toil & Trouble: 15 Tales of Women & Witchcraft
,
The Map from Here to There
,
All That's Left to Say
(352 pages) •
Goodreads
•
Amazon
•
Barnes & Noble

Meet Vivi and Jonah: A girl and a boy whose love has the power save or destroy them.

Vivi and Jonah couldn't be more different. Vivi craves anything joyful or beautiful that life can offer. Jonah has been burdened by responsibility for his family ever since his father died. As summer begins, Jonah resigns himself to another season of getting by. Then Vivi arrives, and suddenly life seems brighter and better. Jonah is the perfect project for Vivi, and things finally feel right for Jonah. Their love is the answer to everything. But soon Vivi's zest for life falters, as her adventurousness becomes true danger-seeking. Jonah tries to keep her safe, but there's something important Vivi hasn't told him.

I have a ridiculously large amount of mixed feelings on this book. It's a tough one to rate for me, because what am I supposed to go by – the way it made me feel and my level of enjoyment? The quality of the story and its importance? These two ratings are insanely different. I talked with Angie about it after finishing and she helped me put it to words. The book itself – the story, the portrayal of mental illness – is VERY important. It's so well-done. However, it just isn't a book that I like reading about. It was frustrating, sad, and kind of disappointing because of it. I didn't go into it expecting something super fluffy, like Lord's other books, but I also didn't expect to be so upset throughout the whole thing either. I was hoping for a mix of the two.
The first third of the book was utter perfection, like the entirety of Lord's other books that I'm obsessed with. The setting of Verona Cove was amazing and reminded me of all the Sarah Dessen books that happen in Colby. Jonah was fucking adorable and Vivi was vivacious. (See what I did there?) I loved them right away. The book had some instalove but for some reason it felt right. I don't necessarily have an issue with it because I really think some people do hit it off right away. I have no issue with people feeling like they're meant to be. I don't know; the book just has to give me the right feels about it I guess. This one hit the mark for me.
It's no secret from the synopsis that Vivi is dealing with some kind of mental illness. It's not put to words until maybe 50-60% of the way through the book, although you can probably make some assumptions. This was hard for me because I kept trying to rationalize Vivi's behavior in terms of her illness, but it didn't make it any easier to read. She grew controlling and jealous over Jonah, but was then allowed to do anything SHE wanted. She pushed him out of his comfort zone a lot of the time too. It wasn't clear to me if Jonah had always been introverted, or if he had just turned inward a little because of his father passing away. Either way, I feel like she never gave him the chance to be himself or decide what he was comfortable with. Again, it's hard to sit here and judge her for her behavior because we know she's dealing with something. It just didn't make it any easier to read. I highly recommend that you check out Cristina's review because she absolutely hits the nail on the head in terms of my feelings toward this book. (In addition to her explanation on her feelings about Vivi, she says "I always harbor respect for an author when I can rate a book highly based on writing quality and overall themes even when characters or plot happenings don't agree with me." — this is exactly how I feel as well.)
I didn't LIKE reading a lot of this book because of that. I appreciate the story and think it's an accurate portrayal of that particular mental illness – from what I understand. The rating I'm giving it is purely based on the quality of the story itself. In reflecting back on it, I enjoy it and appreciate it more. (Especially because I don't have to read it anymore lol). I know this is an overwhelmingly negative-sounding review with such a high rating, but I have to do Emery Lord justice for the important story she created. Below I'm going to enclose some spoilery information in a spoiler tag, for those of you who have read it or have questions about the romance.
Also, as a random sidenote: if you came here for the friendship feels that Lord is famous for, you're out of luck. There are a few random friend relationships that people have within the story (Jonah and Ellie/Felix, Vivi and the police officer/everyone in the town), but nothing major at all. If you're looking for family feels and a huge family you'll fall in love with like My Life Next Door, you have come to the right place. Jonah's family was my favorite aspect of this story. His family made it all worth it, really.
On the mental illness: View Spoiler »Vivi is dealing with bipolar disorder, so she has manic episodes as well as depressive episodes. During her more manic times, she became jealous, flighty, and a bit scary. It was hard to read. Maybe it's not a complete excuse for her behavior, but still. I could understand where she was coming from but I just didn't enjoy reading it. « Hide Spoiler
On the romance and ending: View Spoiler »Don't read this book if you want a happily ever after. After the accident, Vivi determines she should move back to Seattle and leave Jonah in Verona Cove. She hints that she thinks Jonah should date Ellie, which I think was also hinted at through his interactions with her throughout the story. It didn't feel like a love triangle because it wasn't one. It just involved him becoming friendlier with her and the reader could see some kind of chemistry in general. But, yeah – no HEA here. It bugged me because I want to have the takeaway that people with mental illnesses CAN be in happy, successful relationships. Maybe the message is just that she should focus more on herself for now and see what happens in time. I don't know. It just didn't leave a lot open for them, unfortunately. « Hide Spoiler

| | |
| --- | --- |
| Plot & Premise | |
| Characters | |
| Writing Style | |
| Pacing & Flow | |
| Feels or Swoons | |
| Addiction Level | |
| Overall: | 4.1 |
Related Posts