I'm not one that pays attention to the new book deal announcements (because I'm lazy)… however, I am totally the person who benefits from everyone else who does. I LOVE seeing unreleased books pop up on Goodreads right after they're released because then I can add them and get my anticipating up and running. I wrote a big ol' post about this recently and made all of you hate me, so I'm kind of going to do it again today 😉
---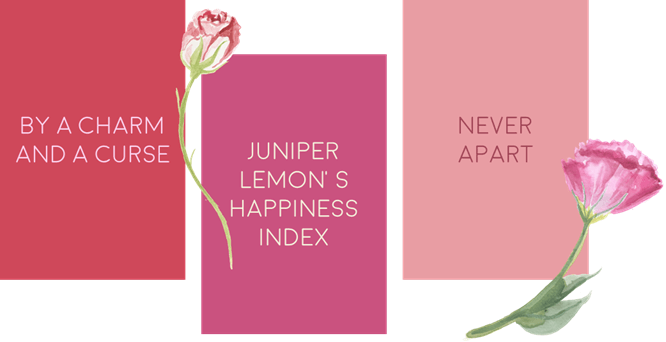 From the synopsis: "Maggie Stiefvater meets Tim Burton, in which a teen girl is entrapped by a cursed carnival when a kiss turns her into a living doll, and must figure out how to break the decades-old curse so she can become human again — without destroying the carnival (and the boy) she's growing to love in the process."
Why I'm interested: Okay, Maggie Stiefvater and Tim Burton? Sounds creepy and amazing. I'm definitely not one for curses and horror-like things in books, but I'm definitely intrigued by this one. I love carnival settings too!
From the synopsis: "The story of a 16-year-old girl who vows to deliver a love letter that her older sister, Camilla, wrote on the day she died and addressed only to "You" – as soon as she figures out who "You" is."
Why I'm interested: Ugh why am I not interested?! This book sounds right up my alley. She'll be going on some kind of quest to find this mystery person because her sister died and she needs to follow through on what she left behind?!? Worthy of an excited run-on sentence, in my opinion.
From the synopsis: "About a girl and boy who die repeatedly, falling between parallel worlds, but always being found by the same killer until the fall that unravels everything."
Why I'm interested: Parallel universes plus some kind of mystery/thriller aspects? This sounds amazing. The synopsis definitely had me at "parallel worlds," but the rest seems really interesting too. Sign me UP.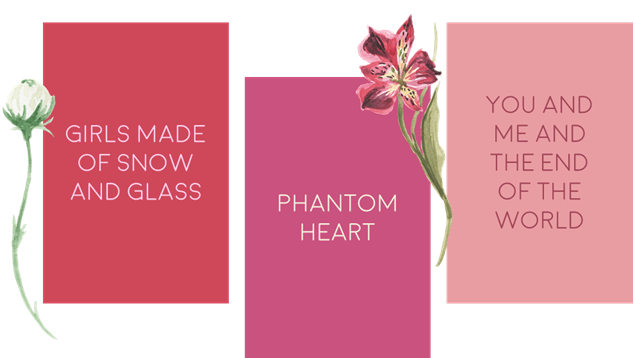 From the synopsis: "A feminist reimagining of the Snow White fairy tale, which follows both of the central female characters from the original story: the princess and her stepmother."
Why I'm interested: I love retellings, and tossing the word "feminist" in there has me incredibly intrigued. Snow White did all sorts of housework for those 7 men and doesn't strike me as the most feminist fairytale, so I am DEFINITELY interested to see how the author puts a spin on it! Plus the stepmother POV sounds fun.
From the synopsis: "A psychological thriller about a good girl who falls for a local burnout. After the heroine discovers she had a twin sister who died, she begins to realize that her dead twin is trying to take back the life she never had, creating a dark, split-personality love triangle where no one's sure what's real or imagined."
Why I'm interested: I've only read one book by McGinnis and it was way out of my comfort zone… but I ended up LOVING IT. So much. Like, it was incredibly fascinating and creepy and wonderful. This one sounds along the same lines, so I think I'll definitely take a risk and jump out of my comfort zone once more for her books.
From the synopsis: "A YA novel pitched as Nick & Norah's Infinite Playlist meets Eleanor and Park. In the book, the fates and hearts of two teen outsiders collide when they meet cute in the dark at a party to end all parties."
Why I'm interested: Everything about this speaks to me, between Nick & Norah and Eleanor & Park and parties and the word "fates" and alllll of the words. I'm definitely interested in this one.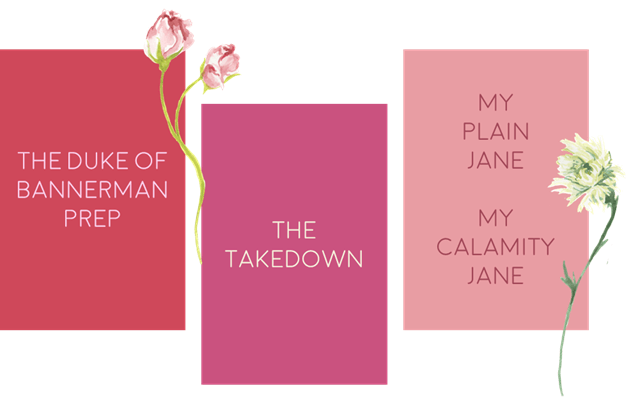 From the synopsis: "A YA retelling of The Great Gatsby in which a teen is recruited to an elite prep school to bring their debate team a victory at Nationals, and is drawn into a glittering world of parties and after-curfew bonfires, only to discover that the thrill-seeking playboy who has taken him under his wing is more conman than caviar."
Why I'm interested:The last Gatsby retelling I read didn't quite work for me but I'm still interested in this one for sure. I love books at prep/boarding schools and the idea of parties/bonfires happenin all the time. Sounds kind of fun and mysterious and definitely Gatsby-esque!
From the synopsis: "A novel set in the near future, in which a popular student's faked sex tape goes viral."
Why I'm interested: Okay so a novel set in the near future sounds like it's KIND OF a dystopia? But is probably really similar to today's society? That part really intrigues me to begin with. The faked sex tape thing is even more interesting to me! Sounds like Easy A a little bit. I'm down, for sure.
From the synopsis: (Plain) "This book will be about "Jane Eyre and Charlotte Bronte being saved from their fates." and (Calamity) "The legendary Calamity Jane gets a better ending to her story."
Why I'm interested: I said in my review of My Lady Jane that I was really hoping these ladies would come together on more funny historical retellings. My wish was granted! I love that they keep choosing people named Jane too. Much like MLJ, I don't know anything about the other Janes discussed here… but I can't wait to learn more!
---
What do you think? Adding any to your TBR?
I need someone to share the pain of waiting forever!
Related Posts