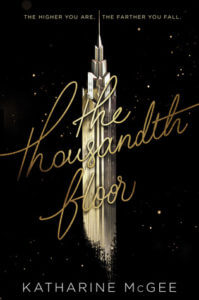 The Thousandth Floor
by
Katharine McGee
Series:
The Thousandth Floor #1
on August 30th 2016
Also by this author:
The Dazzling Heights
,
Meet Cute: Some People Are Destined to Meet
,
The Towering Sky
,
American Royals
(448 pages) •
Goodreads
•
Amazon
•
Barnes & Noble

New York City as you've never seen it before.
A thousand-story tower stretching into the sky. A glittering vision of the future, where anything is possible—if you want it enough.

Welcome to Manhattan, 2118.
A hundred years in the future, New York is a city of innovation and dreams. But people never change: everyone here wants something…and everyone has something to lose.

LEDA COLE's flawless exterior belies a secret addiction—to a drug she never should have tried and a boy she never should have touched.

ERIS DODD-RADSON's beautiful, carefree life falls to pieces when a heartbreaking betrayal tears her family apart.

RYLIN MYERS's job on one of the highest floors sweeps her into a world—and a romance—she never imagined…but will this new life cost Rylin her old one?

WATT BAKRADI is a tech genius with a secret: he knows everything about everyone. But when he's hired to spy for an upper-floor girl, he finds himself caught up in a complicated web of lies.

And living above everyone else on the thousandth floor is AVERY FULLER, the girl genetically designed to be perfect. The girl who seems to have it all—yet is tormented by the one thing she can never have.

Amid breathtaking advancement and high-tech luxury, five teenagers struggle to find their place at the top of the world. But when you're this high up, there's nowhere to go but down....
Initial Excitement
I mentioned this book way too many times on the blog before it came out, so clearly I was ready. I loved Gossip Girl and still enjoy reading about rich and terrible main characters. Call it a guilty pleasure if you must, but I don't care – there's something about it I love and it makes me nostalgic. This book promised to be a futuristic, sci-fi GG. Color me incredibly intrigued, okay?
Quick Summary
The main area of NYC that we know and love has been transformed into a thousand-floor tower, where everyone tends to work, live, and go to school. The higher the floor, the richer you are. Most of the main characters lived up towards the top, while a few were closer to the bottom. The story alternates between Avery, Leda, Eris, Watt, and Rylin as their lives become intertwined and secrets are revealed.
Storytelling, Setting, and Feels
I was promised a futuristic Gossip Girl and that's what I got. The story itself was really intriguing because all of the characters had so many secrets. They were all certainly less-than-perfect and often ruthless in getting what they wanted. They broke the law and partied and spent insane amounts of money. Seriously, GG all over it. Adding in the futuristic elements and the tower itself was SO fun and a nice twist on the typical mean-rich-people-YA story.
The setting of the tower was unreal. I wish I could picture it better, but it sounds like they just put everything in Manhattan inside one huge building with a thousand floors. It's difficult to even comprehend, but made for an insanely cool setting. I loved that technology had advanced enough where Paris was an underwater train ride away from NYC… and it only took two hours to get there.
I constantly shook my head at everyone in the story but still did feel some things for them. I had some ships for sure (and some non-ships of course). I was always excited to read the next chapter and see whose head I would be inside. Some were better than others but by the end, everyone interested me.
Characters
I was really concerned when I started reading because each new chapter had another POV introduced and I forgot how many were listed on the plot summary. I was convinced there were like 10 POVs. In any case, it took me probably 50 pages before I finally straightened out who everyone was and their backstories clicked in my mind.
AVERY, her adopted brother Atlas, and their parents live on the top floor – number 1000. They have a life of luxury but the one thing Avery wants is too taboo for her to have. She was an okay character but I didn't get a lot of characterization about her. She was kind of bland.
LEDA just got home from a stint in rehab and hasn't told any of her friends. She gets caught up with Atlas again when he returns home and spends most of her time pining over him and being creepy AF about stalking him. Man, this girl… by the end of the book… good lord.
ERIS's world gets rocked when a secret tears her family apart. She was bisexual, which I loved, because she suddenly started dating a girl and no one blinked any eye. I hope that's actually how the world is in 100 years. I loved seeing her grow and try to figure herself out. She was one of my favorites for some reason.
RYLIN struggles to support herself and her sister on one of the lower floors. She starts cleaning a rich kid's apartment and everything gets interesting from there. I liked her a lot even though she let certain things go a little too far, too long. I was rooting for her the whole time because she had a genuine storyline.
WATT, the lone male POV, was a hacker with an illegal computerized bot thing installed in his brain. It was really interesting to see him interact with Nadia (the robot thing in his head) because they could get to the bottom of anything. He gets mixed up in the rich kid world of the upper floors.
Negative Stuff
This isn't a spoiler because you find out within the first 10 pages of the book (and I think people would really want to know this ahead of time): but there was some weird love triangle-y things involving… siblings. Don't run away yet! Basically Avery's family adopted Atlas when she was five so they're not biologically related, but they did grow up together throughout childhood. I know some people don't mind stepbrother love stories (I'm not a fan except once) but the adopted brother seems a step too far in the grosser direction. Maybe that doesn't make sense because he literally has zero of the same blood, just like a stepbrother, but I don't know. It struck me as odd. I really kind of pushed it out of my head and convinced myself it wasn't that big of an issue, but it didn't stop me from feeling yuck when she talked about him like that. Blegh.
I also wish there was more backstory about a few things. The tower thing was FASCINATING but it was difficult to imagine. I would have loved more explanation for how and why the tower was built. Also, along the same lines I just talked about with the siblings, I would have loved more… memories or something?… from their childhood to show that they never really acted like siblings or felt like siblings? It may have made me feel better about everything.
Ending Feels
WOOOOF. I knew it was going to end like that because I read the first chapter, but I was surprised by who it was! Like completely blindsided. I like that there's enough of a solid ending – aka not a cliffhanger – to keep you tied over until book two… but just enough of a cliffhanger to keep you intrigued for what will happen next. I love how there was a new POV added and I can't wait to see where that goes in book two. Now for the spoiler section: View Spoiler »I seriously figured it was going to be Leda or Rylin who died. I even thought it might be Avery. For some reason, I did not predict Eris AT ALL. I'm bummed because I REALLY grew to like her and she was headed in such a great direction. However, the addition of Mariel's POV will be REALLY exciting as she tries to track down how Eris really died. « Hide Spoiler
TL;DR?
If you're here for a futuristic Gossip Girl, honestly look no further. Tons of drama and mean, rich people trying to get their way all the time. This book isn't for everyone, but it's definitely for me! The sci-fi elements were incredibly cool since the book takes place 100 years from now – nothing too outlandish but enough innovation to keep it realistic and interesting. A bit more backstory would have helped, but I'm so glad I read this one ASAP!
Thoughts in a Pic
Rating Breakdown
| | |
| --- | --- |
| Plot & Premise | |
| Characters | |
| Writing Style | |
| Pacing & Flow | |
| Feels or Swoons | |
| Addiction Level | |
| Overall: | 3.8 |
Related Posts