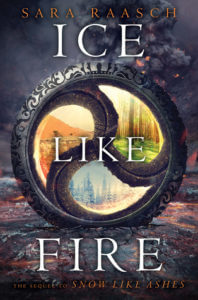 Ice Like Fire
by
Sara Raasch
Series:
Snow Like Ashes #2
Genres:
Young Adult
,
Fantasy
Published by
Harper Collins
on October 13th 2015
Also by this author:
Snow Like Ashes
Format:
Audiobook
(479 pages) •
Source:
Hoopla
Goodreads
•
Amazon
•
Barnes & Noble

It's been three months since the Winterians were freed and Spring's king, Angra, disappeared—thanks largely to the help of Cordell.

Meira just wants her people to be safe. When Cordellan debt forces the Winterians to dig their mines for payment, they unearth something powerful and possibly dangerous: Primoria's lost chasm of magic. Theron sees this find as an opportunity—with this much magic, the world can finally stand against threats like Angra. But Meira fears the danger the chasm poses—the last time the world had access to so much magic, it spawned the Decay. So when the king of Cordell orders the two on a mission across the kingdoms of Primoria to discover the chasm's secrets, Meira plans to use the trip to garner support to keep the chasm shut and Winter safe—even if it means clashing with Theron. But can she do so without endangering the people she loves?

Mather just wants to be free. The horrors inflicted on the Winterians hang fresh and raw in Januari—leaving Winter vulnerable to Cordell's growing oppression. When Meira leaves to search for allies, he decides to take Winter's security into his own hands. Can he rebuild his broken kingdom and protect them from new threats?

As the web of power and deception weaves tighter, Theron fights for magic, Mather fights for freedom—and Meira starts to wonder if she should be fighting not just for Winter, but for the world.
I enjoyed Snow Like Ashes but I didn't see the series becoming a new favorite or anything. I'm pretty hard to please with fantasy books, generally speaking, and listening to an audiobook and often zoning out on what was happening definitely didn't help my case. Regardless, my book club continued on the series after we all liked the first book in our December meeting.
This book follows Meira – with a handful of chapters from Mather's perspective – as she travels to various kingdoms to find some magical keys and shit like that. I was really hopeful that the world would expand in this book and she would travel to other places, so that was a huge win for me. It was interesting to see what the other kingdoms were like, what they valued (fun, learning, etc.), and how their leaders were.
I enjoyed the few chapters from Mather's POV because it provided some insight as to what was happening back in Winter while Meira was on her journey with Theron. I absolutely grew to love Mather more and I really hope she doesn't end up with Theron. ? My ship selection was on the fence after book one, so I'm glad I have a clear guy that I prefer now.
Overall, this book was slightly more interesting than the first just because we met other rulers and saw other kingdoms. In terms of actual plot? I'm not sure. Both were slightly boring at times and to be completely honest I barely even remember what happened in book one at this point. Whoops.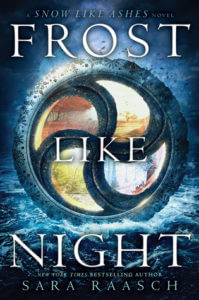 Frost Like Night
by
Sara Raasch
Series:
Snow Like Ashes #3
Genres:
Young Adult
,
Fantasy
Published by
Harper Collins
on September 20th 2016
Also by this author:
Snow Like Ashes
Format:
Hardcover
(496 pages) •
Source:
Library
Goodreads
•
Amazon
•
Barnes & Noble

Angra is alive, his Decay is spreading—and no one is safe.

Meira will do anything to save her world. With Angra trying to break through her mental defenses, she desperately needs to learn to control her own magic—so when the leader of a mysterious Order from Paisly offers to teach her, she jumps at the chance. But the true solution to stopping the Decay lies in a labyrinth deep beneath the Season Kingdoms. To defeat Angra, Meira will have to enter the labyrinth, destroy the very magic she's learning to control—and make the biggest sacrifice of all.

Mather will do anything to save his queen. He needs to rally the Children of the Thaw, find Meira—and finally tell her how he really feels. But with a plan of attack that leaves no kingdom unscathed and a major betrayal within their ranks, winning the war—and protecting Meira—slips farther and farther out of reach.

Ceridwen will do anything to save her people. Angra had her brother killed, stole her kingdom, and made her a prisoner. But when she's freed by an unexpected ally who reveals a shocking truth behind Summer's slave trade, Ceridwen must take action to save her true love and her kingdom, even if it costs her what little she has left.

As Angra unleashes the Decay on the world, Meira, Mather, and Ceridwen must bring the kingdoms of Primoria together…or lose everything.
I put off starting this book until it was crunch time for book club… what else is new? I read the physical copy instead of listening to the audiobook because it wasn't available in my usual spots. It took me a little while to settle back into the story and the format change was weird to me. I grew to enjoy the audiobook narrator and hearing about the world in that format.
So yeah, I had a slower start and wasn't really in the mood to read it when I was supposed to be reading it. However, that definitely changed in the second half of the story! I found myself unwilling to put it down and ended up finishing over half of the book in one night. That's pretty big for me for a fantasy book! They usually take me foreverrrr to read and involve many, many small breaks.
I liked how the series came together as a whole and enjoyed the actual events of this book. I will say though, I wish that View Spoiler »more people survived! I can't believe some of the characters that were killed. Sir, Nessa… ugh! « Hide Spoiler Regardless of that, I think the end was perfect for everyone. I won't say anything about the result of the love triangle. I just think the ending was well-done and I'll leave it at that!
My favorite part was the whole labyrinth thing. I like when books have "trials" or some kind of magical maze for the characters to work through – a la Goblet of Fire or ACOTAR. Otherwise, I honestly couldn't even tell you the other events of the book, much like the other books in this series. I think my biggest issue is that the series won't leave a big impression on me. I don't see myself considering it a favorite or even remembering many plot points in a few months or years. It was enjoyable while I was reading it though, so I'll consider it a win.
Related Posts