In an effort to cut down on posts and burnout, my Review Roundups will feature 2-4 books I've read or listened to recently. Sometimes they're newer releases and sometimes they're all backlist titles. My ARC reviews usually get the solo treatment. Enjoy the mini reviews!
---
One of Us is Lying
by
Karen M. McManus
Series:
One of Us is Lying #1
Genres:
Young Adult
,
Mystery/Thriller
Published by
Penguin Random House
on May 30th 2017
Also by this author:
Two Can Keep a Secret
,
One of Us Is Next
,
The Cousins
,
You'll Be the Death of Me
,
Nothing More to Tell
,
One of Us Is Back
Format:
eBook
(361 pages) •
Source:
Library
Goodreads
•
Amazon
•
Barnes & Noble

One of Us Is Lying is the story of what happens when five strangers walk into detention and only four walk out alive. Everyone is a suspect, and everyone has something to hide.

Pay close attention and you might solve this.

On Monday afternoon, five students at Bayview High walk into detention.

Bronwyn, the brain, is Yale-bound and never breaks a rule.

Addy, the beauty, is the picture-perfect homecoming princess.

Nate, the criminal, is already on probation for dealing.

Cooper, the athlete, is the all-star baseball pitcher.

And Simon, the outcast, is the creator of Bayview High's notorious gossip app.

Only, Simon never makes it out of that classroom. Before the end of detention Simon's dead. And according to investigators, his death wasn't an accident. On Monday, he died. But on Tuesday, he'd planned to post juicy reveals about all four of his high-profile classmates, which makes all four of them suspects in his murder. Or are they the perfect patsies for a killer who's still on the loose?

Everyone has secrets, right? What really matters is how far you would go to protect them.
I was REALLY excited for this book for a long time, so I immediately put in a library hold for it. The physical copy was taking forever so I ended up requesting the ebook from there. I put my TBR on hold and dove right in. My memory is terrible with books, so I was happy when Carrie and I started chatting via DM about the book while we both read (that way I have some record of my initial thoughts and reactions!).
I kind of suspected everyone and no one at the same time. I didn't initially think any of the characters were capable of murder, even though McManus gave us plenty of red herrings for just about all of them. They each had suspicious excuses for that day, on top of dirty laundry they were trying to cover up. The more I read, the more I KNEW none of them did it. It just wasn't possible. I developed a few theories but, as you know, I'm really bad about predicting murderers/mystery things.
I genuinely loved all of the characters in this one. They had the stereotypical qualities of different types of high school students, but still felt real and unique to me. Bronwyn was the Yale-bound girl whose parents came here and achieved the American dream. Connor is the baseball star from the south. Nate is the drug dealer on probation with a messed up family life. Addy is the popular one with the hot jock boyfriend. I loved seeing each of them get closer; the Breakfast Club comparison is really accurate to me. Even though there was a murder investigation happening, I related so much to each of the students and their experiences with relationships, school, and family. It felt like a contemporary in some ways, with murder thrown in.
Overall, I could not stop reading this book and REALLY enjoyed it. There are some issues with stereotypes, in my opinion, but the author did a good job of fleshing people out beyond them. Some of my theories started coming together throughout the end of the story, so I was impressed with myself for kind of figuring it out… but that definitely didn't interfere with my enjoyment of the book.

The Gentleman's Guide to Vice and Virtue
by
Mackenzi Lee
Series:
Montague Siblings #2
Genres:
Young Adult
,
Historical Fiction
Published by
Harper Collins
on June 27th 2017
Also by this author:
The Lady's Guide to Petticoats and Piracy
Format:
eBook
(513 pages) •
Source:
Library
Goodreads
•
Amazon
•
Barnes & Noble

Henry "Monty" Montague was born and bred to be a gentleman, but he was never one to be tamed. The finest boarding schools in England and the constant disapproval of his father haven't been able to curb any of his roguish passions—not for gambling halls, late nights spent with a bottle of spirits, or waking up in the arms of women or men.

But as Monty embarks on his Grand Tour of Europe, his quest for a life filled with pleasure and vice is in danger of coming to an end. Not only does his father expect him to take over the family's estate upon his return, but Monty is also nursing an impossible crush on his best friend and traveling companion, Percy.

Still it isn't in Monty's nature to give up. Even with his younger sister, Felicity, in tow, he vows to make this yearlong escapade one last hedonistic hurrah and flirt with Percy from Paris to Rome. But when one of Monty's reckless decisions turns their trip abroad into a harrowing manhunt that spans across Europe, it calls into question everything he knows, including his relationship with the boy he adores.
I was honestly not sure I'd ever read this book, but one of the book club members had recently ordered it and suggested it. Since it was already on my TBR and the other girl will read anything, we decided to go for it. I was nervous mostly because of its size, the fact that its historical fiction, and its male narrator. Just a few things I'm usually leery of…
I started out pretty slowly because I was reading on my iPad from the library app and I don't like to have my face in front of an actual screen literally all day and night (obvs regular Kindle screens don't count, duh. Or TV while we're at it…). The beginning started a bit slow but I was promised some kind of crazy action and magic later in the story, so I pressed on.
There was a certain point in the book where everything just clicked for me. I wanted to reach in and hug Percy, Henry, and Felicity as they bounced around Europe. AND THE SHIP WAS PERFECT. I loved them. Things got a little crazy throughout their journey but I liked seeing what would happen next. I really went into this book with almost no expectations, which helped so much.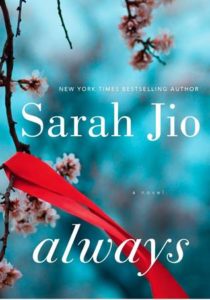 Always
by
Sarah Jio
Genres:
Adult
,
Contemporary
Published by
Random House
on February 7th 2017
Format:
eBook
(288 pages) •
Source:
Library
Goodreads
•
Amazon
•
Barnes & Noble

While enjoying a romantic candlelit dinner with her fiance, Ryan, at one of Seattle's chicest restaurants, Kailey Crane can't believe her good fortune: She has a great job as a writer for the Herald and is now engaged to a guy who is perfect in nearly every way. As they leave the restaurant, Kailey spies a thin, bearded homeless man on the sidewalk. She approaches him to offer up her bag of leftovers, and is stunned when their eyes meet, then stricken to her very core: The man is the love of her life, Cade McAllister.

When Kailey met Cade ten years ago, their attraction was immediate and intense everything connected and felt "right." But it all ended suddenly, leaving Kailey devastated. Now the poor soul on the street is a faded version of her former beloved: His weathered and weary face is as handsome as Kailey remembers, but his mind has suffered in the intervening years. Over the next few weeks, Kailey helps Cade begin to piece his life together, something she initially keeps from Ryan. As she revisits her long-ago relationship, Kailey realizes that she must decide exactly what and whom she wants.

Alternating between the past and the present, Always is a beautifully unfolding exploration of a woman faced with an impossible choice, a woman who discovers what she's willing to save and what she will sacrifice for true love.
I was pretty excited for this book but have to admit, it was kind of a letdown. The overall story was really interesting; can you even imagine what it'd be like to see your ex boyfriend homeless on the street, years after he went missing? All while you're engaged to someone else. It's unfathomable. This premise definitely reminded me of One True Loves, but unfortunately did not pack the same emotional punch.
Kailey did not handle this situation the right way at all. I know it wasn't easy to think of telling her fiance about Cade, but she completely hid him. She knew he would be understanding about helping him and she made it worse by avoiding it until she was literally caught in the act. While her and Ryan had no spark as a couple, he was an incredibly nice guy who deserved way more than that.
Kailey annoyed me in plenty of other areas too, but I won't bother getting into it. There was way too much repetition in this story – both in the actual words, sentences, and thoughts running through her head, and in the actual plot or format. The book alternates chapters between her and Cade's romance in the 90s and present day, where she's with Ryan and helping Cade get on his feet. Sometimes the reader would read a certain event or scene between Kailey and Cade firsthand, and then the next chapter would have Kailey reminiscing on that exact instance in present day. It was like reading those scenes twice in a row. I think the setup could have been better and less repetitive to make it a little more interesting.
Overall, I admit that I was intrigued about what happened to Cade back then and solving the "mystery" as the story went along. I won't say much else about him or what the circumstances were, but I was happy with the resolution and end of the book.
Related Posts