I saw this tag on Grace's blog and then Madalyn's, so I decided it was a sign to give it a go.
This Q&A is hosted by The Blended Blog.
Favorite fall sweet treat? I've tried making apple crisp two times and it came out horribly. I mean, it obviously tasted good, but the top was more like goop instead of crisp? Not sure what the problem is. I don't actually love apple pie or even apple crisp too much, but I always feel the need to indulge in that one during the fall. My favorite sweet treat would probably be pumpkin pie or pumpkin cheesecake though.
Red, yellow, or green apples? I'm a fan of McIntosh apples the most, because they're little and sweet. I don't mind green apples or sometimes yellow apples if the mood strikes. I'm definitely not a fan of Red Delicious. Is anyone? Yuck. I'm also down with Pink Lady, Fuji, and Gala for sure.
Favorite fall sport to play? I don't play sports, but my favorite fall sport to watch is obviously football. I like to go for hikes and ride bikes in the fall because the weather is cooler, I don't sweat as much, and the foliage in the northeast is gorgeous. Those count as sports, right?
Best drink for fall? Hmmm, I think this is covered later in the survey so I'll avoid the PSL question for now. I LOVE apple cider. So much. I feel like a fraud if I only have one gallon throughout the season, so I make it a point to buy as many as I can. I also love the farm-fresh cider when we go pumpkin picking. There's nothing better than Connecticut apple cider. (We'll see about Maine's this year!)
Favorite fall activity? I like pumpkin picking a lot. The whole experience of finding a new farm to try (believe me, there are a million options where I'm from) and testing it out. We try to hit a new spot each year. The hayride, the pumpkin selection, the small gourds I always buy, and the fresh cider and cider donuts… they're all the best. I haven't apple picked in a long time either; I hope to do that soon.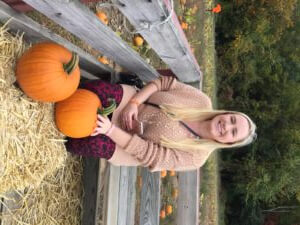 Must have fall purchase? That's a tough one… I guess clothing-wise I would have to say comfortable sweaters and leggings. Those are my go-to as the weather gets cooler. I have soooo many to choose from. Otherwise, I buy a lot of pumpkin-flavored things (from coffee to dessert to ravioli), apple-scented candles, and cider donuts.
Pumpkins: pick your own or store-bought? Definitely pick-your-own! As I said above, it's definitely one of my favorite fall experiences. I sometimes will buy a mini pumpkin or gourds from the grocery store when I see them there though. I can't resist adding a few to my apartment to liven things up. We don't have a front door to the outside where we currently live, so I'm honestly not sure about our pumpkin plans this year.
Real or fake pumpkin? Again, definitely real pumpkins. One of my family members gave my stepsister and I a couple of fake pumpkins to carve one year though. I carved my name in it and it looked pretty lame (lol). I wouldn't mind some for decoration within the house or for a table arrangement though.
Favorite Halloween costume? I've had a lot of fun Halloween costumes throughout my years, especially during college. Some of the best group costumes happened during those four years and you can see more of them here! I think the best one was the "milestone birthdays" we did during senior year though. We had a 1, 16, 18, 21, and 50 year old to make up our group.
College football or NFL? The NFL alllll day. I always said I would be interested to maybe get more into college football, but honestly it would take up so much time! I already spend every waking second thinking about football and watching football (all day Sunday, plus Monday and Thursday nights). I watch every game I can during every time slot, so adding in college football all day Saturday would make me WAY lazier than I should be.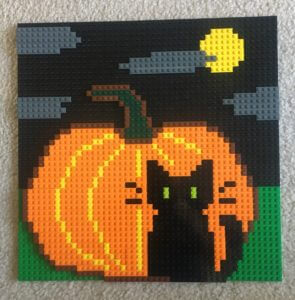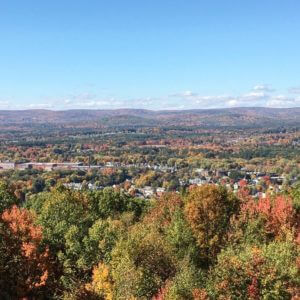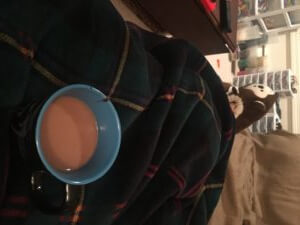 Fall or Halloween decor? Definitely fall decor for me. Unpopular opinion: I don't care much about Halloween. I'm not really into the spooky things unless I'm specifically in the mood for it. I watch some Halloween movies (but they're mostly Disney Channel ones) and that's about it. I love decorating for fall because I can keep them up from September through November without a problem.
Raking leaves or no leaves to rake? No leaves for me. I used to help my parents out but I don't live at home anymore. The past few places have been apartments too, so I'm very fortunate! I get very tired quickly because I'm not in the best shape I could be, so it's definitely not a fun activity for me.
Favorite soup? MMM I love soups and stews during autumn. I make a lot of chili and beef stew in my crockpot. There's a really delicious Thai pumpkin soup that I made quite a few times last year that I hope to make soon. I love butternut squash soup but I don't remember the last time I even had some.
Favorite fall candle scent? APPLE. I'm a huuuuge fan of apple candles. I find that a lot of scents are too sweet for me or smell too much like cologne/perfume. I think apple candles have just the right amount of sweetness and just make me feel so cozy. I love the Novelly Yours "Winter" candle and B&BW's "Winter Candy Apple" the most.
Love or hate pumpkin spice? I love it. I use pumpkin spice coffee creamer every day, once its available in stores for the season. I do make the occasional stop at Starbucks or Dunkin for a PSL or pumpkin iced coffee throughout the season as well. Some of my favorite local coffee shops in both states have nice PSLs too!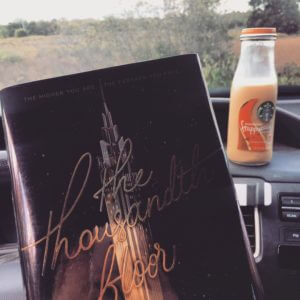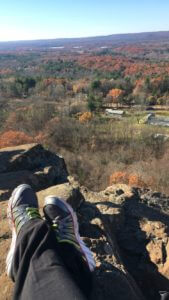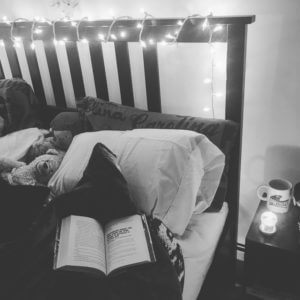 Short booties or tall boots? I'm a tall boot kind of girl, but I recently bought two pairs of short booties to try out. I love my tall ones with sweaters or long shirts, but I think the short booties will look better when I have a dress on top. I wanted to buy them so I can keep wearing my dresses all year and just layer it up with leggings, sweaters, and booties. We'll see!
Favorite Halloween candy? That's tough. I love Reeses all of all varieties – the standard cups, the mini cups, crunchy bars, etc. I don't like caramel, which is probably the one standard I have for chocolate candies. I like fruity ones and sour gummies too. Ugh, now I want some candy.
PSL: yes or no? YES. I know I've said it a few times here but it's definitely a great seasonal beverage. I also think that the maple pecan latte from Starbucks is delicious. That's a nice reminder to go out and get myself one of those soon. Also, I definitely find myself leaning more toward the pumpkin coffees or iced coffees instead of the actual Pumpkin Spice LATTE.
Hayride or corn maze? Hayrides. I love taking them down to the pumpkin patch! I never cared much for corn mazes when I was younger and don't remember the last time I did one honestly. I think the hayride part can be such a fun, scenic way to check out the pumpkin patch. There's a haunted one in our hometown that I'd like to try out this season too.
Favorite fall TV show? Ooooh man. I'm a big fan of fall TV usually. As of right now, I'm most anticipating season two of Stranger Things. I think that's my biggest one this October. Old favorites from last year like This Is Us and The Good Place are back too, plus Total Bellas and Total Divas. ALL THE FALL SHOWS.
Related Posts