Cristina and I are teaming up for our seasonal Book Buddies read! This time, we chose BITTERSWEET by Sarah Ockler. I wanted to keep up with my usual holiday review theme for the month but we obviously have a little something more for you at the bottom! As usual, don't forget to check out Cristina's post too!

Bittersweet by Sarah Ockler
on January 3rd 2012
Also by this author: Twenty Boy Summer, The Summer of Chasing Mermaids
(378 pages) • Goodreads • Amazon • Barnes & Noble


Once upon a time, Hudson knew exactly what her future looked like. Then a betrayal changed her life, and knocked her dreams to the ground. Now she's a girl who doesn't believe in second chances... a girl who stays under the radar by baking cupcakes at her mom's diner and obsessing over what might have been.

So when things start looking up and she has another shot at her dreams, Hudson is equal parts hopeful and terrified. Of course, this is also the moment a cute, sweet guy walks into her life... and starts serving up some seriously mixed signals. She's got a lot on her plate, and for a girl who's been burned before, risking it all is easier said than done.

It's time for Hudson to ask herself what she really wants, and how much she's willing to sacrifice to get it. Because in a place where opportunities are fleeting, she knows this chance may very well be her last...
Story
I've had mixed experiences with Sarah Ockler so far. I loved one and felt so-so about another. This book unfortunately falls more into that second category, but I definitely enjoyed it a bit more. The diner setting was a lot of fun; I always love books that take place in restaurants of some kind (like some classic Dessens). Hudson, in addition to figure skating again, bakes insanely delicious-sounding cupcakes for the diner too. Each chapter started off with a little description about one of the cupcakes and it made me so hungry. I loved her brother and their relationship. Her mom expected a lot from her but I didn't find it overly unreasonable, especially because Hudson kept her in the dark about everything going on in her life. I enjoyed the friendships she developed with the hockey boys but hated how she treated Dani. Hudson was a selfish character with a few goals she had laser focus on, so it was hard to like her at times.
Wintery Setting & Holiday Feels
I wasn't expecting full-on holiday feels for this one because it doesn't allude to that in the synopsis, but it had a GREAT atmospheric winter setting. The book takes place in upstate New York, which is a very snowy place. These winter feels continued through the ice skating and hockey plot points. The book did involve Christmas for a couple of scenes at the diner and in their house. It was nice to have that little part but I definitely could have read this book later in the winter too.
Overall
This is a nice winter book that features snow, hockey, and ice skating, plus a few bits of Christmas in the middle. It's about a girl figuring out what she wants while trying to balance a million things in her life (unsuccessfully). I didn't love the main character but it was a fairly fun journey to read about overall.


---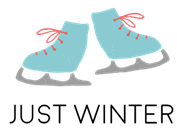 Holiday Cooking & Baking
I'm not a huge baker but we decided to feature some holiday recipes for this post! I figured I would add in a few things I've made in the past as well as some ideas for this holiday season. My recipes are usually sourced from Pinterest but I'll be linking to original blogs/posts here.
My go-to recipe when I have to bake: MAGIC BARS
My boss's dad (who is also my coworker sometimes) makes these delicious and ABSURDLY easy Magic Bars, which I learned how to make earlier this year. As I said, I am not a baker by any means, so this is the extent of my baking. If I can just master this recipe, I'm satisfied!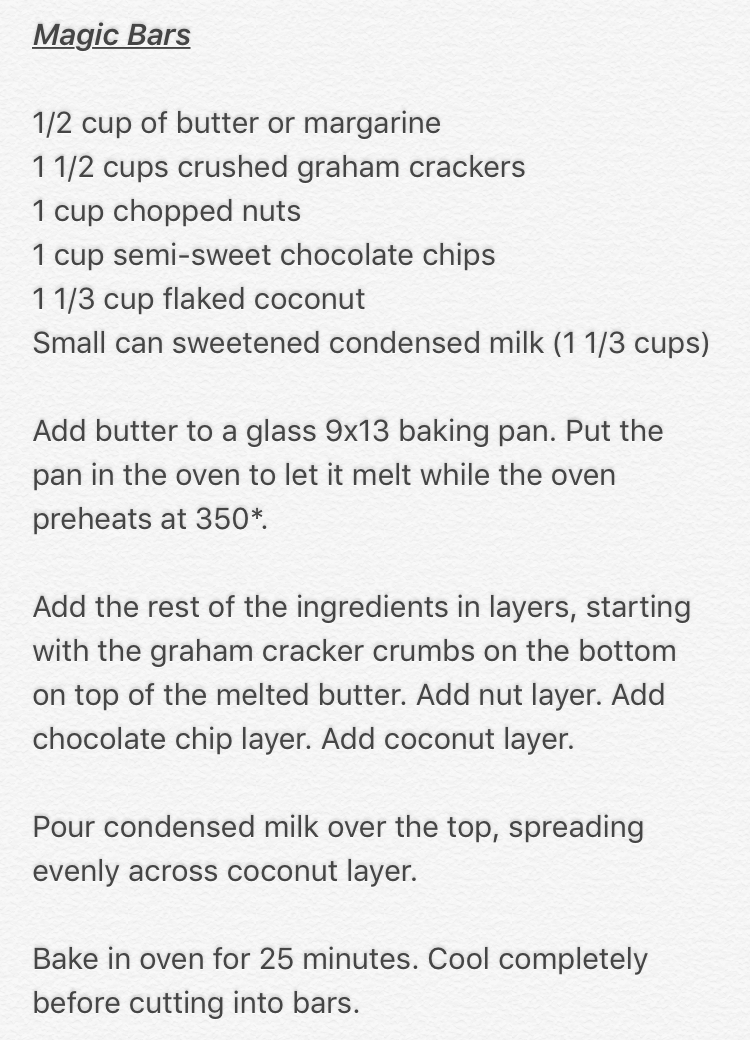 Something a bit more savory: QUICHE
I have become REALLY big on quiche because Chris's parents give us soooo many eggs whenever we come home. I usually make these so that I can use up about 6 eggs at once, but you can make them with less eggs if you add in more toppings. As you can see from the recipe, I have a few favorite combinations that I'll explain further here…
Broccoli Bacon Quiche: Fry bacon in a pin and then cook up broccoli (maybe a cup or so) with olive oil and Italian seasoning. You can also add onions in this one.
Sausage Quiche: I usually make the same quiche as above except I cook up little frozen sausage patties in the microwave and then cut them into little pieces, instead of the bacon.
Ranch Potato Quiche: Cook up frozen hash browns with butter on the stove. You can make this one with bacon as well. When you add your cooked fillings in with the eggs, add in a packet of ranch dressing / seasoning mix and just combine it all together. This one is good with regular onions or green onions.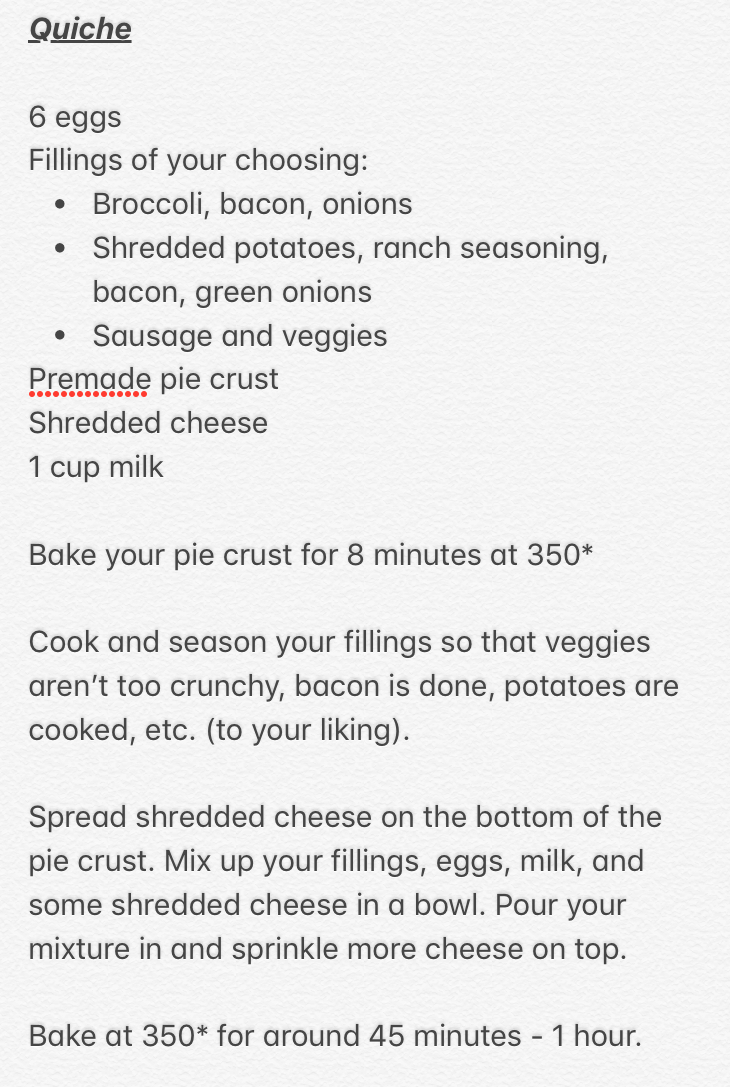 Easy holiday starters: APPETIZER BITES
I made these a few years ago for Christmas Eve and it was definitely successful! I like that you can do just about anything to fill crescent rolls and they make a fun appetizer (or even dessert, depending on what you put in them!). I've only made the first two but here are some other ideas as well:
Pizza Bites: pepperoni and string cheese, dip in marinara sauce
Jalapeno Popper: sliced jalapenos and cream cheese
Raspberry Brie: raspberry jam and brie cheese
Cranberry Cream Cheese: dried cranberries and cream cheese
Caramel Apple: canned apple pie filling topped with caramel syrup
All you do is roll out the crescent rolls, add dollops and pieces of your fillings in the big section, and roll them like you would a normal crescent roll. Then, as you probably suspected, bake them according to the instructions on the tin. It's super easy for just about any meal or party.
More holiday appetizers: DIPS
I haven't made any of these three dips but they look so good. The first, Pumpkin Pie Cheesecake Dip, brings back pumpkin season at Christmas and I am not mad about it. The second, Christmas Cookie Dough Dip, looks like a delicious dessert dip that I would love with graham crackers. The last is Warm "Crack" Dip, which intrigues me because the last time I made this kind of "crack dip" recipe it was a cold one. I like the idea of it being a little different and warmed up! (Pictures came from the linked posts.)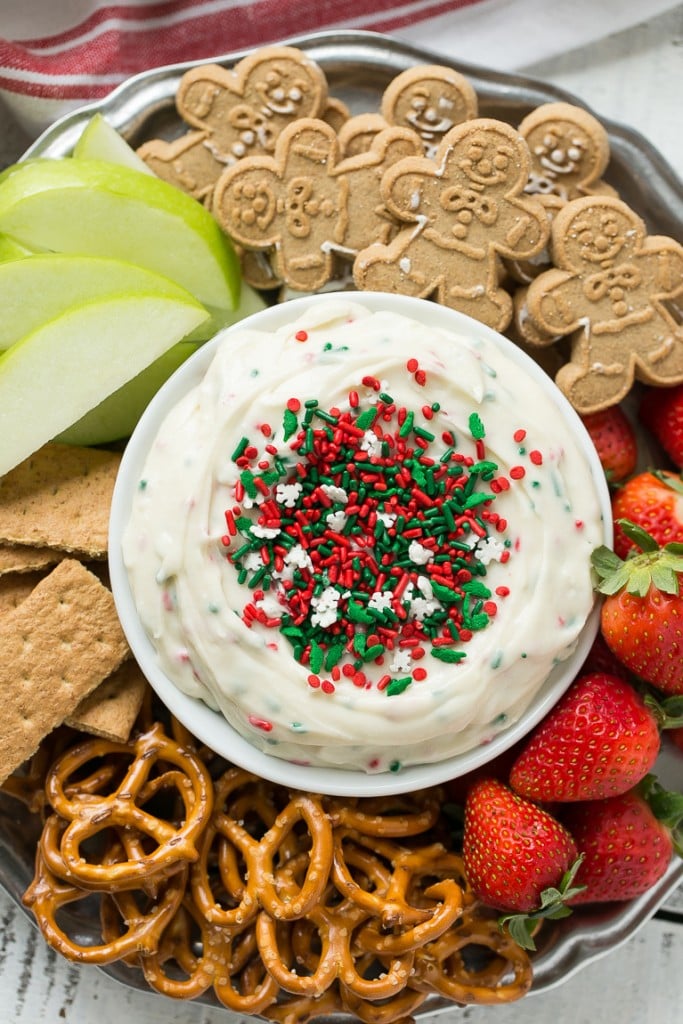 Related Posts