I received this book for free (hey, thanks!) in exchange for an honest review. I promise that this does NOT affect my opinion of the book or the content of my review. For real.
We'll Always Have Christmas
by
Jenny Hale
Genres:
Adult
,
Contemporary
,
Holiday
Published by
Bookouture
on September 29th 2017
Also by this author:
A Christmas to Remember
,
Coming Home for Christmas
,
Christmas Wishes and Mistletoe Kisses
,
All I Want for Christmas
,
It Started With Christmas
,
The Summer House
,
Christmas at Silver Falls
,
Christmas at Fireside Cabins
,
The Christmas Letters
Format:
eARC
(328 pages) •
Source:
Publisher
Goodreads
•
Amazon
•
Barnes & Noble
An enchanting story about the magic of Christmas, the importance of family, and the joy of falling in love during the most romantic season of the year…

Christmas has always been a special time for Noelle Parker. Winter evenings spent with family and friends, drinking hot chocolate and eating cookies at her family's cozy bakery have shaped her love for all things festive. But this year everything is changing…

The beloved bakery is facing closure and Noelle needs a miracle to save Christmas.

Determined to raise funds for the family business, Noelle sets about revamping the bakery while juggling a surprise new job, caring for the elderly and cantankerous William Harrington in his luxurious, sprawling mansion.

As Noelle melts the frostiness of the house with cake baking, snowball fights and glittering decorations, she helps William to reconnect with a romance that has spanned decades and unexpectedly finds herself falling for his grandson - the gorgeous but mysterious Alexander Harrington…

In the countdown to Christmas, can Noelle save the bakery, reunite a family and create some magical memories of her own along the way?

Unwrap the feeling of Christmas in this beautiful novel celebrating friendship, family and love that lasts a lifetime. We'll Always Have Christmas is the perfect treat for fans of Karen Swan, Susan Mallery and Sue Moorcroft.
Story
Tis the season for my favorite holiday author! I always wait until it's VERY close to Christmas to embark on my Jenny Hale book of the year, because they're usually the most atmospheric. This one was a little different, which I'll get into later.
Noelle takes on a new job helping an elderly man in a local mansion while trying to fix up her family's bakery to improve business. She falls for Alex, the man's grandson, while staying there with her son. She has mixed feelings because Alex is the landlord for the bakery and is the one "pushing them out" with higher rent. Noelle has close friends, Phoebe and Jo, and a tight-knit family between her parents, grandfather, and sister. It was a  really well-rounded story, even if some of the plot pieces were kind of annoying. There was a whole side thing that I predicted earlier with the grandfather's lost ~first love~ and the fact that Noelle was thinking of moving to LA with Phoebe. The second thing there wasn't needed in the story and took up an unnecessary amount of her headspace. The first one made sense even if it was predictable.
Wintery Setting & Holiday Feels
I feel like this is the first time I've given a Jenny Hale book less than "full-on holiday cheer" on my cheer-o-meter. The book takes place in the month or two leading up to Christmas, so there were bits of the holiday sprinkled throughout. The cozy bakery setting and Christmas-decorated mansion were helpful there too. However, her other books usually have the MC decorating for Christmas in the bland mansion, so I always feel super holiday-like throughout the book. I think the less-grumpy love interest allowed for the MC to spend less time on doing Christmas decorations. I'm bummed because I finished the book on Christmas Eve Eve and didn't feel super Christmassy.
Overall
From a general story perspective, I enjoyed the premise. I liked Noelle and Alex, plus her son Lucas was adorable. The friend group and family members were well-developed and the bakery elements were super fun. For all those reasons, this could have been my favorite Hale book. However, the minimal Christmas feelings that I was hoping for and expecting did not make me as happy as I hoped 🙁


---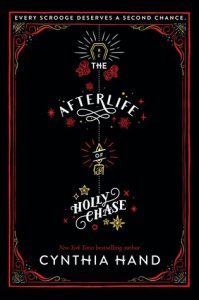 The Afterlife of Holly Chase
by
Cynthia Hand
Genres:
Young Adult
,
Paranormal
,
Holiday
Published by
Harper Collins
on October 24th 2017
Also by this author:
My Lady Jane
,
My Plain Jane
,
My Calamity Jane
Format:
Hardcover
(389 pages) •
Source:
Purchased
Goodreads
•
Amazon
•
Barnes & Noble

On Christmas Eve five years ago, Holly was visited by three ghosts who showed her how selfish and spoiled she'd become. They tried to convince her to mend her ways.

She didn't.

And then she died.

Now she's stuck working for the top-secret company Project Scrooge--as the latest Ghost of Christmas Past.

Every year, they save another miserly grouch. Every year, Holly stays frozen at seventeen while her family and friends go on living without her. So far, Holly's afterlife has been miserable.

But this year, everything is about to change. . . .
Story
I would say this was a pleasant surprise, but this book was honestly exactly what I was hoping for. I loved the entire story from start to finish. Holly Chase died five years ago after refusing to heed the warnings of her three spirits on Christmas Eve night. Since then, she's in her own personal hell working for Project Scrooge – the company that finds and tries to fix a Scrooge each year. She's the Ghost of Christmas Past and things are going fairly well, until she meets this years' Scrooge – a very attractive 17 year old boy named Ethan. She's drawn to him, starts breaking all the rules, and eventually everything is bound to catch up to her.
I love the Christmas Carol retelling vibe of this one because Hand REALLY got into it. The logistics of Project Scrooge and how they find their spirits was absolutely fascinating. I can't believe someone came up with this story! It's definitely not your standard retelling of this timeless tale, and I loved it.
Wintery Setting & Holiday Feels
I hesitated when giving this a rating on my cheer-o-meter. While the book is obviously centered around Christmas Eve/ Christmas Day, the bulk of the book takes place in between. Project Scrooge as a business works from around April through December, which is when we get highlights of what goes on during that timeframe to prep for the Scrooge. There are lots of Christmas feels whenever that specific element of the project is mentioned, and there are a few Christmasses that sort of occur during the book (you'll know what I mean if you read it). This doesn't feel toooo much like a holiday book. You know I'm picky about when I read my Christmas books and I have to admit that I'd even read this any other month.
Overall
This was a stellar read for me – one of my favorites of 2017 that I could not put down. I stayed up pretty late to finish the last 200+ pages in one enjoyable sitting. I think that the reason this can't get five stars from me is because of a couple elements at the end. While I was mostly shocked by a few events, some things were predictable for me. On top of that, I'm a little sad that one thing in particular didn't work out the way I was hoping it would. I would love to read more books set at Project Scrooge! Or even about Holly.


---

Related Posts