In an effort to cut down on posts and burnout, my Review Roundups will feature 2-4 books I've read or listened to recently. Sometimes they're newer releases and sometimes they're all backlist titles. My ARC reviews usually get the solo treatment. Enjoy the mini reviews!
---
I received this book for free (hey, thanks!) in exchange for an honest review. I promise that this does NOT affect my opinion of the book or the content of my review. For real.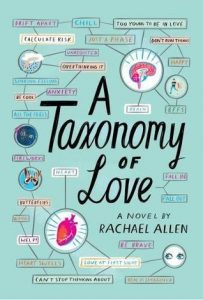 A Taxonomy of Love
by
Rachael Allen
Genres:
Young Adult
,
Contemporary
Published by
Abrams
on January 9th 2018
Also by this author:
The Revenge Playbook
,
The Summer of Impossibilities
Format:
ARC
(336 pages) •
Source:
Borrowed
Goodreads
•
Amazon
•
Barnes & Noble

The moment Spencer meets Hope the summer before seventh grade, it's . . . something at first sight. He knows she's special, possibly even magical. The pair become fast friends, climbing trees and planning world travels. After years of being outshone by his older brother and teased because of his Tourette syndrome, Spencer finally feels like he belongs. But as Hope and Spencer get older and life gets messier, the clear label of "friend" gets messier, too.

Through sibling feuds and family tragedies, new relationships and broken hearts, the two grow together and apart, and Spencer, an aspiring scientist, tries to map it all out using his trusty system of taxonomy. He wants to identify and classify their relationship, but in the end, he finds that life doesn't always fit into easy-to-manage boxes, and it's this messy complexity that makes life so rich and beautiful.
I finally read it, guys!! I've had this book in my clutches for months and finally made myself read it. I was really excited for it because I love Rachael Allen, but I just couldn't get myself in the mood for it. I knew it might be a sadder, harder to read contemporary, so I think I was just avoiding that part.
Spencer and Hope have been friends and neighbors since middle school, with countless ups and downs in between. It's a neverending cycle of one of them wanting something more at the wrong time, and going back and forth for years. I love neighbors/friends-to-more stories so I was definitely hoping for a happy ending. I thought the two of them were a good pair, but it was a LITTLE hard to get the feels because of how up and down their relationship was. On top of that, the story is broken into sections for different ages, starting with 7th grade and working up until they're 19 years old. I liked seeing the development over time, but it was also a little hard to keep up with their relationship developing in a linear way? Not sure how to describe it. The story has little taxonomies, online chat messages, letters, and emails throughout, but I definitely wanted there to be more of them.
There were definitely some sad moments, and one big spoilery sad thing, but it was overall a pretty hopeful and heartwarming story. I don't know if I've read a book involving someone with Tourette's Syndrome, so I hope the representation was accurate. It seemed to be, from my limited experience. I loved the little bits of wrestling, tree climbing, new friends, and family feels. Overall, this story highlights so many wonderful, sad, uncomfortable, and complicated aspects of growing up. I would highly recommend it.

Together at Midnight
by
Jennifer Castle
Genres:
Young Adult
,
Contemporary
Published by
Harper Collins
on January 2nd 2018
Format:
Audio/eBook
(352 pages) •
Source:
Scribd
Goodreads
•
Amazon
•
Barnes & Noble

What does it really mean to be kind . . . and why does it sometimes feel like the hardest thing in the world to do? High school senior Kendall, who just returned from a life-changing semester in Europe, and Max, who is drifting his way through a gap year before college, struggle with these questions when they witness a tragic accident in New York City during the holiday season. Racked with guilt, the two accept a dare to perform random acts of kindness to strangers. The challenge pulls these two teens, who have a history together from back home, closer and closer as they explore a vibrant city filled with other people's stories and secrets.

Kendall and Max can't deny their growing bond, even though they both have other romantic entanglements and uncertain futures. As the clock counts down on New Year's Eve, will they find themselves together at midnight?
This was definitely one of those books where I just KNEW I was going to love it. The premise intrigued me and it seemed like a great post-holiday read. It delivered on both fronts! Max and Kendall witness an accident in NYC and are challenged to perform random acts of kindness around the city. I loved following their journey and the different types of small kindnesses they performed.
While I liked them together, they did bug me individually at times. They were doing this random acts of kindness but still managed to judge people and not be as NICE as you'd kind of expect? For example, there was one girl that Kendall helped by herself and she immediately jumped to conclusions just because she was an actress. When the synopsis says "what does it really mean to be kind?" as the first line, you'd think that the characters would really LEARN the answer to it by the end. I think there was some good growth for both of them but no actual moments where she said "whoops maybe I shouldn't have leapt to that conclusion." Anyways, I loved the small chapters after each of their incidents where you get a page or two from the point of view from the person they just helped.
The audiobook was enjoyable too! I started with that and then finished it off with the ebook, as I typically do. Both of the narrators had nice voices (which is hard to do when there are two narrators).

I received this book for free (hey, thanks!) in exchange for an honest review. I promise that this does NOT affect my opinion of the book or the content of my review. For real.
The Upside of Falling Down
by
Rebekah Crane
Genres:
Young Adult
,
Contemporary
Published by
Amazon
on January 30th 2018
Also by this author:
Aspen
Format:
eARC
(252 pages) •
Source:
Publisher
Goodreads
•
Amazon
•
Barnes & Noble

For Clementine Haas, finding herself is more than a nice idea. Ever since she woke up in an Irish hospital with complete amnesia, self-discovery has become her mission.

They tell her she's the lone survivor of a plane crash. They tell her she's lucky to be alive. But she doesn't feel lucky. She feels…lost.

With the relentless Irish press bearing down on her, and a father she may not even recognize on his way from America to take her home, Clementine assumes a new identity and enlists a blue-eyed Irish stranger, Kieran O'Connell, to help her escape her forgotten life…and start a new one.

Hiding out in the sleepy town of Waterville, Ireland, Clementine discovers there's an upside to a life that's fallen apart. But as her lies grow, so does her affection for Kieran, and the truth about her identity becomes harder and harder to reveal, forcing Clementine to decide: Can she leave her past behind for a new love she'll never forget?
After falling completely in love with ASPEN, I can't believe it's taken me this long to read another book by Rebekah Crane. I even own a copy of THE ODDS OF LOVING GROVER CLEVELAND but it got lost in the shuffle while moving. (To be clear: I didn't actually lose it, but I know it got boxed up at my dad's house for now.) I was eager to read THE UPSIDE OF FALLING DOWN because it's a very Lauren book. Sometimes amnesia books can be too cliched and people avoid them, but I'm not sick of them yet.
When Clementine wakes up in a hospital in Ireland, she doesn't remember anything about herself. She was involved in a plane crash and it's a miracle she's even alive. Overwhelmed by her lack of memories, she sneaks out of the hospital and settles in the Irish countryside with a boy she meets there. (Poor decision-making skills, I know.) She avoids her real life and the fact that her dad is looking for her because she's upset she doesn't remember anything. I liked Kieran a lot even though he was cold and distant at first. The romance felt a little sudden or forced almost, and was often cheesy, but I grew to like them by the end.
I've never been to Ireland or really cared about going (compared to other countries around there), but this book made me second guess that. This book was a really quick read but the second half was even more addicting; I could just feel that things would come to a head soon. There were a lot of secrets and discoveries that clicked  together that I LOVED and the ending of the book was wonderfully surprising.
Related Posts