Books on my TBR That Take Place in Another Country
Top Ten Tuesdays were started by The Broke and the Bookish and are now hosted by That Artsy Reader Girl, where we make lists of our top ten books (or something else!) based on that week's prompt. The topics are provided ahead of time and can be found here. Book links bring you to Goodreads or my review.
This is something I'm always interested in because I have yet to travel outside of the continental United States. The farthest I've gone is actually to Florida (and Chicago, I guess, in a different direction). I've only been on a plane a few times too. I love reading books that feature international travel because I'm inspired by places I plan to go someday. I even have a Goodreads shelf to help track these books! I decided to feature books on my TBR instead of books I've already read.
All-Around European Trip
The Summer of Us by Ceclia Vinesse | "American expat Aubrey has only two weeks left in Europe before she leaves for college […] She and her best friend, Rae, have planned one last group trip across the continent. From Paris to Prague, they're going to explore famous museums, sip champagne in fancy restaurants, and eat as many croissants as possible with their friends Clara, Jonah, and Gabe."
I See London, I See France by Sarah Mlynowski | "Nineteen-year-old Sydney has the perfect summer mapped out. She's spending the next four and half weeks traveling through Europe with her childhood best friend, Leela. Their plans include Eiffel-Tower selfies, eating cocco gelato, and making out with très hot strangers."
And We're Off by Dana Schwartz | "Nora is shocked and elated when Robert offers her a gift: an all-expenses-paid summer trip to Europe to immerse herself in the craft and to study history's most famous artists. The only catch? Nora has to create an original piece of artwork at every stop and send it back to her grandfather."
The Wonder of Us by Kim Culbertson | "Riya moved to Berlin, Germany, with her family for junior year, while Abby stayed behind in their small California town. […] Riya proposes an epic adventure to fix their friendship. Two weeks, six countries, unimaginable fun."
France
Love a la Mode by Stephanie Kate Strohm | "Desperate to prove themselves, Rosie and Henry cook like never before while sparks fly between them. […] Love la Mode follows Rosie and Henry as they fall in love with food, with Paris, and ultimately, with each other."
Kiss Me In Paris by Catherine Rider | "Serena has just flown all the way to Paris for a special pre-Christmas weekend with her sister, Lara. They plan to retrace the steps of their parents' long-ago honeymoon in Paris, and create a scrapbook for their bereaved mother to remember it by."
Ireland | Spain
Love & Luck by Jenna Evans Welch | "So when Addie discovers an unusual guidebook, Ireland for the Heartbroken, […she] finds herself on a whirlwind tour of the Emerald Isle, trapped in the world's smallest vehicle with Ian and his admittedly cute, Irish-accented friend Rowan. […] The trio journeys over breathtaking green hills, past countless castles, and through a number of fairy-tale forests."
The Summer of Broken Things by Margaret Peterson Haddix | "In Spain, the two uncover a secret their families had hidden from both of them their entire lives. Maybe the girls can put aside their differences and work through it together."
Australia | Italy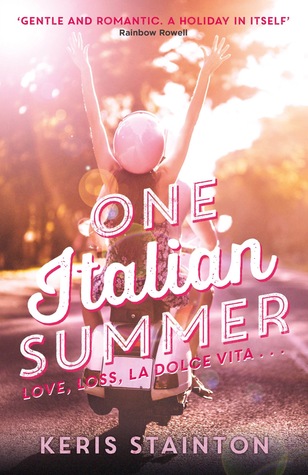 Don't Forget Me by Victoria Stevens | "Seventeen-year-old Hazel Clarke is no stranger to heartbreaks, and being sent to live with a father she's never met is the latest in a string of them. Even the beauty of eastern Australia isn't enough to take her mind off her mother and the life she had to leave behind in England."
One Italian Summer by Keris Stainton | "It's been a year since Milly, Elyse and Leonie's dad died, and a year since their last trip to Rome. Summer's here again, and once again they are heading with their mum to Italy – but what's it going to be like going without Dad? Rome still holds its familiar charms – the sun is still as warm, the gelato as delicious, the people as welcoming."
Related Posts