A looong time ago, I did a guest post on Rachel's blog about what's in my purse. I still use that purse from time to time but lately they've gotten much smaller. I used to carry around a huge bag to and from work because I wanted to make sure I could fit a book in there. However, since moving to the city, I've found that I need something a lot smaller. I was using a really cute pink-ish bag from Charming Charlie for a while and decided to treat myself to something new during the Kate Spade surprise sale.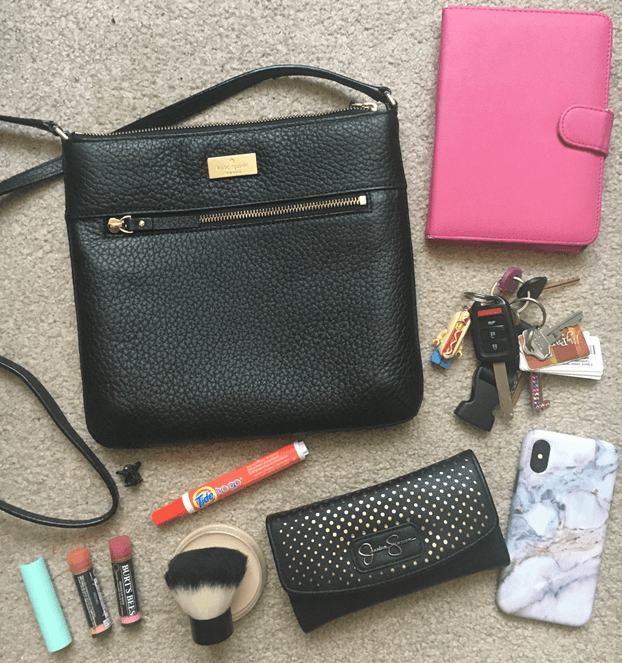 Kate Spade Prospect Place Rima | I couldn't resist this one when I saw it, even though I did narrow down my choice from 6 purses in my shopping bag. Whoops. I was looking at some larger totes for when I'm back in the office (still need one, but might check out an outlet sometime this summer), a backpack purse, and a few wallets or wristlets. I decided on this one because it looked small enough to be a nice cross-body and large enough to fit my Kindle/iPad depending on what I'm reading. #priorities
Jessica Simpson Wallet | I bought this a while ago because my other Coach wallet was getting beat up AND was too big for the smaller purses I started to adopt. This one is tiny and doesn't include a section for checks, which is fine because I basically just use those for rent now anyways! It has cute cheetah print on the inside flap and the black/gold match my new purse perfectly.
Keys | I have a lot on here because I live in a million locations, basically. I have keys to my mom's house, Chris's parents' house, my office, my mailbox at the apartment, two apartment keys (main door and apartment door), and my car key. I have a few keychains (Lego hot dog guy, an "L") and various cards for grocery stores, Panera, and multiple libraries.
Various chapsticks | I did cut down once I saw this picture, but I always have one tinted chapstick and one plain one in my purse. I don't do a lot with my lips (ie. I don't like lipstick because it smudges and takes too much work), so you'll see me running to a tinted chapstick of some kind the vast majority of the time. The Burt's Bees ones are the best because they're more sheer too. I like some of the NYX ones but none are pictured here.
Powder and brush | I have pretty oily skin so there are many times I have to do a quick touch-up when I'm out. If I put my makeup on in the morning, work all day, and see friends at night, I'll probably need powder by 9 PM. I don't really do this too often now that I've fixed my makeup routine, but I'd rather have this just in case!
Hair clip | I get really sick of my hair when it's down, so you'll often see my clip some of it back to keep it out of my face for the day. I always need a hair clip on me as a result.
iPhone | I don't think I need to explain this one, right? (I also have another iPhone for work, which I used to take this picture, but I usually have both of them in my bag at the same time.)
Tide to Go Stick | I'm a very messy person so this is a must-have for me. I spill on myself constantly when I eat or drink. Chris bought me a pack of these for my birthday recently because all of my other ones had dried up. This is always a lifesaver for other people too 😉
Kindle (sometimes!) | Depending on my plans for the day, I'll stow my Kindle in my purse. It's a small bag, but I can actually very easily fit the Kindle in it. It looks better when I stand the wallet up instead of lay it down, and then put the Kindle next to it. It stays pretty flat that way. I haven't tried my iPad yet but I have a mini, so I'm sure that'll fit too.
Related Posts