ARC August is halfway over! I signed up because I have some goals to get my ARC percentage to 80% by the end of the year, so this challenge will be a nice push for both backlist books and some coming later this year. I will probably focus mostly on egalleys, with maybe 2-4 physical ARCs in between, so I can focus on the NG/EW Challenge I'm working on. Here is where I'll outline my goals, TBR, readathon plans, and bookish bingo. All of the details for this challenge can be found here!
Goals and Plans
I really would love to somehow get my Netgalley percentage up to 80% this month but I don't think it'll be super feasible. I'm currently stuck around 71% and definitely need to read more than 10 books to improve. (ETA: after completing the books below, I'm at 73%!) I hope to read mostly ARCs throughout the month, again primarily egalleys. My goal is for 75% of the books I read in August to be ARCs, that way I don't have a set number to stress about. I have been reading 10+ books each month so that looks like 7 or 8 if I stick to what I assume will happen.
Challenge Tracking
Book title/author: After Nightfall by AJ Banner
Dates read: 8/1 – 8/2

Book title/author: Unclaimed Baggage by Jen Doll
Dates read: 8/4 – 8/10
Book title/author: Sadie by Courtney Summers
Dates read: 8/5 – 8/7
Book title/author: The Last Wish of Sasha Cade by Cheyenne Young
Dates read: 8/7 – 8/14
Book title/author: Little White Lies by Jennifer Lynn Barnes
Dates read: 8/11 – 8/13
Book title/author: The Dinner List by Rebecca Serle
Dates read: 8/15 –
Total ARCs read so far: 5
Total non-ARCs read so far: 1
Percentage of ARCs: 83%
TBR for 2nd Half of August
I did a good job of crossing off quite a few from my first half TBR! I read 3 egalleys and one of the physical copies. I'm not sure if I'll get to any other physical copies because I have some library books to catch up on in that format, but I will definitely blaze through more egalleys I'm guessing. I decided to take those physical ARCs off the list as a result.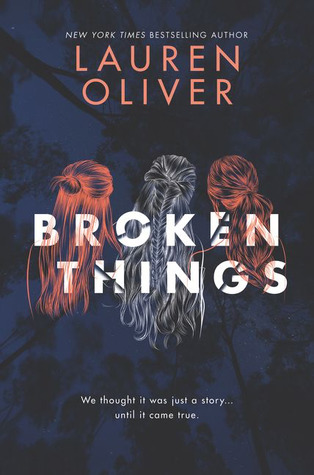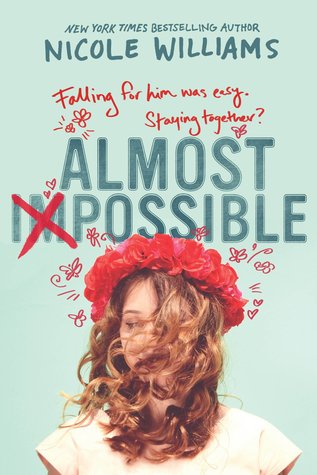 Bingo-inspired TBR ideas:
Items marked in RED are the ones I am definitely thinking I'll accomplish, and the ones that would directly lead to a Bingo or two depending on their position in the card!
Standalone: Broken Things, The Dinner List, The Impossibility of Us, Moxie, etc.
Meet ARC August goal: get to 75% or more of ARCs for the month
Pirates: Song of the Current
Finish a fantasy novel: Dance of Thieves, Furyborn, Grim Lovelies, Reign the Earth
Dragon: Toil & Trouble (I checked – there's at least one dragon!), possibly the other fantasy novels?
Finish a contemporary novel: Love a la Mode, The Geography of Lost Things, etc.
Finish a series: I don't think I have any ARCs for the final book in a series?
Winter 2018 release: Fame, Fate, and the First Kiss
Friends to lovers: can't see from my list if this works for any books, so I'll have to read and find out!
DNF: we'll see if this happens!
Has been on your TBR for a while: The F Word, Noteworthy, The Love Interest, any 2017 ARC
Finish a graphic novel: Same with the series – no graphic novel ARCs as of now
Released more than 30 days ago: Almost Impossible, Chemistry Lessons, All That I Can Fix, etc.
Finish a sci-fi novel: What Goes Up, When Light Left Us
Finish a 2017 ARC: The Future She Left Behind, All Things New, etc.
Bingo Card Progress
I've been killin it on the bingo card so far! It looks like I will probably achieve 2+ bingos, which is excellent. I'm trying to track what other boxes I might be able to check off (see above TBR) as well.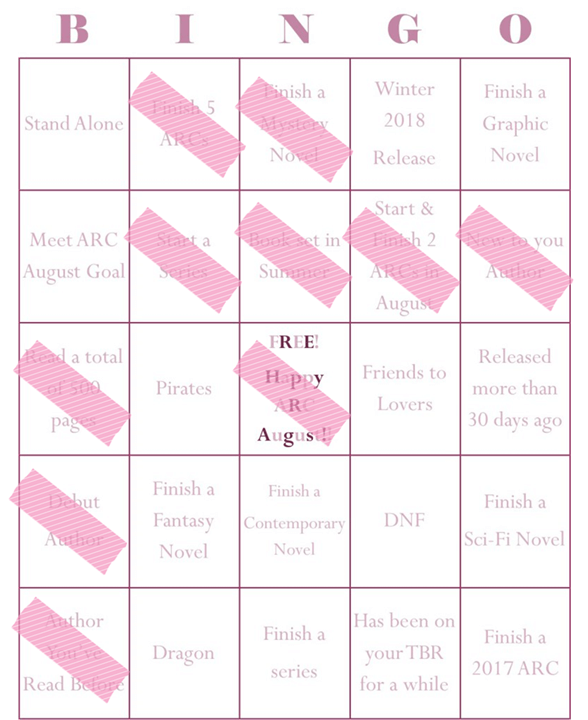 Bingo boxes completed/in progress:
Set in summer: Unclaimed Baggage
Finish a mystery novel: After Nightfall
New to you author: Sadie
Start and finish two ARCs in August: Unclaimed Baggage and Sadie
Debut author: The Last Wish of Sasha Cade
Read a total of 500 pages: After Nightfall + Sadie = 563 pages
Start a series: Little White Lies
Finish 5 ARCs: Unclaimed, Nightfall, Sadie, Sasha Cade, Lies
Standalone: The Dinner List
Related Posts