I have been struggling with oily skin forever. I've gone through so many products and been educated on so many different things over the years… and I've FINALLY found a routine that keeps me minimally oily for the vast majority of my day. I had a routine recently that kept my fairly matte but would get cakey by mid-day because the products never fully settled into my skin. I switched to a new amazing concealer and powder routine that allows me to go from 8 AM until 4-4:30 PM without blotting my face. This is huge for me because usually I start to get oily after just a few hours of having my makeup on.
If you're curious about my journey to get here, here are some makeup and skincare posts and product reviews: old skincare routine and updates, new makeup, and favorite beauty brands. This post does not include other makeup items (like lips, eyes, etc.) — it's purely focused on the face and how I combat oily skin! Check some of the other posts and my Lauren Lately updates for more.
---
Skincare
I have a slightly weird routine for this because I always want to use oil-reducing, mattifying products, but using too many can actually dry out your skin and produce more oil. Because of this, I try to alternate them with more hydrating products and balance things out without giving too much moisture. I have "A" and "B" days to categorize my morning routine and parts of my evening routine, then a few things based around the day of the week to keep it easier. There are some masks and exfoliating products I only use 1-4 times per week. If you're curious about the rollers I use and why I use them, you can check out the posts on ice rolling and jade rolling/rosehip oil – they inspired me to buy these products!
Mornings
I alternate my routine throughout the week but do try to keep the same thing for every day (meaning every Monday is the same thing, Tuesday is different, Wednesday is like Monday, etc.). Here's my routine depending on which day of the week it is.
Day A – Monday, Wednesday, Friday
Cleanser (in shower): Shea Moisture African Black Soap
Toner: Thayer's Witch Hazel
Moisturizer: Clinique Moisture Surge
Mask: Glamglow Instamud 60 Second Pore-Refining Treatment
Skin prep: ESARORA Ice Roller
Day B – Tuesday, Thursday, Weekends
Cleanser (in shower): Skinfood Rice Brightening Scrub Foam
Toner: Thayer's Witch Hazel
Moisturizer: Murad Oil-Control Mattifier OR Body Shop Tea Tree Mattifying Lotion
Skin prep: ESARORA Ice Roller
I take showers in the morning, which is where I cleanse my face. On half of the days, I use a strong black soap to clear out my pores and mattify. I then follow up with my usual toner and a more moisturizing lotion. I can use the pore-refining mask 2-3 times per week, so I try to do it on MWF (because that's easiest to remember). This tightens up my pores even more before I put makeup on and that particular one is only 60 seconds. I usually leave it on while I brush my teeth and wash off afterwards. I also use the ice roller to help calm down the redness in my skin, further tighten my pores, and cool me down (I overheat a lot while getting ready in the morning). For the other days of the week, I use my scrub foam cleanser, which I'm obsessed with, and then match it with more mattifying moisturizer options. I'm currently alternating between two because I can't decide which I like better and may as well let them both run out. I follow that with toner and the ice roller as usual – no mask these days.
Evenings
I obviously start by removing my makeup, which seems to help in the mattifying process as well. I usually wouldn't bother including it but I think it's worth it in this case! I follow it up with various masks, moisturizers, and treatments because I have more time to do this kind of thing at night before bed. I'm able to really hydrate my skin so it soaks it up all night and I'm less oily when I wake up and get ready to apply makeup again.
I believe I've shared all of these in the past, but here's the quick rundown of products. I put the Garnier Micellar Cleansing Water (Mattifying version) on a wet Sinland Microfiber Facial Cloth to wipe away the face products primarily. I then follow up with the Trader Joe's Jojoba Oil to remove the remainder of my eye makeup.
I have to also split my nighttime routine in to A and B days, but that's really just for the moisturizing aspect to match whatever I did in the morning. I have masks and exfoliating things that happen on certain days of the week, so I'll do a daily rundown instead of my setup above.
Every night consists of the following order:
Cleansing with the orbital brush: The Body Shop Tea Tree Skin-Clearing Facial Cleanser
Mask or microfoliant: Depends on the day
Toner: Thayer's Witch Hazel
Moisturizer: Depends on the day
Facial oil: Trilogy Organic Rosehip Oil
Roller: Iebeauty Jade Roller
I use the orbital brush with the cleansing head every day of the week except Monday and Thursday. Those are "exfoliating days" so I use the exfoliating head instead. I apply the mask or microfoliant of the day after cleansing my face. Mondays and Fridays are for the Murad InstaMatte Oil-Control Mask because it removes allll of the excess oil from my skin. (Sometimes this happens on the weekend instead of Friday, depending on what my plans are. I also switch in fun different masks from time to time as well.) I use my Aztec Secret Clay Mask on Wednesdays to really suck everything out of my skin. On the days I don't do a  mask (typically this is Tuesday, Thursday, and weekends), I use the Dermalogica Daily Microfoliant to lightly exfoliate my skin and remove yucky stuff. It's light enough to use daily, but I try to not use it every day since my skin is always red and I don't want to cause flare-ups. After that step, I use my Thayer's Witch Hazel toner as usual. My moisturizer changes based on which cleanser I used in the morning. This might be crazy but I like to switch it up sometimes lol. I use the Amara Organics Aloe Vera Gel on the days I use the rice cleanser (aka weekends, Tuesday, and Thursday) and the Clinique Moisture Surge when I use the African Black Soap (MWF). I follow the moisturizer with my Trilogy Organic Rosehip Oil and the Iebeauty Jade Roller to push it into the skin. The rosehip oil hydrates and, ironically, reduces my oil production the next day.
Makeup & Tools
As I said before, I'm not going to share any makeup that doesn't directly relate to mattifying the skin and keeping oil at bay. I have plenty of favorite eye, lip, and face (blush and bronzer) products that aren't included for that reason. I start by prepping and priming, then adding coverage, then mattifying with powders and finishing spray. I'm also highlighting my favorite makeup brushes and sponges that help this process!
They say that skincare can be the key to combating oily skin and while I agree, I think makeup can definitely make an even bigger difference. I use all of these products in order as they're shown above (which is why you see the setting spray on here twice). I prep and prime, then cover and conceal, and then mattify.
Prep & Prime
Spray the Gerard Cosmetics Slay All Day to create a long-lasting base
Prime with the Hourglass Mineral Veil (the BEST light and soft primer for oily skin types)
Apply a light dusting of NYX HD Powder (the green version covers redness) – Wayne Goss Method
Cover/Conceal
Apply Estee Lauder Doublewear Foundation all over the skin (holy grail for oily skin, lasts ALL DAY) – I often mix with a cheaper foundation but haven't found the best one quite yet
Apply Too Faced Born This Way Concealer using this method with a damp beauty sponge
Mattify
Start with Too Faced Peach Perfect Powder with the same sponge as the concealer (powder all of the spots where you applied concealer to set it with the powder)
Add a layer of the IT Cosmetics CC Powder for extra coverage as needed and to pack everything down
Apply some of the Urban Decay Velvetizer powder with an angled brush on the nose and cheeks (where I get the most oily)
Apply the rest of face makeup (bronzer, highlighter, blush), then spray another layer of the Gerard Cosmetics Slay All Day Finishing Spray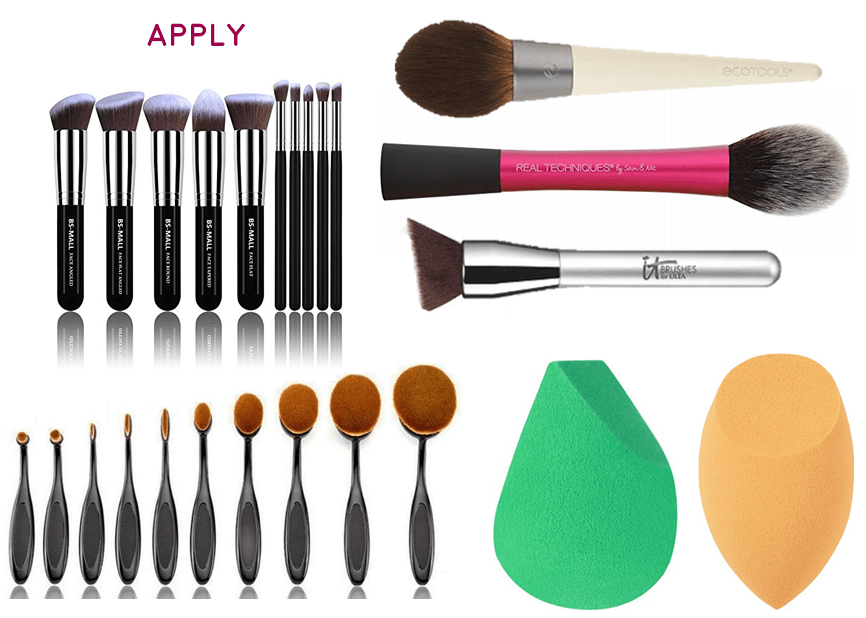 I thought I would highlight some of my favorite brushes and sponges that I use for applying my makeup. I bought two brush sets from Amazon that I use for eyeshadow and some spots around my face. I like the Yoseng Oval Makeup Brush Set for my foundation most of the time because using sponges can make it too dewy, since the sponge is wet. I love how my pores look smaller with the big oval brush on the right there. I use the BS-MALL Makeup Brush Set for contouring my face, eyeshadow, etc. My three random sponges up there from top to bottom are used as follows: EcoTools Powder Brush for applying my NYX base powder, Real Techniques Blush Brush for applying blush, and IT Cosmetics Angled Foundation Brush for packing on the Velvetizer powder. I use the green EcoTools Sponge to apply my concealer and loose powder. The orange sponge is the Real Techniques Body Sponge (much larger than the face version) that I use for foundation sometimes. It applies it so much faster because of the size, which is great. ETA: After seeing Tati's video on the StansOut Beauty Sponge, I have been really enjoying it for makeup application! I bought it through them directly but it's back on Amazon now too. It's not pictured here.
Touch-Ups
I'll never have skin that doesn't need to be blotted at some point in the day. I usually would get oily around lunch or maybe mid-afternoon, if lucky, but now I don't have to do so until the end of my work day. It's amazing to go 8+ hours without having to blot. I did find some favorite products that aid in the blotting process and don't mess up my makeup!
I use the PleasingCare Charcoal Oil Blotting Sheets at home or on the go because I keep them in my purse. The charcoal is nice for calming oily skin and pore-related stuff, so I enjoy them. It's a big pack too so I never run out. I really like the Urban Decay All Nighter Powder overall but don't have a place for it in my usual routine. I keep it at home because it does a nice job of mattifying my skin again after using the blotting sheet. I keep the Innisfree Matte Blur Setting Powder in my purse because it comes with small velour putt to use when I'm on the go. I use the charcoal sheet and then follow with the powder as needed. And finally, I keep the Palladio Rice Paper Blotting Sheets in my desk at work for my 3-4 PM touchup. I love that they have rice powder on one side so it blots AND adds powder in one step! They're great to get me through the end of the workday and after-work plans.
Related Posts