Lots o' Backlist Books I Own & Need to Read
Top Ten Tuesdays were started by The Broke and the Bookish and are now hosted by That Artsy Reader Girl, where we make lists of our top ten books (or something else!) based on that week's prompt. The topics are provided ahead of time and can be found here. Book links bring you to Goodreads or my review.
I am the actual worst when it comes to reading owned physical copies. I wish I had the money back that I spent on SO many books, especially the ones that I got rid of before I moved last year. I'm a sucker for sales and will inevitably buy something I'm not 100% sure I'll ever read… but then spend weeks hemming and hawing about buying physical copies of from my favorite authors. I DIGRESS, but the point is: I'm terrible about reading my books. There are so many backlist books on my TBR/shelves that I need and want to read still, so I thought I'd highlight them with pics of my actual shelves too!
Crooked Kingdom by Leigh Bardugo
I liked SOC quite a bit but keep putting off CK for some reason. I think it's because I'm not prepared for the feels, but it also probably involves me not really being in the mood yet to re-listen to SOC via audio first. I determined I really want to but haven't found the motivation yet.
The Diviners series by Libba Bray
The Gemma Doyle books are some of my all-time favorites so it's kind of sad that I haven't read a single other Libba Bray book. I've had these two forever (yes it annoys the shit out of me that they don't match formats or covers, but this series has had WAY too many redesigns to keep up with) but haven't pulled the trigger. I keep thinking it'll be a good falltime, Halloween read, but I don't do it.
By Your Side by Kasie West
This is one of my sister's favorite Kasie West books but I keep putting this off too. I think it's because I always hoard her books and savor them, but I do have at least one other released book of hers I haven't read… which means it's time to finally read this one, I think! She keeps yelling at me because she loves the book so much and I keep delaying. I remember seeing more mixed reviews comparatively.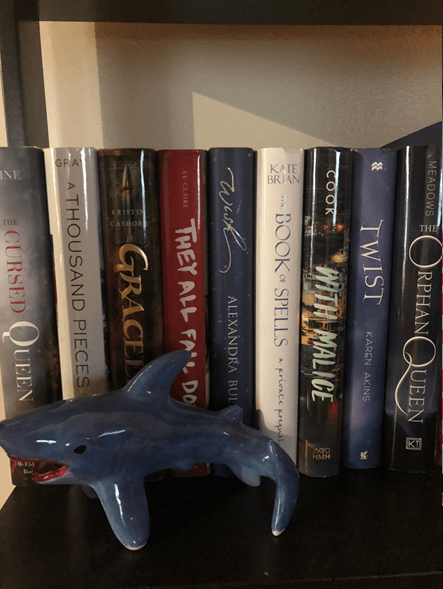 The Cursed Queen by Sarah Fine
I really loved the first book in this series but again, I am garbage at reading fantasy books. I put them off for WAY too long. The pub even sent me an ARC and finished copy… ugh I hate myself.
A Thousand Pieces of You by Claudia Gray
I love books about time travel and weird parallel universes so it's a bit odd I didn't get to this one. I feel like I was waiting for the last book to come out… but now I have no excuse and could just binge them.
Graceling by Kristin Kashore
Again, this is a fantasy-related thing. LOTS of people adore this series and I know I should read it at some point… but no desire at all right now.
They All Fall Down by Roxanne St. Clair
I love the "Pretty Little Liars meets Final Destination" tagline for this book and I've had it FOREVER. Did I win this in a giveaway? I can't remember how I acquired it. I keep forgetting I own it, to be honest, but I have been in the mood for more twist books lately, so maybe this one will get read soon.
Wish by Alexandra Bullen
This is a super random bargain book I picked up YEARS ago but I still kind of want to read it. The ratings aren't super but I love the idea of a magical gown granting wishes, and the MC wishes for her sister to come back. Together they have to use two more wishes. I think this is a series-starter too?
The Book of Spells / Private series by Kate Brian
So this has been on my to-do list for YEARS. I loved the Private series when they were releasing in my middle/high school days. It took a weird turn and I've since put off getting back into it. It's a really long, but super quick, series, so I am TEMPTED to reread them before getting to the next book (shown on the shelf). We'll see. The good thing is that because of the weird turning point, it's almost like the rest don't matter as much and I don't need a refresher.
With Malice by Eileen Cook
I have Cook's upcoming release for review but still have yet to read this one. I've heard some mixed reviews but do generally feel like it'll be up my alley? I think I won the physical copy in a giveaway or something because my book buying has been limited recently, but it's been sitting on my shelf ever since.
Twist by Karen Akins
I read and enjoyed LOOP a year or so ago but for some reason haven't finished this duo off with TWIST. I've carried it back and forth between CT and ME as I moved but it never grabbed me enough to pick up. I was going to read it this year for one of my challenges but ended up finding another book that would fit more boxes, so it got nixed for 2018. Next year!!
The Orphan Queen by Jodi Meadows
Again, I'll make the same fantasy-related excuse. I've put it off for a while even though many friends are obsessed with this series. I don't have any other excuse but not being in the mood for it and continuing to be intimidated by fantasy books of all kinds.
Cyd Charisse series by Rachel Cohn
This is a random one, I know, but the redone covers grabbed me. Why does this always happen? I think these are kind of "classic YA" books I missed when they first came out and hopefully someday I'll read them. They're my favorite kind of book too – the soft, comfy paperback.
Golden by Jessi Kirby
I didn't love the one Kirby book I've already read, so I haven't been exactly eager to dive into this backlist title. I bought it before the other book, oddly enough, and it's just been sitting there ever since.
Everything Leads to You by Nina LaCour
This is one of those books I had on my TBR before I started blogging (or right around that time) and I acquired it at some point more recently. Just haven't taken the plunge! I find it harder to read backlist contemps for some reason?
The Museum of Intangible Things by Wendy Wunder
I could sit here and put the literal exact same summary as the book above, because it's all true. So I won't waste your time and make you read the same excuses.
The Art of Lainey by Paula Stokes
I knooooow this is a Lauren book. I have no reason to avoid it and I truly can't believe I haven't read it yet. It's one of those books where I keep saying "next year for sure!" and then just… never picking it up. It seems so cute and I think it's hate-to-love? I should just do it.
The Geography of You and Me by Jennifer E. Smith
Smith's books have been the epitome of "hit or miss" for me over the past few years. Some are cute, some are eye-rolly, some are short, some are boring, etc. etc. I never know what I'm going to get. This book, however, got some mixed reviews from most people… but the idea of breaking up before college is something from my past that I'm curious to read about.
The Secret Diary of Lizzie Bennett by Bernie Su/Kate Rorick
And finally, Lizzie Bennett. I know a lot of people who have loved this book and I guess the webseries as well? I started watching it a few years ago but took a step back to read the book… and then never read the book. What else is new? I hope to get to both at some point in my damn life.
Related Posts