I've had this post drafted for a while (and by "drafted" I mean a post draft with zero body text and just the title of "How We Cut Cable") – back in October 2017. We cut cable a few years ago and have had zero regrets since. I can count on one hand how many times I've wished for regular cable again in the past year or two. I'm here to chat about how we get by without cable! (To be clear: this post is not sponsored by anyone or any service, but the link below has a referral discount I'll talk about later!)
As you can see, we were still able to stream the World Series, football games, and seasonal faves!
What we watch
We watch the following things live each week: football games (and sometimes other sports, depending on the season) and wrestling. We needed to figure out how to watch the channels that those appear on, because a lot of other shows that we'd watch later can be found on Hulu or on channel-specific apps. Our wrestling shows happen on the USA network (and will also be on Fox in a year or two). Football games happen on CBS, Fox, NBC, ESPN, NFL Network, and Amazon Prime, depending on the day of the week. Full disclosure: my team is based in North Carolina so I don't often have the option to watch them on regular TV where I live. My dad has NFL Sunday Ticket, so we will go over every Sunday to watch our game at his house.
We have shows we like to watch but typically don't watch live, therefore it's not quite as important. However, if we have the ability to record them and watch later, we definitely will do that. I record shows like The Good Place and movies on Hallmark during the holiday season.
---
Sling TV
When Alyssa posted that she wanted to still watch 25 Days of Christmas but didn't have cable, I promptly directed her to Sling. I decided to write this post on the spot yesterday and scheduled it for today in case any other cord-cutters out there want to still watch Freeform during the holiday season.
The way we currently watch MOST live television (and record things to watch later) is through Sling TV. Here's your official warning that clicking on these links over to Sling will give me and you $15 off subscriptions. If you sign up from this post, even just for one month, it'd be awesome if you did so through my link! 🙂 Back to the info…
Sling starts at $25 per month for the cheapest options. They have Orange and Blue plans (as well as a discounted combination of both, to get all the channels). The subscription we currently have, which I'll talk about more below, costs a total of $37.21 with tax and everything included.
Package Options & Details
Sling Blue
This is the main package we have. I did a full-on analysis to determine which shows and channels we legitimately watch live and would need to have on Sling, and made decisions from there. I'll talk more about the other things we use to watch live TV later. We watch Monday Night RAW and Smackdown Live on USA (or record them)… and that's kind of it. With this package we're also able to use FOX, NFL Network, FX (and FXX for It's Always Sunny), TBS, and other sports channels. It's not great that we don't get ESPN – again, more on that when we're outside of the Sling conversation – but otherwise? This package makes the most sense for us.
Sling Orange
The top highlights for this one are probably ESPN, HGTV, Comedy Central, Cartoon Network, Disney and Freeform. There are others on here that I'd watch if there was something good on, but aren't top favorites for me.
Add-on Packages
Aside from Blue and Orange, there are other channels you can pay a bit extra to add on to your package. The following are the add-ons that we have and use (on-and-off depending on which shows are currently on air):
Cloud DVR – For another $5 per month, you can record up to 50 hours of shows. This is a must-have for us because we sometimes start RAW or SD late and want to catch up to the live broadcast. We also don't have Hulu at the moment, so we can't watch shows the next day on there.
Lifestyle Extra – This is added basically just during the holiday season… or whenever a new Aurora Teagarden movie comes out! I use it for the Hallmark movies only.
Other top extras:
Sports Extra (Redzone, Golf, etc.)
Comedy Extra (MTV, TV Land, etc.)
Kids Extra (Nicktoons, Boomerang, etc.)
News Extra (MSNBC, CNBC, etc.)
Hollywood Extra (Sundance, Reelz, etc.)
Showtime
Starz
Best of Spanish TV
Various international-based packages
NBA team passes (specific team's games plus NBA TV channel)
…and more!
Pros and Cons
What I love about Sling
I love that it's the cheapest way to watch live TV and has customizable packages. We can add on something for one month and remove it the next. I usually subscribe to the Lifestyle Extra during November and December, in order to watch holiday movies, and then remove it the rest of the year. Sometimes I'll add it back on if there's another new Hallmark movie I want to see. It's easy to add and remove things, since it's a month-to-month service without a contract. I also haven't mentioned yet that Sling channels have On Demand sections too, just like regular cable. A lot of them also include movies in addition to TV show seasons/episodes.
I'll be honest – I've had Sling on and off over the years, and tried Hulu Live before too, and it has come a LONG way. The early app developments were terrible and it lagged all the time. We have had almost zero issues with the stream quality and app experience itself.
What I don't like about Sling
The Cloud DVR has some restrictions. For example, I can't do a "season" recording for RAW or Smackdown. The USA network doesn't allow it for some reason. If I set it up to record all new episodes, it won't record anything. I have to individually record the show, episode by episode, week after week. I also feel like you should get a certain number of Cloud DVR hours for free with your subscription instead; you have to pay for all DVR hours no matter what. Give 10-20 hours free and you can upgrade to 50, 100, etc. Why not?!
The On Demand selection isn't robust or super reliable. They could have Bob's Burgers season 12 on there, but there's only episodes 5-8. They have a slightly random selection and don't always have full seasons of back episodes. I think this is also kind of true of their packages – Sling Blue and Orange offer somewhat odd packages. I wish you could just pick your favorite channels and create your own lineup.
---
Other Ways to Watch Live
Antennas
Many people I know use some kind of digital antenna for local channels. We don't really have that option based on where we live and the one part of our house where the antenna works, so we don't bother. But it works for many people if you want basic cable to supplement Sling!
Specific Network Apps
I hesitated on putting this in here because I'm not sure if its a viable option for people out there. It really depends on your family or friend situation! Chris and I rely heavily on this for certain channels and TV shows. If you use an Amazon Fire Stick or Roku device (for streaming on your TV), iPad or iPhone/Android apps, or websites on your computer, you can go to a specific channel sometimes and watch live TV or shows on demand. We currently have an Amazon Fire Stick, which is how we watch Netflix, Sling, WWE Network, New Japan World, and more. We've downloaded individual channels' apps as well – the ones that don't appear on Sling for us. Some of these channels include Comedy Central, Disney, ESPN, Freeform, FX/FXX, HGTV, NFL Network, TBS, TLC, NBC, and FOX. Not all of these are available on Sling, especially not my package, and some aren't even available through the Fire Stick (only mobile).
The kicker here is that you need a cable provider login to use them. This is why not everyone has this option. We're lucky – my dad has DirecTV and we are able to use his cable credentials to stream live television on the apps I mentioned above. We are also able to watch shows/movies on demand using that login too. It doesn't affect his cable bill or anything, and he's already paying for the service. We use his login information specifically for me to watch Freeform (25 Days of Christmas, because it's not in my personal Sling package) and the basic cable channels (NBC for Sunday Night Football, ESPN for Monday Night Football, and FOX for other Sunday  daytime games).
Amazon Prime
This is just for Thursday night football, but it's worth mentioning. Amazon has original shows on there if you have Prime, of course, but they also offer a stream of TNF starting sometime after the first few weeks of the season.
Other Live TV Services
I'll talk about comparing services a little bit below, but there are other options for live television without actual cable. I've noticed that large cable companies like Charter/Spectrum, DirecTV, Dish, etc. are all coming out with them and allow for customization. Playstation Vue, YouTube TV, and Hulu Live all exist, to name a few others. Personally, after all of my research, find Sling to be the best option at the best price.
---
Other Info: Channel Analysis
I went through and did a bunch of research on the channels we may or may not watch, in order to determine the best course of action for Chris and me. I looked at Playstation Vue vs. Hulu Live vs. Spectrum (our local cable company that offered a build your own streaming program) vs. Sling. The section called "App Stream" is what I mentioned above – some networks will allow you to stream live television through their dedicated app, which is generally available on mobile devices, smart TVs, and Fire Stick/Roku options.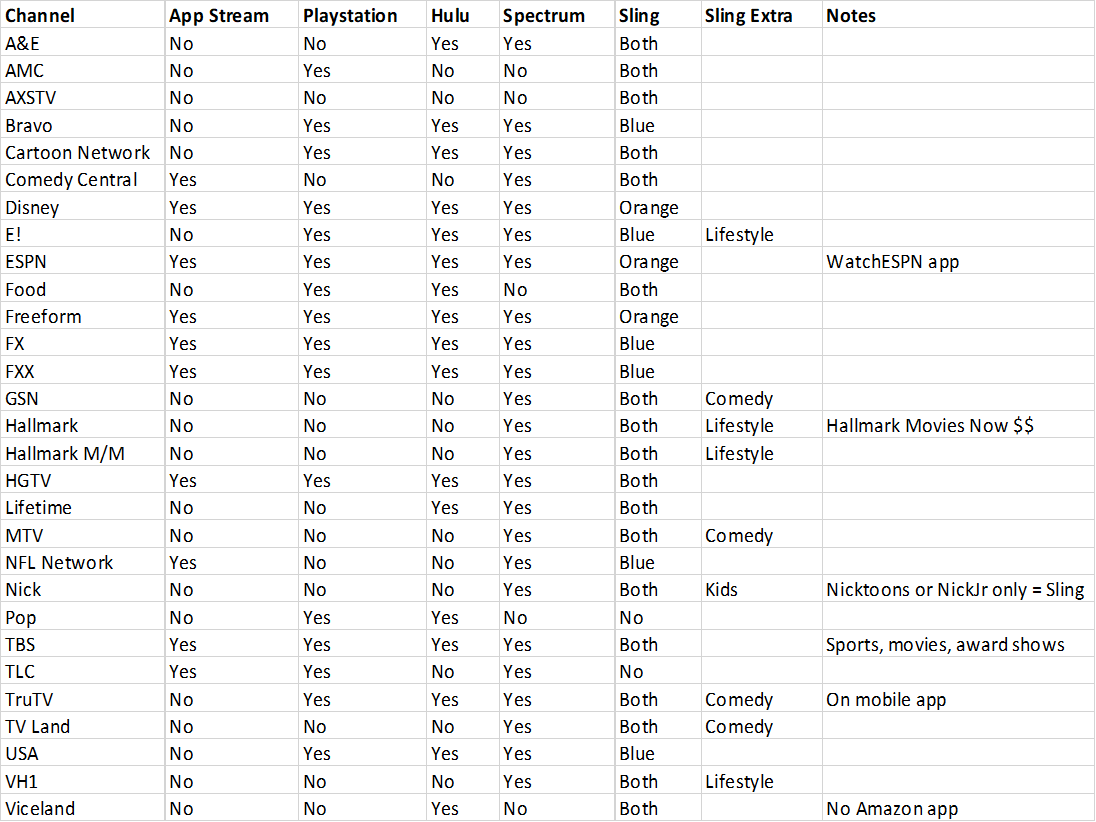 ---
Other Info: On Demand Shows
I think everyone knows the other streaming services out there but I suppose it's worth me mentioning. We supplement Sling TV and other live options through the typical ~on demand~ services. This includes Netflix and Amazon Prime Video. I used to have Hulu but didn't have a lot use for it as of right now. If you don't have access to a family member's cable provider login, Hulu is a GREAT option to watch shows the next day. They usually upload them within 24 hours of when it goes live, if I remember correctly.
---
So that's how we cut cable, folks! Primarily a combination of Sling TV for live programming and the generosity of family for other channels and apps as needed.
Related Posts