I received this book for free (hey, thanks!) in exchange for an honest review. I promise that this does NOT affect my opinion of the book or the content of my review. For real.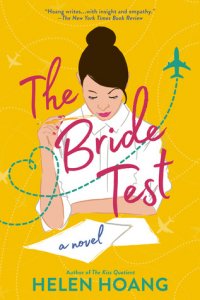 The Bride Test
by
Helen Hoang
Series:
The Kiss Quotient #2
Genres:
Adult
,
Contemporary
Published by
Penguin
on May 7, 2019
Also by this author:
The Kiss Quotient
,
The Heart Principle
Format:
eARC
(320 pages) •
Source:
Publisher
Goodreads
•
Amazon
•
Barnes & Noble

Khai Diep has no feelings. Well, he feels irritation when people move his things or contentment when ledgers balance down to the penny, but not big, important emotions—like grief. And love. He thinks he's defective. His family knows better—that his autism means he just processes emotions differently. When he steadfastly avoids relationships, his mother takes matters into her own hands and returns to Vietnam to find him the perfect bride.

As a mixed-race girl living in the slums of Ho Chi Minh City, Esme Tran has always felt out of place. When the opportunity arises to come to America and meet a potential husband, she can't turn it down, thinking this could be the break her family needs. Seducing Khai, however, doesn't go as planned. Esme's lessons in love seem to be working…but only on herself. She's hopelessly smitten with a man who's convinced he can never return her affection.

With Esme's time in the United States dwindling, Khai is forced to understand he's been wrong all along. And there's more than one way to love.
HOW DOES HELEN HOANG DO IT? This was perfection. Hoang writes such unique romances in just about every way, but especially the circumstances in which the characters get together (an "arranged marriage" here and the whole "male escort" thing KISS QUOTIENT).
When Khai's mom heads to Vietnam to essentially hand-pick a woman for her son to marry, she finds that Esme, who is working in the restroom, would be the perfect match. She is hesitant at first because she has a young daughter, mother, and grandmother to support. Her mother insists that she comes to California for the summer to try to make things work with him. She can also try to find her father, an American on business who never knew he got her mother pregnant. She eventually agrees for those reasons – why not give it a shot? Khai, on the other hand, just decides to appease his mom, live with Esme, and see what happens. He was obviously in for a surprise when he found himself instantly fascinated by her.
I was completely charmed by both Esme and Khai; they were totally lovable in their different ways. Esme talked a lot while Khai would just take it all in. They were opposites but complementary. Watching them open up to each other was so entertaining and heartwarming. They didn't just grow as a pair, but absolutely grew as individuals too. Esme learned about her own interests and goals while Khai opened up to the fact that he DOES have feelings, of all kinds. Superb, natural character development.
I am so eager to read more and more of her stories. LOVED this one, just a tiny tiny bit (okay one half-star) more than TKQ. If I could complain about ANYTHING, I wish there was a tiny bit more development at the beginning of the story and toward the end of the story. I'm nitpicking, but a little bit more backstory could have been interesting! (This is mostly about Khai's mom and Esme's mom.)
---
I received this book for free (hey, thanks!) in exchange for an honest review. I promise that this does NOT affect my opinion of the book or the content of my review. For real.
Meet Cute
by
Helena Hunting
Genres:
Adult
,
Contemporary
Published by
Hachette
on April 9, 2019
Also by this author:
The Good Luck Charm
Format:
ARC
(384 pages) •
Source:
Publisher
Goodreads
•
Amazon
•
Barnes & Noble

Talk about an embarrassing introduction. On her first day of law school, Kailyn ran - quite literally - into the actor she crushed on as a teenager, ending with him sprawled on top of her. Mortified to discover the Daxton Hughes was also a student in her class, her embarrassment over their meet-cute quickly turned into a friendship she never expected. Of course, she never saw his betrayal coming either...

Now, eight years later, Dax is in her office asking for legal advice. Despite her anger, Kailyn can't help feeling sorry for the devastated man who just became sole guardian to his thirteen-year-old sister. But when her boss gets wind of Kailyn's new celebrity client, there's even more at stake than Dax's custody issues: if she gets Dax to work at their firm, she'll be promoted to partner.

The more time Kailyn spends with Dax and his sister, the more she starts to feel like a family, and the more she realizes the chemistry they had all those years ago is as fresh as ever. But will they be able to forgive the mistakes of the past, or will one betrayal lead to another?
I really enjoyed THE GOOD LUCK CHARM and was even more excited about MEET CUTE. It involved hate-to-love, second chance romance, AND a celebrity/normal person relationship? Seriously???? Give me all of those things. Despite my eagerness to read this one, it took me half a month to read it because of other obligations and travel plans (that involved zero reading time). I adored it every single time I was able to sit down and get reading, but I just wish I had more of those moments to binge the whole thing right away! I ended up savoring it, which is just as well.
I love the cover of this book but it certainly implies that the story will be a light and fluffy, milkshake-centered romance. While there are some milkshakes, this story is a bit heavier than you might think. Dax and Kailyn were friends in law school, then enemies (without him even knowing it) afterward. He shoots back into her life when his parents pass away and Kailyn is involved with Emme's (Dax's sister) trust. Because of the unexpected death of Dax and Emme's parents, many characters are grieving and acting out throughout the story. It's not exactly a light one. On top of that, there's a custody battle with their aunt, who is (for some reason) desperate to get custody of Emme. This plot with Linda was super frustrating for me because I could see what was happening and kept wishing that Kailyn or Dax picked up on things faster.
From a romance perspective, I loved all of the tropes involved here that I mentioned. They had a lot of amazing chemistry from the start. Unlike Hunting's previous book, these two didn't get together right away. There was good tension and logical considerations made by both of them (like keeping Emme out of their trial-run-relationship so she didn't get hurt). I got toward the end and smiled like an idiot so much that I just knew it would be perfection.
Overall, this book really hit me in the feels in every conceivable way. I cannot wait to see what Hunting has up next.
Related Posts