In an effort to cut down on posts and burnout, my Review Roundups will feature 2-4 books I've read or listened to recently. Sometimes they're newer releases and sometimes they're all backlist titles. My ARC reviews usually get the solo treatment. Enjoy the mini reviews!
---
The King of Crows
by
Libba Bray
Series:
The Diviners #4
Genres:
Young Adult
,
Paranormal
,
Historical Fiction
Published by
Hachette
on February 4, 2020
Also by this author:
Summer Days & Summer Nights
,
A Great and Terrible Beauty
,
Rebel Angels
,
The Sweet Far Thing
,
The Diviners
,
Lair of Dreams
,
Before the Devil Breaks You
Format:
Audio/Physical
(560 pages) •
Source:
Purchased
Goodreads
•
Amazon
•
Barnes & Noble

The breath-taking finale to the epic New York Times bestseller, The Diviners, from Printz winner and beloved author, Libba Bray.
After the horrifying explosion that claimed one of their own, the Diviners find themselves wanted by the US government, and on the brink of war with the King of Crows.
While Memphis and Isaiah run for their lives from the mysterious Shadow Men, Isaiah receives a startling vision of a girl, Sarah Beth Olson, who could shift the balance in their struggle for peace. Sarah Beth says she knows how to stop the King of Crows-but, she will need the Diviners' help to do it.
Elsewhere, Jericho has returned after his escape from Jake Marlowe's estate, where he has learned the shocking truth behind the King of Crow's plans. Now, the Diviners must travel to Bountiful, Nebraska, in hopes of joining forces with Sarah Beth and to stop the King of Crows and his army of the dead forever.
But as rumors of towns becoming ghost towns and the dead developing unprecedented powers begin to surface, all hope seems to be lost.
In this sweeping finale, The Diviners will be forced to confront their greatest fears and learn to rely on one another if they hope to save the nation, and world from catastrophe...
Spoilers for the previous books and tiny early-book spoilers for this book.
HO BOY. I can't believe this series is over! As sad as I am that I didn't start way back when it first came out, I'm glad I had the experience of the Diviners Readalong to keep me going and break up these huge books. I did a little refresher before diving into the final installment though, since I read the third book back in November.
I really liked how the beginning/middle of the book went, with all of the Diviners split up and trying to get to the same place. The groupings were wild and entertaining: Henry, Memphis, and Bill near the flooded Mississippi River and on trains; Theta, Evie, *someone*, and Isiah with the circus; and Ling and Jericho traveling with a band. It created some fun dynamics and new friendships/alliances among everyone while journeying across the country. The King of Crows, the Shadow Men, Roy, and Jake Marlowe fucked with them every step of the way.
I don't want to get into spoiler territory but let me say there were a few parts of this that totally broke my heart! I am truthfully really happy with how the book ended though and where we left everyone. I can't think of any major complaints about this book aside from the fact that I wish Henry had a little more spotlight throughout? I loved his time with Memphis and Bill but after the first half or so, when things ~progressed~ into other things (vague), it didn't feel like I got enough of him!
If you like paranormal books, mystery books, historical fiction books… you really should not sleep on this series. There were some hints of Bray's other series you know I love so I'm really excited to see how that connects (she announced she's writing something new in the series). To be honest, even if this book doesn't sound like something you'd be into (aside from Libba Bray's name attached to it, there wasn't a lot of motivation for this contemporary-loving girl to read this series), I REALLY think everyone would enjoy it. The friendships, the larger message and parallels to today's society, the romance, the setting… ugh all of it = perfection.

I received this book for free (hey, thanks!) in exchange for an honest review. I promise that this does NOT affect my opinion of the book or the content of my review. For real.
Starting Over at Blueberry Creek
by
Annie Rains
Series:
Sweetwater Springs #4
Genres:
Adult
,
Contemporary
Published by
Hachette
on February 25, 2020
Also by this author:
Christmas on Mistletoe Lane
,
Springtime at Hope Cottage
,
Snowfall on Cedar Trail
,
Sunshine on Silver Lake
,
Season of Joy
,
Reunited on Dragonfly Lane
,
The Summer Cottage
,
The Christmas Village
,
The True Love Bookshop
,
The Good Luck Cafe
Format:
eARC
(448 pages) •
Source:
Publisher
Goodreads
•
Amazon
•
Barnes & Noble
USA Today bestselling author Annie Rains welcomes you back to Sweetwater Springs, North Carolina, with a charming friends-to-lovers story between a sexy fireman and the beautiful woman who mends his heart.

Should they fan the flames or douse this fire before someone gets seriously burned?
Firefighter Luke Marini moved to the small town of Sweetwater Springs with the highest of hopes - new town, new job, and new neighbors who know nothing of his past. And that's just how he wants to keep it. But it's nearly impossible when the gorgeous brunette next door decides to be the neighborhood welcome wagon. She's sugar, spice, and everything nice - but getting close to someone again is playing with fire.
Brenna McConnell put college on hold to raise her little sister. Now that Eve is grown, Brenna is ready to leave Blueberry Creek and finish what she started. Moving on isn't easy, however, when her gruff new neighbor gives Eve a dangerous firefighting job. And yet, even as Brenna is telling him off for putting her sister in harm's way, she can't deny the sizzling chemistry between them. She put her dreams on hold once. Is she willing to make that sacrifice again for a chance at forever?
Includes the bonus novella "Sealed With a Kiss"by Melinda Curtis!
I was going to keep review copies out of here but I wanted to make sure I got some things up in a timely manner! I was so excited to head back to Sweetwater Springs with the next installment! I'm such a huge fan of this setting and Annie Rains' writing. This story centers around Brenna, who owns the local catering company and is acting as guardian to her younger sister, and her neighbor Luke, a firefighter.
I did like the romance but for some reason it didn't fully connect with me for a while. I liked that they tried to keep it slow and recognize that it might not be the right time for a serious relationship, but some of the things that they had problems with annoyed me. Brenna was constantly getting riled up about her sister and trying to balance Luke as a firefighter and Eve's boss, Eve being a firefighter in general, etc… I did LOVE watching Luke grow into his position as acting fire chief, as well as make friends around town. It was sweet to see their little guys night out and him finally feeling like Sweetwater Springs was his home.
On that note, I do wish this felt a little more like the Sweetwater Springs setting; for some reason it didn't have the same vibes as the previous books, with some of the shops I knew and loved. There were crossover characters, of course, and a few nods to the town I love, but I honestly kept forgetting which small town I was reading about. It took about 70% of the way through the book for me to feel like it was Sweetwater Springs.
Some of the side plots were definitely predictable, but they made me happy in the end. The end of the book was mostly enjoyable, despite Brenna being a bit of an idiot again. View Spoiler »Luke was pretty clear about what he wanted and then three pages later she was saying he didn't want to stay with her??? what. She also yelled at him for letting Eve go in and fight the fire… which is literally her job, that she claimed she was okay with? So much for that. I know the heat of the moment is harder but you have to at least understand and respect why certain decisions on the job would be made. « Hide Spoiler She was just so reactionary and overprotective that her actions frustrated me a LOT, especially as they danced back and forth at the end. Overall though, I'm really pleased with where all the characters were at the end of the book, as well as some of the side characters and stories wrapping up!

I received this book for free (hey, thanks!) in exchange for an honest review. I promise that this does NOT affect my opinion of the book or the content of my review. For real.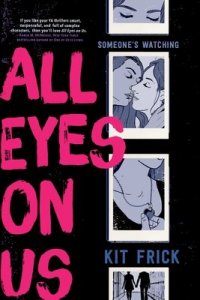 All Eyes on Us
by
Kit Frick
Genres:
Young Adult
,
Contemporary
,
Mystery/Thriller
Published by
Simon and Schuster
on June 4, 2019
Also by this author:
Very Bad People
Format:
Audio/eBook
(384 pages) •
Source:
Scribd, Publisher
Goodreads
•
Amazon
•
Barnes & Noble

Pretty Little Liars meets People Like Us in this taut, tense thriller about two teens who find their paths intertwined when an anonymous texter threatens to spill their secrets and uproot their lives.
PRIVATE NUMBER: Wouldn't you look better without a cheater on your arm? AMANDA: Who is this?
The daughter of small town social climbers, Amanda Kelly is deeply invested in her boyfriend, real estate heir Carter Shaw. He's kind, ambitious, the town golden boy—but he's far from perfect. Because behind Amanda's back, Carter is also dating Rosalie.
PRIVATE NUMBER: I'm watching you, Sweetheart. ROSALIE: Who IS this?
Rosalie Bell is fighting to remain true to herself and her girlfriend—while concealing her identity from her Christian fundamentalist parents. After years spent in and out of conversion "therapy," her own safety is her top priority. But maintaining a fake, straight relationship is killing her from the inside.
When an anonymous texter ropes Amanda and Rosalie into a bid to take Carter down, the girls become collateral damage—and unlikely allies in a fight to unmask their stalker before Private uproots their lives.
PRIVATE NUMBER: You shouldn't have ignored me. Now look what you made me do…
This is a super old review copy that I can't even find (was it on my Kindle? another reading app?) but was able to track down on Scribd and Hoopla. I started the audiobook and worked my way over to the ebook. Anyways, I was generally curious about this one, as I was trying to read more mystery/thrillers, and it kind of grabbed me initially. I think the two girls – Amanda and Rosalie – were a bit TOO stereotypical rich girl vs. lower-middle class girl, one in the fancy town and one on the less fancy side. They felt like cardboard cutouts. It also doesn't help that I personally never connect with characters in mystery/thriller books because I'm second guessing everyone and wondering if EVERY side character is the villain.
I also always struggle with books involving religion, even if the character is questioning it or struggling with an extreme church like Rosalie was. I just don't care for the topic overall. I did like Rosalie as a character though and appreciated her perspective on everything: she didn't want to lose her sister or even her parents in the process, despite what they believe within their church. Amanda wasn't quite as likable with her willingness to put up with Carter's cheating as long as she could maintain the lifestyle she planned for… but hey, everyone in this book was trying to appease their parents. I can totally get that.
I thought the mystery texter was super obvious throughout the book, so I kept hoping I was wrong and would end up being surprised in the end. I was pretty surprised actually! That was a nice plus. Unfortunately, this book overall didn't do much for me. I didn't connect with anything and wish there was more development for Amanda and Rosalie to make me care a bit more for them. I wasn't overly engaged with the story and wanting to read it, but it picked up in the end.
Related Posts