Like a lot of bookish people, I was excited to dive in to a LOT of good books during self-isolation, quarantine, lockdown – whatever you want to call it. I've found that my shitty reading habits have continued from February though and I haven't finished nearly as many books as I normally would. I find myself browsing my phone, wallowing in the news/social media, playing Candy Crush, and watching Chris play Animal Crossing. It's just so hard to focus for a few reasons, which I'll get into below. But! I won't just use this spur-of-the-moment blog post to whine. I'm going to make myself think of a few solutions too.
Problems
Unmotivated to read in the first place
I've had a weird reading year so far. It could be general reading burnout from the past handful of years, reading and reading and doing nothing else. It could be King of Crows being the only thing I wanted to read in January and then the only thing I could think about when I finished reading in February. Either way, that book got me, y'all. I just don't want to read. I've been unmotivated BEFORE all of this started and clearly that's continuing. This situation is just not helping like I thought it might.
Mind-numbing games/media > books
I get sucked into the news throughout the day, but primarily first thing in the morning when I catch up on things I missed. I just hate it. I'm doing what I personally can by supporting small businesses, staying home 99% of the time, limiting grocery trips and getting delivery/pickup instead, etc. All the things we're all ABLE to do. Reading the news all day and getting pissed that the President is a moron doesn't really help me. Anyways, I find myself turning to the mind-numbing stuff like YouTube videos, bad Netflix shows, and phone games. I also have an Instagram account I don't post on for following food accounts that's fun to browse and get recipes from. I find myself reaching for ANYTHING that doesn't take brain power, and reading does.
Hard to get into the story because it doesn't reflect our world
Even though I'm reading books that were obviously written far before this current situation, I still find myself injecting coronavirus into what I'm reading. Bad choice of words, but you get what I mean. I read about characters going out to eat in a restaurant and think "you can't do that!!" as if the book exists in our current reality. It honestly takes me out of the book a lot and makes me miss the more "normal" times before, like when the book was written or even a few weeks ago. It's hard to read without thinking of everything going on and wondering why the character isn't freaking out about the virus when they're in the hospital visiting their parent.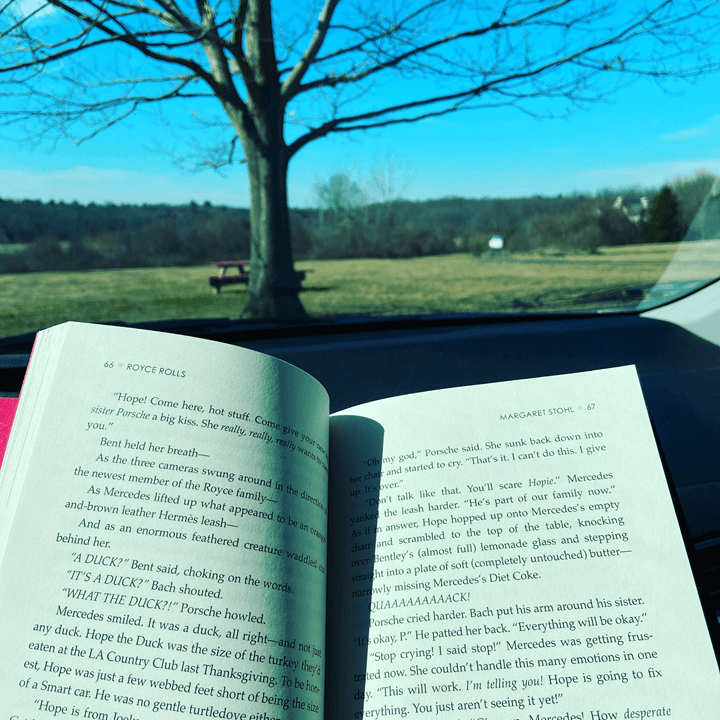 Solutions
Let myself NOT read
If I don't want to read, I shouldn't force it. Maybe for the first time in my life, I'll reduce my Goodreads goal. Who knows. It's not the end of the world. On the flipside, I could EASILY find myself addicted to reading when all of this passes and my headspace is better. When the weather gets nice, I love reading on the porch – maybe I'll read like the wind all summer. I can just take a break now if nothing is clicking for me.
Audiobooks while multi-tasking
I haven't been commuting in to work or spending any real amount of time on my appearance lately, so the normal audiobook or podcast time in my morning (generally around 1.5 hours, sometimes a bit more or a bit less) is not really there. I haven't been addicted to podcasts except for my usual ones each week, so I can use my cleaning time each day to listen to audiobooks. I've been doing a lot of house chores and reorganizing when I need to take breaks, so I should spend that time listening to audiobooks.
Read more non-contemporary books and graphic novels
Because the books set in our world aren't really working for my brain right now, why not switch genres? A fantasy book set in a faraway land wouldn't have this virus, probably, like our normal world would in a contemporary book. It's worth a shot. I also hope to get going on some graphic novels, like finishing the Saga series. It's always easier to read and finish something shorter than a full-length novel when you're struggling to read.
---
That's really it, friends. I just wanted to hop on and write something live to share my thoughts and reading-related issues at the moment. I hoped this quarantine-ish life would increase my reading mojo but maybe I need to rely on the OWLS readathon for next month, since it's something I've been super excited about for a while. Stay safe and clean!
Related Posts