Books I Recently Abandoned
(Removed from my TBR or DNFed)
Top Ten Tuesdays were started by The Broke and the Bookish and are now hosted by That Artsy Reader Girl, where we make lists of our top ten books (or something else!) based on that week's prompt. The topics are provided ahead of time and can be found here. Book links bring you to Goodreads or my review.
I sometimes include DNF reviews on my blog but it's usually if they're a review copy and I want to share something about it. I don't do it all the time though, because it's not overly fair to review things if I didn't finish the book. Anyways, here I'll be highlighting books I recently DNFed as well as books I removed from my TBR for other reasons (bad reviews, reviews that implied plot points I don't like, etc.).
Removed from my TBR Plans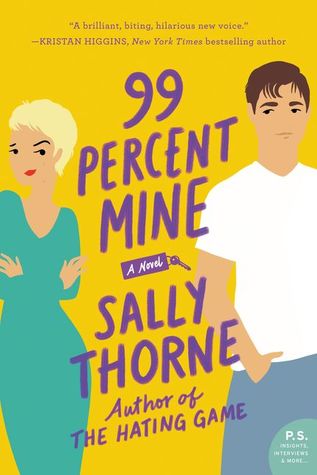 I'm most sad about 99 PERCENT MINE because I seriously loved her debut. I just saw so many mixed or negative reviews for it that I decided to remove it from my TBR. WE HUNT THE FLAME had a lot of hype, which is why I put it on my TBR, but I knew I probably wouldn't get to it? I saw reviews that it was super slow-going and that can be hard for me with fantasy books. THE DEAD QUEENS CLUB is another with not-great reviews that I was quick to remove from my TBR.
I'm bummed about FIX HER UP because it's one a LOT of people love, but it's also pretty polarizing. A lot of people said that the nickname "babygirl" is used constantly and unfortunately that's enough for me to decide to probably skip reading it. Apparently the lead male is also super overprotective, so pass. I thought I may jump into the companion series later but I didn't like reviews from book two either. THE CACTUS is another one where reviews made me say "meh not worth it" and removed it from my TBR.
DNFs
I didn't love the first book as much as everyone else, and was bummed UNDERCOVER BROMANCE was worse for me. I decided to quit this one and the series. I didn't like Liz in the first book so having the second book from her POV wasn't fun. I DNFed THE GIRL WHO LIVED, which was a book club choice that I didn't have a say in lol. It was poorly written. I'm sad that I also had to quit THE BABYSITTER'S COVEN was not what I wanted it to be at all and I was super sad about it. The writing style and language of the MC was outdated and not enjoyable to read.
Jasmine Guillory's books started out pretty good (minus the fact that I decided to skip her first book in this companion series) and have declined for me. ROYAL HOLIDAY was a DNF because the main characters were soooo boring and lame. I couldn't read anything more about horses. I didn't read much of STEPSISTER before calling it quits; it may have been a mood thing, but I haven't been compelled to come back. The beginning of the book was gross and put me off, but it's on my "come back to" shelf for if I change my mind.
Related Posts