It's not a secret that we've been super into cooking and baking lately, so I decided to go ahead and finally purchase the Cravings cookbook by Chrissy Teigan. After legit hugging it all weekend, reading the recipes and her funny stories, listing the recipes I could make from what I have on hand, and meal planning over the upcoming weeks, I decided we should do a full day of Cravings recipes to kick off this new obsession. I also immediately bought her second cookbook, FWIW. Some recipes come from book one and some are book two!
It's interesting timing as well because I had drafted this post a couple of weeks ago, not realizing that Chrissy Teigan would end up with a shitstorm of nonsense. I'm happy to make this post now so hopefully you can see the tasty recipes she's developed all by herself and with her mother. Everything we made has been utterly delicious and just a slight step up from what I might usually make, meaning it challenges me enough to feel like I'm learning something new and trying something super tasty… while not being too overwhelming. These two cookbooks are exactly what I'm looking for in a cookbook, basically.
A Sunday of Cravings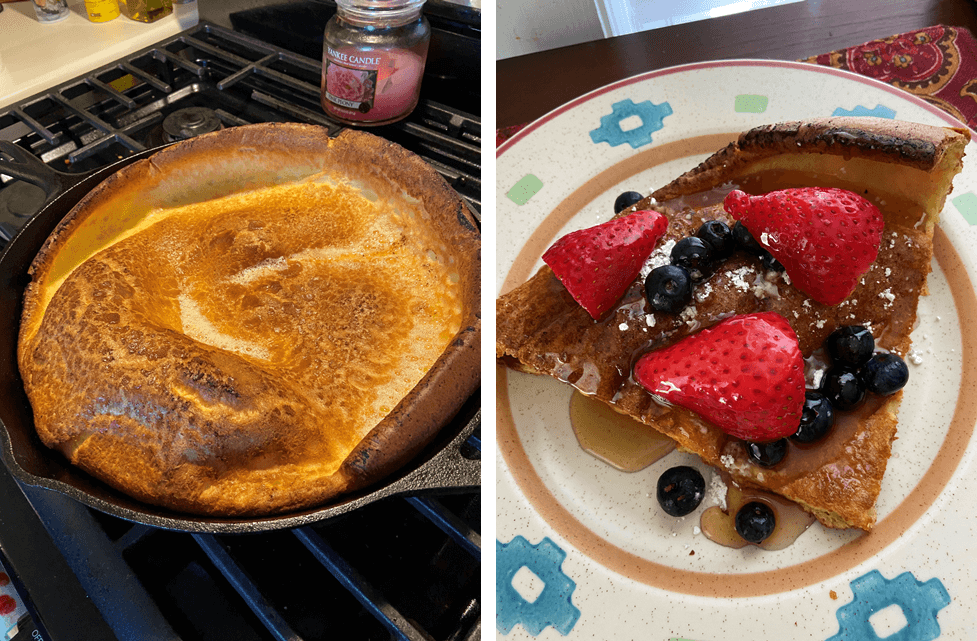 Breakfast
I started Sunday with her Dutch Baby Pancake, which is truly one of the easiest breakfasts I've made. Way easier than normal pancakes! You need a cast iron skillet or oven-safe pan and some basic pancake ingredients. You blend it together, pour it into a heated pan with melted butter, and bake it. It gets all funny looking and puffy, then you can split it into four pieces and add toppings. It was SO good and super easy, so we'll make this again for sure.
Lunch
This is actually from her website, so I can share it here! These Mexi-Baked Sweet Potatoes were so good, and spoiler: Chris's favorite from the day. You basically just cook a sweet potato, fill it with Mexican-ish toppings like corn, beans, and cheese (this was vegetarian!), and top with cold stuff (sour cream mixed with lime juice, tomatoes, etc.). It was delicious and filling for a lunch! We ended up getting Ben & Jerry's in the mid-afternoon so I'd say it won't fill you to the brim 😉
Dinner
Chrissy has a burger in her cookbook that's not entirely different from one we'd normally make, but there are a few key differences. This is called Capon's Chrissy Burger. Her "special sauce" is the same that we'd make for our burgers but she adds hot sauce. She also calls for putting dijon mustard on one side of the burger so when you flip it over on the cast iron, it glazes the top all nice! She has an onion ring recipe to put on it but we used our homemade pickled onions instead since we don't have a good deep-fry system ready yet. Anyways, like I said, didn't completely follow this 100% because of the onion ring, but it was so good! A classic burger with a yummy sauce and mustardy crust. (We air fryed frozen seasoned fries with this – not in the cookbook obviously haha)
Other Recipes Tested
Chipotle-Honey Chicken with Mango-Avocado Salsa
This was a recipe I knew immediately that I need to make. It was also amazing I basically had all of the ingredients in my house already. It's really nice to know that recipes like this can sometimes be as easy as blending together a sauce, marinating, and baking. (You obviously also have to make a salsa but ya know.) It was so so tasty and definitely spicy! I cut the recipe in half based on only having chicken thighs at the time and had to use a larger ratio of the peppers. SO good with the cool and fresh mango-avocado salsa though.
Literally Stovetop Pork Chops with
Garlicky Broccoli and Hasselback Potatoes
I had randomly bought pork chops in my Instacart order even though Chris and I don't really love them… so when I got this cookbook and saw an easy ass recipe using pork chops and Stovetop stuffing, I was sold. And so excited! We used a cornbread stuffing mix and oh mannnn it was tasty. I also modified her recipe for garlicky broccoli to use some of the cornbread breadcrumbs I made. I included a hasselback potato as well, which is another recipe of hers! This meal was SO tasty.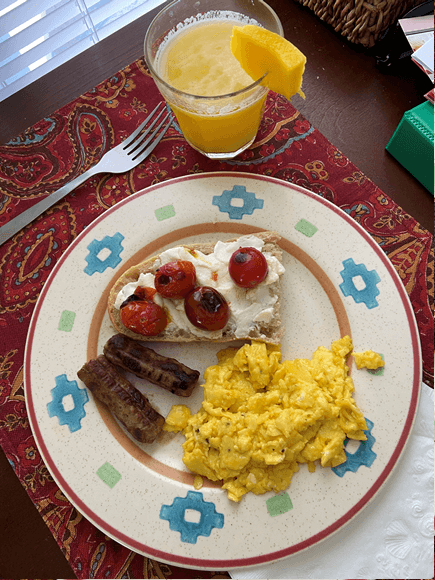 Cheesy Cheeseless Scrambled Eggs
Chris and I have been making large, tasty brunches on the weekends, because why not? Chrissy has a famous method for making super creamy eggs without cheese. It basically involves a very slow, soft scramble and heavy cream. They're SO good. We paired them here with Brad Leone's charred tomato toast and some breakfast sausage. Yes, we also had mimosas. Again, why not?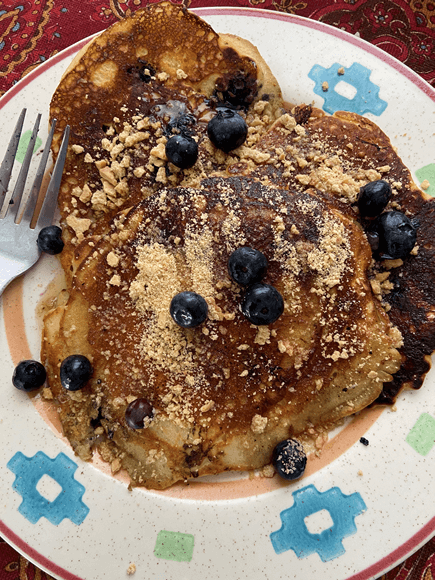 Blueberry Cream Cheese Pancakes
Chris has been making homemade butter from heavy cream, which also yields buttermilk for us to use! We immediately decided to make these pancakes because we had some fresh buttermilk to use. This was DELICIOUS. There are small cubes of cream cheese inside so these honestly taste like blueberry ice cream pancakes, especially because there are crumbled graham crackers on top!
Grilled Pork Banh Mi
Chris is a huge fan of good banh mi and has eaten it quite a bit in his life! (He's half-Vietnamese, half-Laotian.) We both LOVED THIS. I'm not super into banh mi with the deli meat like he is, so this was a perfect change for me. The grilled pork was marinated so well and the quick pickled veggies were a great touch. I can't wait to make this all the time!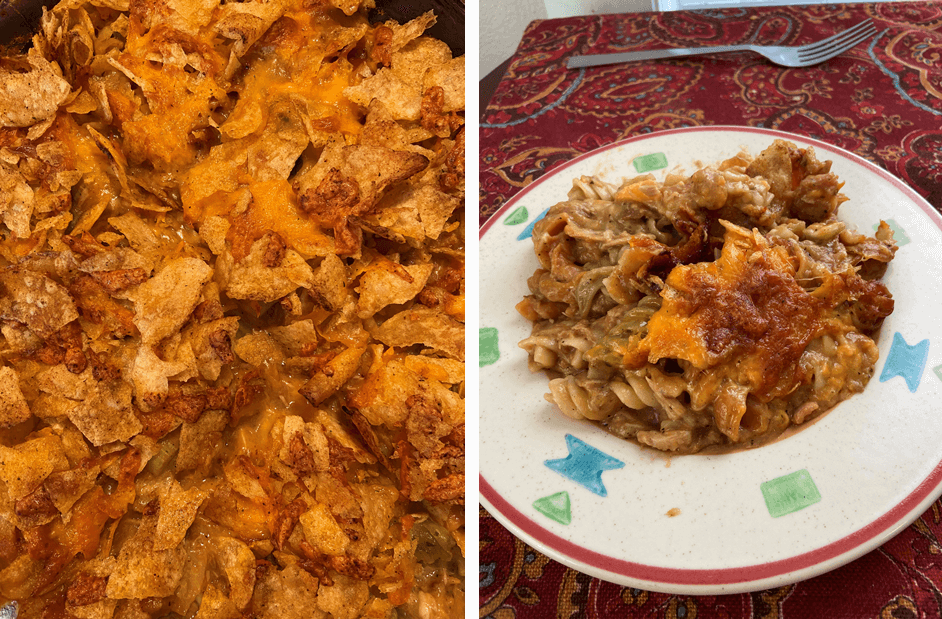 Cheesy Jalapeno Tuna Noodle Casserole
Chis had never tried tuna noodle casserole (must be nice to have delicious foods as a kid instead of this white ass meal!) so I wanted to give him a way-better option: Chrissy's! This one has jalapenos added for a bit of spice, a lot of cheese, and jalapeno kettle chips crushed on top. This was SO good. Chris was lucky to get the Cadillac of tuna noodle casserole for his first real taste of it 😉
Parmesan-Crusted Chicken with Balsamic Brussels Sprouts
I actually wasn't planning to make this chicken as early as this month, but I really needed something "mild" to go with the brussels sprouts side dish! I bought some fresh from the market a few weeks ago, cooked up some bacon that needed to get eaten soon, and topped it according to the recipe. Instead of making her honey-balsamic glaze, I used the premade Trader Joe's version (sorry not sorry). Both were SO tasty and really, really easy.
Tangy Herb-Sesame Slaw
I had bought tome tortilla-crusted tilapia from my friend's dad's seafood/deli shop and froze it a few weeks ago. I knew when I saw the tangy and crunchy sesame slaw recipe from Cravings that it would go SO well with this fish! It was really tasty and my combination was excellent. I didn't have all three of the herbs, unfortunately, but it tasted okay with some dried basil and the fresh cilantro (just missing mint!).
Crispy Bacon Hash Browns
We had a lot of random carbs hanging around one weekend so we didn't do any breakfast "baking" like we normally might. We kept it simple with some fried eggs and Chrissy's crispy hash browns with bacon. These were so tasty and easy! It's the kind of recipe where you remember the ratios really easily and can make it from memory the second time around. I may fry the bacon up first with some chopped onions to then mix in with the potatoes next time.
Grilled Eggplant with Crispy Shallots
Chris was craving eggplant so I added one in my Instacart order. The crispy shallots were an easy selling point for me, so off we went. This was incredibly tasty – the eggplant was cooked perfectly and yes I definitely overcooked the shallots, but they were still good! The sauce was amazing and just spicy enough. Incredibly tasty and a new go-to vegetarian meal for us probably!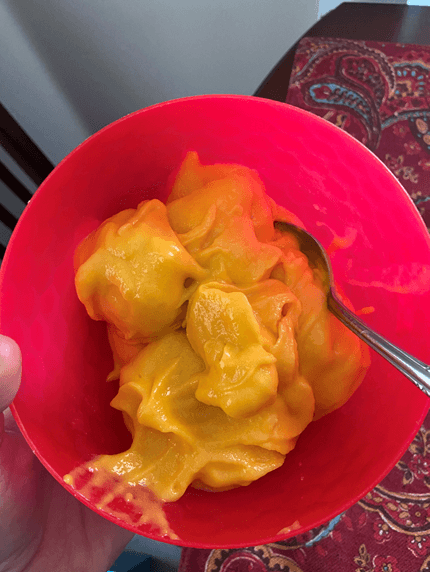 Instant Mango Sorbet
We recently purchased a Vitamix (!!!) so Chris was READY TO GO with this homemade sorbet thing. He'd been talking about it for a week and luckily there was a simple Cravings recipe for it too. It's literally just mango, coconut milk, and honey. It was a little too soft and creamy for Chris on the first night right after it finished, but I thought it was great. We froze the rest and ate it the next night with much success!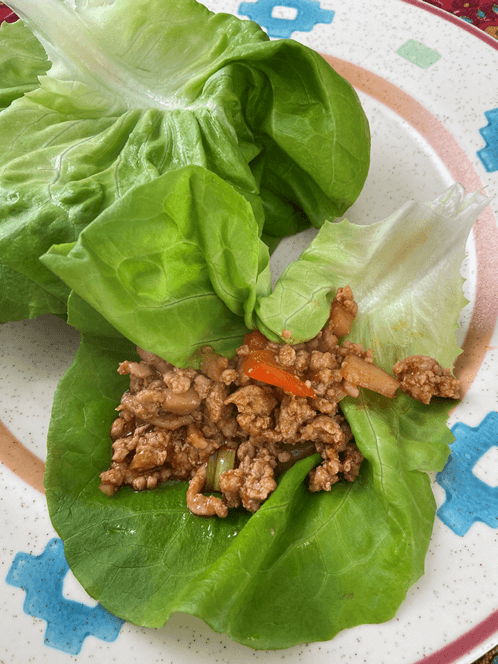 Chicken Lettuce Wraps
I've made these before from other "PF Changs dupe" recipes so I was definitely curious to see if I liked Chrissy's more. This was incredibly tasty! I liked the addition of the peppers. I'll say that the flavor is similar enough to the previous recipe I've used, so we'll probably keep using the Cravings version with the peppers!
Twitter's Banana Bread
I was definitely watching closely a few years ago when Chrissy was baking banana bread like nobody's business. I knew I wanted to give it a try when I saw it in the recipe book. I don't have a bundt pan, unfortunately, so I made two smaller loaves and shared one with my dad/family. They LOVED it and so did we! It didn't taste as much like banana bread because of the coconut and chocolate chips, but I think it would definitely be even better in the intended bundt pan. It may spread out the ingredients or something. I still love this!!
Overall Thoughts
Truly these two cookbooks have upped my game. It's so fun to challenge myself a little more. Like I said, these recipes are accessible enough where I don't feel like they're too complicated and time-consuming, but basically one level up from the kind of cooking I'd normally do. These cookbooks are helping me grow as a cook and want to keep learning more! We truly haven't had a bad meal since I got these, and you can see that we jumped right in to making them constantly. We are literally having more recipes from this book tonight through this weekend, but I had to cut myself off at some point and get this post scheduled! 😉
Related Posts