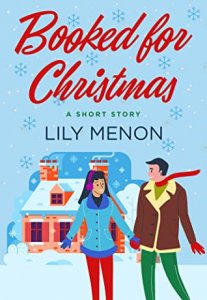 Booked for Christmas by Lily Menon
Genres: Adult, Contemporary, Holiday
Published by Macmillan on October 13, 2020
Format: eBook (100 pages) • Source: Purchased
Goodreads • Amazon • Barnes & Noble


Booked for Christmas, a novella from debut author Lily Menon, is sure to get readers in the holiday spirit!

Novelist Sophia Hart (real name: Sophie Bartholomew-Kaur-Hughes, but try fitting that on a book cover) absolutely hates her loudest critic—Evan Wolfe, evil mastermind behind the Lone Wolfe book review column. They've never met, but Wolfe's favorite pastime seems to be dumping on Sophie's unapologetically happy, magical romances. Sophie, not one to be left behind, gets her revenge in her own ways (never annoy a writer in search of a villain).

When Sophie decides to throw a holiday party at her cabin, Wolfe is the last person on her mind. But the universe has a twisted sense of humor. Not only does Wolfe show up as someone's plus one, but a massive snowstorm blows in, stranding them both alone together in Sophie's cabin.

Over the next few days, Sophie begins to realize that Wolfe isn't as odiously cynical a man as she'd originally thought. In fact, he's kind of...sweet. And impossibly hot. But still, Sophie's been hurt before and she has so much to lose. What she needs is one sure sign that she and Wolfe are meant to be together. Will Sophie and Wolfe get their Christmas miracle?
This novella is an adult romance by Sandhya Menon, using her pen name Lily Menon. The main character is an author of romance novels and has some friends over for a holiday party. A reviewer who trashes her books, Wolfe, shows up as a plus-one and she tries not to let it ruin her night. When a snowstorm rolls in and all the guests but Wolfe are able to leave, the two of them end up with a cozy and snowy holiday romance.
I'm a sucker for hate-to-love so that was warmly welcomed by me! I always have issues with novellas where the pacing is off and things move too quickly, but this one actually felt just right – both in the overall story and with the romance.
I wish there were more actual Christmas feels but the snow-covered remote cabin was a wonderful setting for this romance. It can be hard to capture THAT much Christmas in a small novella too. Overall though, this was a solid start to my holiday reading with a favorite author writing in a new age target.



The Christmas Wish
by
Melinda Curtis
Series:
Sunshine Valley #0.5
Genres:
Adult
,
Contemporary
,
Holiday
Published by
Hachette
on November 26, 2019
Format:
eBook
(60 pages) •
Source:
Purchased
Goodreads
•
Amazon
•
Barnes & Noble

It's beginning to look a lot like Christmasin this Sunshine Valley novella from USA Today bestselling author Melinda Curtis that will appeal to fans of RaeAnne Thayne and Sheila Roberts.

Everyone in Sunshine Valley, Colorado, is in the Christmas spirit except for Everett Bollinger, the new town manager. With money tighter than ever, Everett has had to make some tough decisions about the local holiday celebration. And taking the blame has put him in a very un-festive mood.

Rosalie Reyes has big plans to open her new pet shop during the Christmas parade. But it seems like Everett is determined to sabotage the parade and her business too. With the help of the local matchmakers and a rambunctious Saint Bernard named Remy, Rosalie is about to unleash the town's holiday cheer and make it a paws-itively amazing Christmas for all. Including a certain town manager who's about to discover the reason for the season...is love25,000 words
Another cozy and atmospheric small town romance companion series to start! My favorite. I love that this holiday novella is the first book in the Sunshine Valley series, set in the fictional town in Colorado. This story centers around the new town manager, Everett, who is struggling to get the city budget in place by the end of the year. He's made some changes and fixed things but still has some hard decisions to make over the holidays. He is constantly running into troubles with Rosalie, the owner of a new pet shop in town. When a few meddling matchmakers send her a hot chocolate pretending to be Everett, she wonders if he does have a heart after all.
There was a lot going on with Everett's past and his ex-wife's dog coming into his life, but it made for a cute dog-focused story. It's crazy how getting a dog can make me more invested in stories like these 😉 Rosalie and her family managing her new pet store, the town's money troubles, and other complications really added a bit too much to this story. It's more obvious in hindsight as I write this review but I don't think it bugged me as much while reading, if that makes sense.
As always, small towns like this make for cute Christmas settings and I enjoyed the Christmas parade. Again, can't pack in too much holiday cheer or decor descriptions in a novella, but I liked what I read.
This story was heartwarming overall but it really moved fast – the first kiss felt like it came out of nowhere and the ending was rushed. I enjoyed most of the middle with a few small things bugging me (cop stuff, her training style for dogs). Not a bad series-start and a good holiday novella!


Related Posts