Like everyone during quarantine, we've been doing a lot of cooking and baking! It's been so fun to find new meals, work with what we have, and bake tasty (well-deserved) treats. I was inspired by Communikait and her "what I'm eating lately via my iPhone" posts. They're simple photos of meals she's had and a little description about the recipe.
---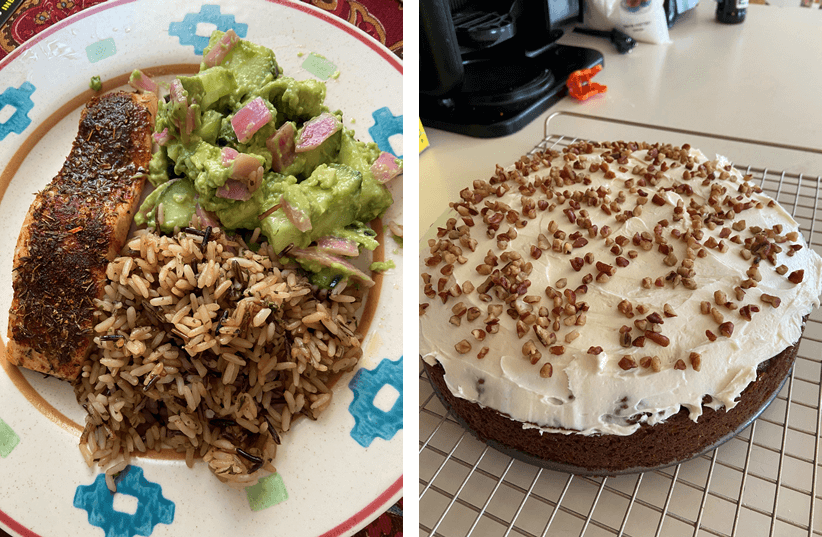 I've been on a Skinnytaste recipe kick lately. I purchased two of her books within the last month or so. This is a blackened salmon with an avocado cucumber salsa and wild rice. So good!
We made carrot cake for Easter for the first time, even though we didn't go anywhere or have any plans that day. Another Skinnytaste recipe and made with pineapple – so good. I love a cream cheese frosting.
Half Baked Harvest has been another favorite recently, website and books included. She's been making some copycat restaurant recipes lately. This is a Taco Bell crunchwrap supreme dupe, so it's a regular crunchy taco with a soft taco baked on the outside with cheese in between.
We've been wanting to use our blender more so I made some smoothie bowls with frozen fruit, avocado, blueberries, coconut, nuts, and granola. So good.
I don't even remember what recipe this was – it's a riff on a Half Baked Harvest one with some kind of meat and Asian flavors lol – but we added an egg. I think it was a Korean bowl with steak? So good regardless haha.
I got lobster meat in my most recent Butcher Box so I made homemade lobster rolls (yes we prefer them cold with mayo, unlike the classic hot buttered version in Connecticut). We put them with a clam chowder from Stew Leonard's.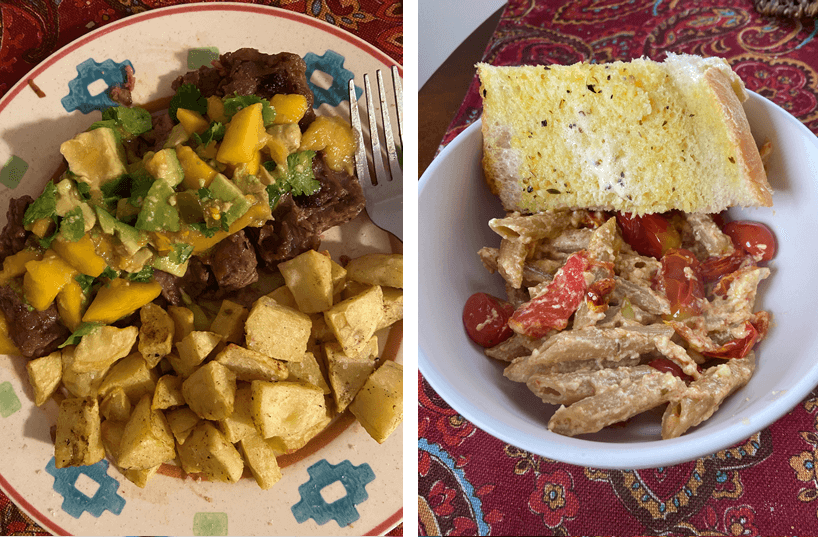 I made a skirt steak with some kind of mango chimichurri or salsa (I don't remember) from one of my cookbooks, along with some potatoes. This was so tasty.
We finally made the Tiktok feta pasta like everyone else. It was really easy and quite good! It looks weird because we used whole wheat pasta but honestly I'd consider making it again. Better than expected haha.
We're trying to make more vegetarian meals, so this was a curry with chickpeas and spinach. I always add way more spinach to recipes because it shrinks so much! Really tasty with some naan.
Skinnytaste's Meal Prep cookbook has a lot of easy, lunch-portioned recipes. These are Vietnamese meatball bowls and they were so good.
I found online that the best way to make super crispy chicken wings is to coat them in baking soda and let them sit in the fridge for a bit before baking or air frying. SO good and taste like they're fried! You can coat them in buffalo sauce or anything else. Here we used buffalo ranch seasoning powder instead of sauce.
We got an air fryer that's toaster-style so it also has a rotisserie and other functions. I tried to make a full chicken in it but it was too heavy, so I got some small cornish hens to cook. So good.
Another Skinnytaste vegetarian-ish (small amount of bacon lol) recipe – lentil soup. It was good! I think the lentils got overcooked but I would consider making it again.
This is the first full roasted chicken I made, since I had to move it into the oven instead of the rotisserie. It was tasty! The seasoning blend is from Skinnytaste as well.
We used the roasted chicken bones to make broth in the Instant Pot, and this chicken katsu ramen is the result. I enjoyed it but it wasn't quite as good as I was hoping? I don't know why but I'd try a different ramen recipe next time.
One of the recipes I was super excited to try by Half Baked Harvest was this whipped ricotta pasta with crispy prosciutto. We love ricotta cheese so this was a winner for us.
Korean beef tacos from Skinnytaste – so many good fusion-ish recipes in her books. We topped them with homemade kimchi from Chris's mom, so they were even better.
We made charcuterie for Wrestlemania because we're classy, just like wrestling is 😉 I was pretty happy with this board. I've only made one other before and this one looked good because of the antipasti sampler from Aldi I had been meaning to use from the fridge.
One of my favorite restaurant meals is this steak salad with balsamic glaze, blue cheese crumbles, and crispy onions from Ted's Montana Grill. I recreate it all the time with those ingredients and it's almost as good as the restaurant. Homemade onion rings are better but the French's ones will work in a pinch.
And finally, some Korean pork lettuce wraps from Skinnytaste. Another solid recipe from her – I really liked the sauce but they were hard to eat. I think my slices were too big. Can't complain about the flavor 🙂
Related Posts