I received this book for free (hey, thanks!) in exchange for an honest review. I promise that this does NOT affect my opinion of the book or the content of my review. For real.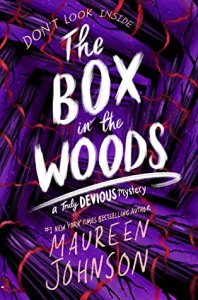 The Box in the Woods
by
Maureen Johnson
Series:
Truly Devious #4
Genres:
Young Adult
,
Mystery/Thriller
Published by
Harper Collins
on June 15, 2021
Also by this author:
Let It Snow
,
Truly Devious
,
The Vanishing Stair
,
The Hand on the Wall
,
Nine Liars
Format:
eARC
(400 pages) •
Source:
Publisher
Goodreads
•
Amazon
•
Barnes & Noble

After solving the case of Truly Devious, Stevie Bell investigates her first mystery outside of Ellingham Academy in this spine-chilling and hilarious stand-alone mystery from New York Times bestselling author Maureen Johnson.

Amateur sleuth Stevie Bell needs a good murder. After catching a killer at her high school, she's back at home for a normal (that means boring) summer.

But then she gets a message from the owner of Sunny Pines, formerly known as Camp Wonder Falls—the site of the notorious unsolved case, the Box in the Woods Murders. Back in 1978, four camp counselors were killed in the woods outside of the town of Barlow Corners, their bodies left in a gruesome display. The new owner offers Stevie an invitation: Come to the camp and help him work on a true crime podcast about the case.

Stevie agrees, as long as she can bring along her friends from Ellingham Academy. Nothing sounds better than a summer spent together, investigating old murders.

But something evil still lurks in Barlow Corners. When Stevie opens the lid on this long-dormant case, she gets much more than she bargained for. The Box in the Woods will make room for more victims. This time, Stevie may not make it out alive.
I was obsessed with the TRULY DEVIOUS series and was completely over the moon when I saw a fourth book announced. The first three involved Stevie at Ellingham Academy trying to solve the school's murder from many, many years ago, so I expected the series to end after that. This is a "standalone" installment where she spends the summer at a camp where infamous murders happened in the 1970s, in an attempt to solve it too. I could easily read a hundred books, Nancy Drew-style, where Stevie just goes around and solves mysteries everywhere.
I liked that this crime happened in the 1970s so there were actually people in the town who were alive and/or involved with what happened back then. (I'll also say that the 70s-based mystery involved a lot of Led Zeppelin references, which is always welcome for me.) The Ellingham mysteries were so long ago that she couldn't rely on any actual witnesses or people from that time period. I love that this took place in a small Berkshires town in MA because I could completely picture it.
It was nice to have her friends at the summer camp too because this felt like a continuation of the Ellingham series while also managing to be a standalone story. Good references to the past but not a ton (thank god because my memory for the rest of the series is terrible).
This one was so twisty – I truly don't think anyone could figure out the mystery in this book. I've gotten pretty good at solving mysteries in books lately so it was a pleasant surprise to not have any idea where this one was heading. It may have been a bit far-fetched but whatever.
All in all, another winner for this series. I'll read about Stevie solving mysteries forever.
---
I received this book for free (hey, thanks!) in exchange for an honest review. I promise that this does NOT affect my opinion of the book or the content of my review. For real.
The Next Wife
by
Kaira Rouda
Genres:
Adult
,
Mystery/Thriller
Published by
Amazon
on May 1, 2021
Also by this author:
The Goodbye Year
Format:
Paperback
(312 pages) •
Source:
Publisher
Goodreads
•
Amazon
•
Barnes & Noble

There is no limit to the lies, suspicion, and secrets that can poison the perfect marriage in this twisting novel of suspense by USA Today bestselling author Kaira Rouda.

Kate Nelson had it all. A flourishing company founded with her husband, John; a happy marriage; and a daughter, Ashlyn. The picture-perfect family. Until John left for another woman. Tish is half his age. Ambitious. She's cultivated a friendship with Ashlyn. Tish believes she's won.

She's wrong.

Tish Nelson has it all. Youth, influence, a life of luxury, and a new husband. But the truth is, there's a lot of baggage. Namely, his first wife—and suspicions of his infidelity. After all, that's how she got John. Maybe it's time for a romantic getaway, far from his vindictive ex. If Kate plans on getting John back, Tish is one step ahead of her.

She thinks.

But what happens next is something neither Kate nor Tish saw coming. As best-laid plans come undone, there's no telling what a woman will do in the name of love—and revenge.
I have been meaning to read books by Kaira Rouda and am happy I finally got to one! I actually let my mom borrow this before I read it (as I often do with any mystery/thriller books) and she blazed through it. I knew I needed something gripping and fast to get my reading back up to speed, and this didn't disappoint in that regard.
I really wanted to punch Tish the entire book. Her inner monologues were so irritating; she thought she deserved everything under the sun and regulated John's entire life. I really wanted her to get her comeuppance.
I didn't love the writing style – I can't really describe it but it was very heavily focused on the characters' thoughts and a lot of simplistic sentences, if that makes sense… It made for a quick and easy read, which was really what I needed, so I can't complain too much.
All in all, this was a super quick read. However, I kept waiting for a big reveal or bombshell to happen, and I predicted everything in the end. Tish and Kate were interesting characters (Ashlyn was whatever) so I was curious to see if the story played out as I predicted. And it did.
Related Posts