I received this book for free (hey, thanks!) in exchange for an honest review. I promise that this does NOT affect my opinion of the book or the content of my review. For real.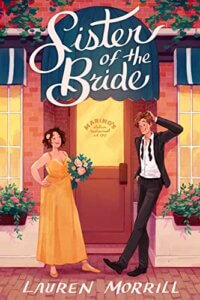 Sister of the Bride
by
Lauren Morrill
Genres:
Adult
,
Contemporary
Published by
Yellow House Media
on September 12, 2023
Also by this author:
Meant to Be
,
It's Kind of a Cheesy Love Story
Format:
eARC
(305 pages) •
Source:
Publisher
Goodreads
•
Amazon
•
Barnes & Noble

A romcom retake on Father of the Bride about letting go, falling in love, and a whole lot of lasagna For someone who doesn't do well with change, Pippin Marino sure is dealing with a lot of it. First her twin sister returns from Europe with a fiancé and a plea for Pippin to plan the wedding. Then her mom announces plans to sell the 100 year old family restaurant that Pippin has been running since her father died. But at least there's one good development in Pippin's life. After eight years on the west coast, her best friend Toby Sullivan surprises her by moving back to Boston. Having him back is the one bright spot amidst her summer of panic, especially when he offers to help her plan the wedding. But then one kiss changes everything . And Pippin Marino does not do well with change.

Sister of the Bride is a steamy, slow-burn friends-to-lovers romcom with wedding planning, pasta, a Grey's Anatomy-loving Nonna, and a guaranteed HEA.
I've enjoyed Morrill's YA books before – they're usually nice and bantery, super easy to read, and a lot of fun. I was so excited when I saw she wrote an adult contemporary romance and requested it immediately. SISTER OF THE BRIDE is apparently a Father of the Bride retelling (?) but I haven't seen the movie. I loved the premise of a girl having to plan her sister's wedding while falling in love with her best friend. This is the kind of book that you could easily sit and read in one sitting so I'm a little annoyed it took me so long to finish it! I started it right before my birthday weekend, which always gets too busy for reading.
In any case, the Italian food and Boston vibes were immaculate in this book. I'm from Connecticut so Boston is an hour and a half from where I live. It was fun to see what they included and how they presented the story. It was a really unique situation for the MC Pippin and it was fun to see how she would move on with her life after literally everything changed. She was occasionally frustrating but I have to say, the lack of drama and miscommunication in this one (especially in a few key areas near the end) was just perfect. She would get annoyed about something and freak out, then come back to earth and apologize. It was refreshing that she didn't let things get to her for too long and came to logical conclusions quickly after her freakouts. I love a friends-to-more romance and wedding planning in books, so both were winning elements for me. The love interest, Toby, was incredibly sweet.
I enjoyed meeting Pippin's family and a lot of the side characters but there could have been just a little more about them. The book could have benefited from like 20-40 more pages of development, maybe? I also think the synopsis of the book gives away a lot of plot elements that don't happen until 30% or more of the way through the book. There were a few repetitive sentences but they're the type of thing that I think probably got cleaned up before the finished copy.
I really hope Morrill continues writing more books for adult readers! There's the same charm and banter as her YA books so if you're a fan of hers in general, I would recommend checking this one out as long as you don't mind some spice!

Drowning
by
T.J. Newman
Genres:
Adult
,
Mystery/Thriller
Published by
Simon and Schuster
on May 30, 2023
Format:
Audio/Physical
(304 pages) •
Source:
Libby
,
Scribd
Goodreads
•
Amazon
•
Barnes & Noble

Flight attendant turned New York Times bestselling author T. J. Newman—whose first book Falling was an instant #1 national bestseller and the biggest thriller debut of 2021—returns for her second book, an edge-of-your-seat thriller about a commercial jetliner that crashes into the ocean, and sinks to the bottom with passengers trapped inside, and the extraordinary rescue operation to save them.

Six minutes after takeoff, Flight 1421 crashes into the Pacific Ocean. During the evacuation, an engine explodes and the plane is flooded. Those still alive are forced to close the doors—but it's too late. The plane sinks to the bottom with twelve passengers trapped inside.

More than two hundred feet below the surface, engineer Will Kent and his eleven-year-old daughter Shannon are waist-deep in water and fighting for their lives.

Their only chance at survival is an elite rescue team on the surface led by professional diver Chris Kent—Shannon's mother and Will's soon-to-be ex-wife—who must work together with Will to find a way to save their daughter and rescue the passengers from the sealed airplane, which is now teetering on the edge of an undersea cliff.

There's not much time.

There's even less air.

With devastating emotional power and heart-stopping suspense, Drowning is an unforgettable thriller about a family's desperate fight to save themselves and the people trapped with them—against impossible odds.
I was intrigued by DROWNING when I first saw it come out this year and ended up picking up the author's debut, FALLING, this past spring. Honestly? I saw the cover and thought it was the newer book lol. The titles and cover art are definitely similar enough. I even thought they were about the same thing – a plane crashing down to earth. Turns out, DROWNING is appropriately named. This story is about a plane that crashes into the ocean off Hawaii and the rescue efforts made to get them out safely.
Like with all locked room/isolated-style mystery/thrillers, I had no idea how the author was going to keep things entertaining for a full-length novel… and as always, I was proven wrong. This book was really engaging throughout and I was constantly wondering what would happen (or go wrong) next. I haven't even really read a book like this book – DROWNING is definitely a dad thriller, like Olivareadsalatte would say lol. I'm used to my books having a mystery or murder or villain but this was purely a survival story and rescue mission.
I loved the characters but did find it sometimes challenging to tell a few of them apart. It's not REALLY about them necessarily (meaning we only got real, true backstory from a couple of them) but obviously you start to grow attached. The end of the book made me tear up multiple times.
Like most books in this genre (says the girl who hasn't ever read any), the story got more and more exciting and high-stakes as we approached the end. I read this in a couple of sittings and don't think anyone would have trouble racing through this as well. I'm super excited to read her first book now!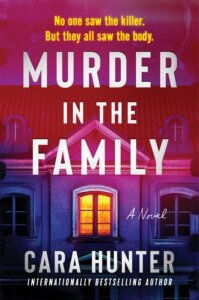 Murder in the Family
by
Cara Hunter
Genres:
Adult
,
Mystery/Thriller
Published by
William Morrow Paperbacks
on September 19, 2023
Format:
Paperback
(480 pages) •
Source:
Purchased
Goodreads
•
Amazon
•
Barnes & Noble

A shocking thriller about a cold case, a fictional true crime series, and the family caught in the middle.

SIX EPISODES. ONE KILLER.

It was a case that gripped the nation. In December 2003, Luke Ryder, the stepfather of acclaimed filmmaker Guy Howard (then aged 10), was found dead in the garden of their suburban family home.

Luke Ryder's murder has never been solved. Guy Howard's mother and two half-sisters were in the house at the time of the murder--but all swear they saw nothing. Despite a high-profile police investigation and endless media attention, no suspect was ever charged.

But some murder cases are simply too big to forget...

Now comes the sensational new Netflix series Infamous, dedicated to investigating--and perhaps cracking--this famous cold case. The production team will re-examine testimony, re-interview witnesses, and once again scour the evidence. The family will speak. The key players will be reunited--on camera. The truth will come out.

Are you ready to see it?
This book managed to put me in a reading slump… before I even read it. All throughout September, I kept thinking of this book and waiting for it to release on the 19th. I wasn't in the mood to read anything else and struggled through a couple of books until then (even though I really enjoyed those books!). I just never wanted to pick up anything else! It didn't help that Meg With Books posted a video where she tried to solve it "live" on camera, and marked certain chapters (or episodes, as referred to in the book because it's based on a TV show) so we could read along with her. It came out in the UK before the US so I was waiting and waiting lol. I even downloaded a sample of the book on Tuesday when it came out so I could read that until my preorder arrived on Thursday.
MURDER IN THE FAMILY is completely mixed media, which is one of my favorite things ever. The book is centered around solving a cold case with one of the family members deciding to create a Netflix documentary hoping to solve it. It's broken into six episodes and Guy (the stepson of the murder victim) brought in a bunch of experts (like an NYC cop, British PI, lawyer, psychologist, etc.) to sit around a table and try to figure out what happened to his stepdad. Each episode has a transcript of what they say and other media elements (like text messages, maps, lists, articles, etc.) are smattered throughout as well.
Most mixed media mysteries feature a mix of text and media elements, but I love when they're 100% mixed media like this! It made for a really fun and quick read. It was exactly the reading experience that I wanted it to be. It was definitely twisty and I think the story was made even better with the format. I loved reading people's reactions to the episodes after they were aired too.
I didn't really love the final reveal necessary but I also didn't care. It's the kind of book where the journey and unique reading experience can really make a difference. I think it may be getting adapted (?), which would also be SO fun to watch. Overall, if you like mixed media murder mysteries, you must read this.
Related Posts