Non-Contemporary Books I Loved but Never Talk About
Top Ten Tuesdays are hosted by The Broke and the Bookish, where we make lists of our top ten books (or something else!) based on that week's prompt. The topics are provided ahead of time and can be found here. Book links bring you to Goodreads or my review.
Everyone knows that contemporary fiction – usually YA but often adult – is my JAM. Over half of my reading each year is within that genre. I love romance and swoons and summertime and fluff. That's what I think of when I'm imagining my perfect books. Because of my love for contemporary, I am usually screaming about my favorites on the blog quite a bit. So today, I'll be skewing the topic of "Ten Books I Really Love But Feel Like I Haven't Talked About Enough" to just be the…

Yep, today is all about anything that isn't really contemporary fiction. Some of my other bookish interests are below, along with a couple of books I loved under each category. I'm kind of pushing my definition of "non-contemporary" here (because quite a few are essentially contemporary, but have elements of something else). Please also keep in mind that I did try to restrict it to the books that I don't personally feel like I talk about enough. Everyone knows how much I love the Lunar Chronicles by now, so I didn't feel like it was doing the topic justice to include that in the retelling category. ANYWAYS HERE WE GO…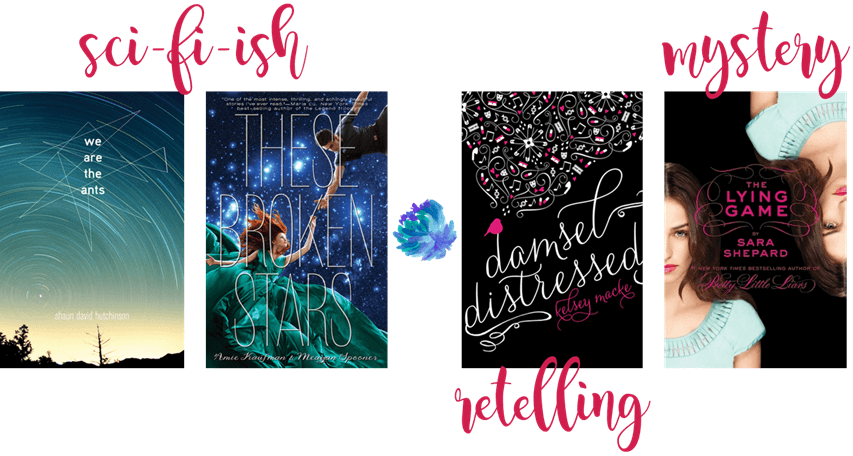 We Are The Ants by Shaun David Hutchinson /// To be fair, I read this book a little while ago and the review was just posted yesterday. I haven't really given myself a chance to flail about it yet, but it is soooo worth the flails. It was one of my favorite books from this year and earned five stars. It has elements of sci-fi, so that's why the "ish" was added in the header up there. It's more contemporary than anything, but I'm allowed to cheat on my TTT okay.
These Broken Stars by Amie Kaufman and Meagan Spooner /// I haven't talked about this one in a long time. It was a Book Buddies read with Cristina and we both enjoyed it! I still haven't continued the series yet for some reason, but I definitely will acquire the paperbacks now that they're all about to be in that form. And, the covers are beautiful too.
Damsel Distressed by Kelsey Macke /// Another "oldie" but goodie. It's kind of a Cinderella retelling and again, there's a gorgeous cover. It mostly reads like a contemporary but I loved the nods to the original story. It also offers a super honest look at depression that I honestly haven't seen in a lot of books. It was hard to be in Imogen's head sometimes, but it was worth it in the end for sure.
The Lying Game by Sara Shepard (& here) /// Pretty Little Liars is a series that means a lot to me for a lot of reasons. However, I don't give enough credit to Shepard's other long series I enjoyed! I binged these books via audio and ebook a while back on Scribd (RIP when Scribd was all unlimited). I could absolutely not stop reading them. They had the same suspense as PLL but there was a really different twist on it, which was refreshing.
Silver trilogy by Kerstin Gier /// I'm reading Ruby Red this month for Book Buddies and am really excited to begin Gier's other series! I've loved both books in the Silver trilogy so far (book two is releasing in April; review to come) and feel like it's underrated in general. There are so many cool dream elements to these stories. I think a lot of people would enjoy this series if they gave it a shot!
The Art of Wishing duo by Lindsay Ribar (& here) /// Another very underrated book series, in my opinion. I read the two books back-to-back one weekend while Chris was at work and they were SO fun! I haven't read any other genie stories yet but these set the bar fairly high. The ending of the first book made my mouth drop open and I think everything about this duo was well done.
One Past Midnight by Jessica Shirvington /// This is a great, underrated parallel life book that takes place in my favorite city – Boston. I remember finding this book right before I started blogging; it was one of the first books to make it onto my Goodreads TBR as a pre-pub! I finally got around to reading it a handful of months later and just was really impressed. The ending absolutely shocked me but I love how everything turned out. Just crazy.
A Series of Unfortunate Events by Lemony Snicket /// I am soooo jazzed up for the Netflix show based on this series! I actually didn't mind the movie either… But anyways, I don't often talk about childhood favorites on the blog so this was a nice reminder to show this series some love. I have the first four or five in audiobook form, so I plan to reread maybe before the show comes out.
The BFG by Roald Dahl /// One of my all-time favorite books from childhood, and definitely my favorite by Roald Dahl. I think I've reread this one back when I was a kid (which is surprising because I NEVER used to reread!) and am absolutely due to pick it up again as an adult. There's a movie coming out for this one too, so you know I'll be getting to it by then!
Have you read any of these? What are some underrated gems you don't talk about enough? Link me up!
Related Posts