I received this book for free (hey, thanks!) in exchange for an honest review. I promise that this does NOT affect my opinion of the book or the content of my review. For real.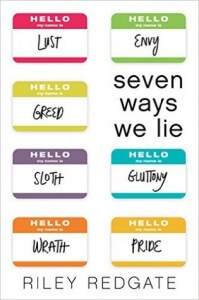 Seven Ways We Lie
by
Riley Redgate
on March 8th 2016
(352 pages) •
Goodreads
•
Amazon
•
Barnes & Noble

Paloma High School is ordinary by anyone's standards. It's got the same cliques, the same prejudices, the same suspect cafeteria food. And like every high school, every student has something to hide—whether it's Kat, the thespian who conceals her trust issues onstage; or Valentine, the neurotic genius who's planted the seed of a school scandal.

When that scandal bubbles over, and rumors of a teacher-student affair surface, everyone starts hunting for someone to blame. For the unlikely allies at the heart of it all, the collision of their seven ordinary-seeming lives results in extraordinary change.

I've seen some mixed thoughts on this one overall but I really, really enjoyed it. There are many people who didn't think the seven points of view were different enough, but I fall firmly on the opposite side of that opinion. I really could see the difference between each person and felt that they were all different and unique in their own ways. I'm super impressed that the author was able to take seven different people with distinct personalities and carve them out THAT well. Corresponding to the different sins, however, was a little less clear for some characters compared to others. Some of them were very obvious while others didn't click right away. I did some researching around other reviews and confirmed what I suspected about some of them, so that helped. However, I think in terms of matching up with that completely, the sins could have been more obvious – since that seemed to be the entire idea behind the story.
Because this is such a character-driven story, I'll talk a little about each character and go through them in order of my favorite to least favorite. The character descriptions may be spoiler-y in the sense that I WILL say which sin I think they each correspond to.
Characters
Olivia | I feel like she was kind of the main character even though there wasn't necessarily a MAIN character. Her sin was pretty clearly lust because she hooked up with a lot of guys. I really loved her perspective and feminism. She was very clear about how she had power over her own body and sexuality, and spent a lot of time telling people to fuck off about it. Her reasoning just really resonated with me and it's something I've thought of so many times. Her family life was complicated. Her twin sister, Kat, was so angry all the time, her mom left, and her dad was never around that much. I liked that the never used her "promiscuity" as an excuse or reaction to her mom leaving them. Kat's anger was VERY much because of their mom leaving, but Olivia was just a sexual person because she felt empowered to be one. I looooved that.
Valentine | I always got excited to see his chapters come up! It kind of reads that he may have some form of asperger's but that was never written down in so many words. He was very straightforward about right and wrong, and I just loved him. His blossoming friendship with Lucas was fantastic because he previously thought he could never relate to people, or find anyone he'd connect with. He had come to terms with that before meeting Lucas, but it was clear the two of them would develop (and did develop) a great bond. His sin wasn't exactly clear to me. It seems like pride is the most likely option.
Lucas | I absolutely loved this character. He was very clear about who he was and how he felt about things. The discussions about sexuality that were brought up in the story were REALLY important. I've never seen anything quite like it in a YA book. His sin was greed because he bought a lot of nice things to overcompensate for his family's lack of nice things. Being a scholarship kid at a ritzy private school in NYC apparently affected him pretty badly. The bad thing about Lucas's characterization is that the elements of his sin completely faded away about halfway through the book. You discover at the beginning that he makes money selling weed and alcohol, but then those parts of his personality are gone once the sexuality piece comes into play. I wish his characterization was more consistent, but I did love him overall.
Matt | He started out as the stoner kid who somehow was running for class president, and ended up growing quite a bit throughout the story! He had a crush on Olivia forever apparently and sees his chance when they're assigned a group project. I loved this little romance within the story, but it wasn't enough for me to really categorize this book as contemporary romance (at least not for my challenge!). He had family issues too, which were pretty prevalent in his story. His sin was sloth because he was a lazy stoner kid. He grew throughout the story A LOT so I wouldn't say he's even associated with that one by the end of the book… much like Lucas.
Juniper | Her chapters were written in poetry, for some odd reason. I really couldn't figure that one out. I didn't mind reading her perspective but her chapters were sooo few and far between. I guess by process of elimination her sin would be gluttony, which didn't exactly make sense to me – at least not based on the traditional definition of gluttony. In any case, her story was super intriguing but not enough to call her a favorite. It was cool to see Juniper through the eyes of the OTHER characters instead of through her own, actually. She had this perfect, smart, All-American Girl vibe going for her… so you knew she'd crack at some point.
Kat | Her sin was very obviously wrath. She was so pissed at her mom for abandoning her family that she was just angry all the time, to everyone. I can see how this may happen in real life but it honestly felt a bit over the top at times. She wasn't as believable as the other characters. I generally did like reading her chapters but wasn't sure that her perspective was as necessary as everyone else. She was only linked to the story through Olivia (and one other moment towards the end when some shit hits the fan).
Claire | She was easily my least favorite character, but I could see how people may relate to her a little bit. She was very envious (there's her sin, obviously) of her best friends because she thought they had it all – Juniper was perfect and smart; Olivia had attention from all the guys. She was constantly comparing herself to them and assuming they didn't want to spend any time with her. Just veryyyy jealous all the time. It was hard to read because I just wanted to shake some sense into her. I thought she did some super inexcusable things towards the end of the book too. I couldn't forgive her if I was any of the characters involved in what happened.
Overall
This book was pretty great. I have so many positive thoughts about it after finishing, but really wish there were MORE about the seven deadly sins. It was obvious for some and not for others, so I think that weakened the message a bit. I also started the book, read a little of something else, then came back to it. It was NOT any easy book to come back to; I had completely forgotten each character and their story. I recommend reading this book all in a row without switching books in between, if you're a book polygamist like I am. You'll notice that I didn't really mention the student-teacher relationship that seems to be the focus of the story. Each character is kind of related to it in some way, but I didn't think it was AS central to the plot as it seemed. It was definitely more a book about the characters and how they were reacting to everything happening in their lives at the time – not just the rumors and scandal.

| | |
| --- | --- |
| Plot & Premise | |
| Characters | |
| Writing Style | |
| Pacing & Flow | |
| Feels or Swoons | |
| Addiction Level | |
| Overall: | 4 |
Related Posts