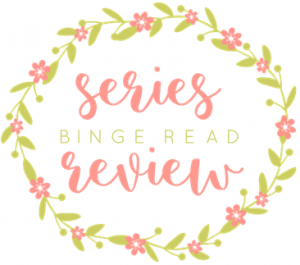 So, I went on a little binge. It was a very spur of the moment decision and I figured I'd just work through the audiobooks for these ones over the course of the month…. but, I couldn't stop. It ended up being a full-on series binge-read, which fits nicely in my Summer of Series Challenge! I didn't put it on my TBR, but oh well. I should have known Sara Shepard would make me turn the pages nonstop until I was finished with the series.
The Lying Game: Books 1, 2, and 3, plus the prequel novella
I won't spoil each individual book in the reviews, as usual, BUT each
review will likely have spoilers for the previous book(s)! So, beware.
---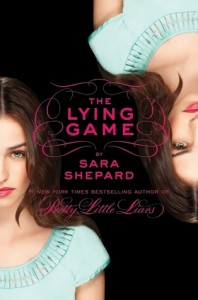 The Lying Game by Sara Shepard
Series: The Lying Game #1
Genres: Mystery/Thriller, Young Adult
Published by Harper Collins on December 7th 2010
Also by this author: The Heiresses, Pretty Little Liars, The Perfectionists, Vicious, The Good Girls, Hide and Seek, Cross My Heart, Hope to Die, Seven Minutes in Heaven, True Lies, The Amateurs
Format: Audio/eBook, eBook (307 pages) • Source: Scribd
Goodreads • Amazon • Barnes & Noble


I had a life anyone would kill for.
Then someone did.
The worst part of being dead is that there's nothing left to live for. No more kisses. No more secrets. No more gossip. It's enough to kill a girl all over again. But I'm about to get something no one else does--an encore performance, thanks to Emma, the long-lost twin sister I never even got to meet.
Now Emma's desperate to know what happened to me. And the only way to figure it out is to be me--to slip into my old life and piece it all together. But can she laugh at inside jokes with my best friends? Convince my boyfriend she's the girl he fell in love with? Pretend to be a happy, care-free daughter when she hugs my parents goodnight? And can she keep up the charade, even after she realizes my murderer is watching her every move?

WOO that was really good! I shouldn't say that I'm suprised at how good it was, but I kind of am. Sara Shepard is known for writing the same kind of books over and over again. I think most people admit that, even her big fans (like myself). There's just something about her writing style that works for me and keeps me engaged, even if some of it feels like deja vu.
THE GOOD NEWS IS: this book was actually not like her other books/series at all. It felt like a completely fresh story, which is definitely what made all the difference. Instead of following a group of girls around trying to figure out mysteries and/or murders (Hi, Pretty Little Liars, The Heiresses, and The Perfectionists), this one involves long-lost twin sisters.
The book is written in a really interesting way (that is suprisingly not difficult to follow). I've tried to type out an explanation for what happens in this book and erased it too many times to count… but essentially the book is in first person POV with Sutton, the ghost-like sister following Emma around, and third person omniscient POV is used for Emma's thoughts and actions. It's really cool because you kind of forget Sutton is there sometimes but you simultaneously get two different, yet similar, perspectives on what's happening. It sounds confusing but I promise it's not.
Emma finds out she has a twin sister when she is shown a video of a girl that looks like her getting strangled to near-death. She finds the twin and messages her on Facebook, immediately getting a response to come meet her in Tucson. When she gets there, Sutton is nowhere to be found. Her friends find her, however, and mistake her for Sutton. Emma is suddenly living her sister's life and wondering where the eff she went. She receives threats and information from someone telling her that Sutton is dead and Emma has to keep living her life as Sutton. It's really cool! Emma decides to keep living as Sutton to help figure out who murdered her sister.
I have to say, reading this series definitely makes me miss the TV show too. It was really good, but obviously a bit different from the book. I have a lot of theories swirling about who's behind everything and whether or not Sutton is really dead (I feel like she's alive, but who knows)… but I think most of them are coming from the TV show!
---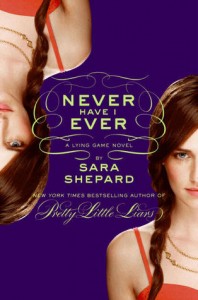 Never Have I Ever
by
Sara Shepard
Series:
The Lying Game #2
Published by
Harper Collins
on August 2nd 2011
Also by this author:
The Heiresses
,
Pretty Little Liars
,
The Perfectionists
,
Vicious
,
The Good Girls
,
Hide and Seek
,
Cross My Heart, Hope to Die
,
Seven Minutes in Heaven
,
True Lies
,
The Amateurs
Format:
Audio/eBook
(309 pages) •
Source:
Scribd
Goodreads
•
Amazon
•
Barnes & Noble

My perfect life was a lie.
Now I'd do anything to uncover the truth.Not long ago, I had everything a girl could wish for: amazing friends, an adorable boyfriend, a loving family. But none of them know that I'm gone--that I'm dead. To solve my murder, my long-lost twin sister, Emma, has taken my place. She sleeps in my room, wears my clothes, and calls my parents Mom and Dad.
And my killer is watching her every move.
I remember little from my life, just flashes and flickers, so all I can do is follow along as Emma tries to solve the mystery of my disappearance. But the deeper she digs, the more suspects she uncovers. It turns out my friends and I played a lot of games--games that ruined people's lives. Anyone could want revenge . . . anyone could want me--and now Emma--dead.

MAN, that was good too! I hate to say that I'm surprised, but I kind of am. It's nice knowing that this series is only six books and won't be brought into something extremely repetitive. Cough. Anyways, this book was just as edge-of-my-seat thrilling as the others. The books, so far, start out kind of slower and work into something crazier towards the end.
I have to give this one a little lower of a rating though. It had a lot of the same great, crazy qualities of the first but a few things weren't as great. I predicted a LOT of the major twists in this one, including stuff about the twins and Thayer. There's a lot of great mystery still left though. I just was a bit better at determining what may happen next with this book.
Again, I feel like 6 books will (hopefully) be the perfect amount for this series. There's still SO much that could be explored! She hasn't solved the murder yet, someone new is back in the mix with some suspicions, and there's probably going to be some interesting information about her birth mother and maybe even her father?! I know I'm getting a little mixed up with what happened in the show, but I can't help but feel like some of the same plotlines are going to appear. I'm so excited for that! I STILL don't fully believe Sutton is dead either…
---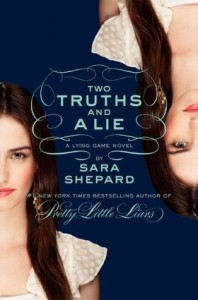 Two Truths and a Lie
by
Sara Shepard
Series:
The Lying Game #3
Genres:
Young Adult
,
Mystery/Thriller
Published by
Harper Collins
on February 7th 2012
Also by this author:
The Heiresses
,
Pretty Little Liars
,
The Perfectionists
,
Vicious
,
The Good Girls
,
Hide and Seek
,
Cross My Heart, Hope to Die
,
Seven Minutes in Heaven
,
True Lies
,
The Amateurs
Format:
Audio/eBook
(292 pages) •
Source:
Scribd
Goodreads
•
Amazon
•
Barnes & Noble
Sutton Mercer watches from the afterlife as her long-lost twin, Emma Paxton, takes over her identity to solve her murder. But after ruling out her early leads, Emma still hasn't found Sutton's killer. A lot of people wanted her dead—but one name keeps popping up: Thayer Vega. When the gorgeous and mysterious Thayer returns to town, Emma has to move fast to figure out whether he's back for revenge…or if he already got it.
Set in a town where friends can turn into dangerous enemies and everyone harbors dark secrets, The Lying Game is a juicy new series that fans of the #1 New York Times bestselling Pretty Little Liars series—and the hit ABC Family show—will love.

There were a few more things that bugged me in this one compared to the first two. I don't want to say that I think the books are getting worse as they go on, but my ratings do kind of show that… I have confidence the rest of them will be a bit better.
For some reason, there was a bit of cheesiness in this one that bugged me. Some of the writing felt over the top… like EVERYONE who gets pissed at Emma-as-Sutton probably killed Sutton. (Still not convinced she's dead, by the way.) The way this book ended made me roll my eyes, too. For a few different reasons. View Spoiler »Now she's back to thinking Laurel may have killed Sutton, AND I'm sensing a shitty love triangle between Thayer and Ethan and Emma. Please, no. « Hide Spoiler Although, a few things in this book cleared up some of my suspicions. A lot of Emma's theories seem stupid.
I was annoyed with the whole prank-on-Ethan thing. Her friends decide he'll be their next victim and Emma-as-Sutton does nothing to stop them. Bitch, you just said you're the ringleader of the group. All you have to say is no and they'll stop. Instead, there was some drama with her not stopping them or telling Ethan about it. He's her only confidante; why would she jeopardize that? Ugh. Come on.
Some of the repetitiveness is bugging me too. I know it's my fault I'm reading all of these back-to-back; I do expect some repeat information to refresh people's memories. But, there are some details (like Emma's stuffed animals and where she got them) that don't need to be repeated in EVERY book.
Anyways, still SUPER intrigued by this series. I have to give this one 3.5 stars just because it wasn't as good as the previous book. I'm hoping that things pick up soon and there's some closure.
---
The First Lie
by
Sara Shepard
Series:
The Lying Game #0.5
Genres:
Young Adult
,
Mystery/Thriller
Published by
Harper Collins
on December 18th 2012
Also by this author:
The Heiresses
,
Pretty Little Liars
,
The Perfectionists
,
Vicious
,
The Good Girls
,
Hide and Seek
,
Cross My Heart, Hope to Die
,
Seven Minutes in Heaven
,
True Lies
,
The Amateurs
Format:
eBook
(100 pages) •
Source:
Scribd
Goodreads
•
Amazon
•
Barnes & Noble

Featuring Sutton Mercer before her tragic death, this stand-alone digital original novella from #1 New York Times bestselling author Sara Shepard is an exciting, must-read companion to the Lying Game series.Back when she was alive, Sutton kept a million secrets. But how she got together with Thayer is her juiciest one of all...It's the summer before junior year and Sutton Mercer and her friends rule Hollier High. Then Thayer Vega returns home from soccer camp. In two short months he's gone from being her best friend's scrawny younger brother to a hot soccer god with a major ego—and a bone to pick with the Lying Game girls.To bring him back down to earth, Sutton's friends convince her to string Thayer along so she can publicly reject him. But as she gets to know the real Thayer, Sutton starts to wonder: Is flirting with Thayer still just a game to her? Or is the queen of the Lying Game lying... to herself?

I really liked the background that this novella provided! I obviously was pretty creeped out by Thayer throughout the other books but damn he sounds attractive. I can see how immediate their attraction was that summer by the pool.
The whole mean girl thing is pretty apparent throughout though. I definitely like Sutton a bit better when she's a ghost following Emma around; she seems like a normal person instead of a big ol' bitch.
This one also brought some clarity to the comment Thayer made at the end of the third book, about Emma-as-Sutton "pretending" to date Ethan. Very interesting how things can click into place like that! Part of me ships Sutton and Thayer but it sucks because she' dead. Soooo yeah.
Overall, if you're going to read this series, I would check this novella out! I read it right after the third book because I decided to in the order they were published. I'm always afraid a prequel will still ruin things for me if I read it before the other books. I like to pretend I'm reading the series as it's getting published instead; if no one else got to read it before book one, I won't either. OKAY BYE.
Related Posts