In an effort to cut down on posts and burnout, my Review Roundups will feature 2-4 books I've read or listened to recently. Sometimes they're newer releases and sometimes they're all backlist titles. My ARC reviews usually get the solo treatment. Enjoy the mini reviews!
---
Kissing Max Holden
by
Katy Upperman
Genres:
Young Adult
,
Contemporary
Published by
Macmillan
on August 1st 2017
Format:
Hardcover
(304 pages) •
Source:
Borrowed
Goodreads
•
Amazon
•
Barnes & Noble

Kissing Max Holden was a terrible idea...

After his father has a life-altering stroke, Max Holden isn't himself. As his long-time friend, Jillian Eldridge only wants to help him, but she doesn't know how. When Max climbs through her window one night, Jill knows that she shouldn't let him kiss her. But she can't resist, and when they're caught in the act by her dad, Jill swears it'll never happen again. Because kissing Max Holden is a terrible idea.

With a new baby sibling on the way, her parents fighting all the time, and her dream of culinary school up in the air, Jill starts spending more and more time with Max. And even though her father disapproves and Max still has a girlfriend, not kissing Max is easier said than done. Will Jill follow her heart and allow their friendship to blossom into something more, or will she listen to her head and stop kissing Max Holden once and for all?
My sister lent me her copy and has been bugging me for MONTHS about reading it. I can't say that I blame her now that I've finished it. What a wonderful contemporary I didn't know I needed! I had just went through a binge of mysteries and other non-contemporaries when I decided I should give this one a try. It ended up being so perfect that I read it in one sitting and stayed up until 3 AM to finish.
I would call this fluff, but it's a liiiittle more serious that fluff often implies. There is a LOT going on, family-wise, in this book. I absolutely hated her dad the entire time I was reading and was hoping she would tell him off at some point. The familial relationships were incredibly complex, both for Max and Jill. Max's dad was recovering from a stroke that changed their relationship and, as I mentioned, Jill's dad was basically a dickhead. I loved seeing her relationship with her stepmom grow throughout the book too.
The romance was solid. I love childhood friends/neighbors-to-more SO much, because you can just feel the history bubbling into something new. They had a solid base to build a real (romantic) relationship and it showed because of how much they trusted each other. There wasn't a lot of the classic miscommunication conflicts that most YA contemporaries have.
Overall, this book was a really pleasant surprise for me. My sister knows what I like so she was sure to tell me how little drama there was, but I still was unsure of how the story would go for me. I would definitely recommend this one if you're looking for something cute and fluffy, yet complex.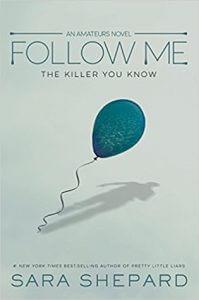 Follow Me
by
Sara Shepard
Series:
The Amateurs #2
Genres:
Young Adult
,
Mystery/Thriller
Published by
Disney-Hyperion
on November 7th 2017
Also by this author:
The Heiresses
,
Pretty Little Liars
,
The Perfectionists
,
Vicious
,
The Good Girls
,
The Lying Game
,
Never Have I Ever
,
Two Truths and a Lie
,
The First Lie
,
Hide and Seek
,
Cross My Heart, Hope to Die
,
Seven Minutes in Heaven
,
True Lies
,
The Amateurs
,
Meet Cute: Some People Are Destined to Meet
,
The Elizas
Format:
eBook
(272 pages) •
Source:
Hoopla
Goodreads
•
Amazon
•
Barnes & Noble

It was the perfect night for a party.

That is, until twenty-one-year-old Chelsea Dawson disappeared. The social media star was last seen enjoying a beautiful summer night at the Jersey Shore with her friends. But after an explosive fight with her ex-boyfriend, she vanished without a trace.

When Seneca, Maddox, Aerin, and Madison hear about the suspected kidnapping, they notice a jarring detail about the victim: she looks exactly like Aerin's sister, Helena, who was killed five years earlier. Seneca is convinced she knows who killed Helena, and she can't shake the feeling that the same person has taken Chelsea.

Desperate for answers about the two girls, and the truth behind her mother's murder, Seneca will stop at nothing to find out if the cases are linked. So when Maddox receives an invitation to the Shore from none other than their primary suspect, the Amateurs begin an intense new investigation.

Full of disturbing secrets, startling twists, and horrifying revelations, the second book in #1 New York Times best-selling author Sara Shepard's The Amateurs series follows the team down a twisted path—one crafted by a brilliant killer.
Another classic Sara Shepard is in the books! No pun intended, I suppose. I really enjoyed The Amateurs even though, as usual, it felt a little too much like the Shepard book formula: teen amateur sleuths coming together to solve a crime/murder/etc. The Perfectionists felt the same way too. However, both of these series offered up some awesome twists that really changed up the endings.
The group of sleuths here were hard at work at a beach town in NJ to try to prove their theories about whose been committing all these crimes in their lives. I don't want to say too much to spoil anything, even about the first book, so I'll just say that there weren't a LOT of twists here. They knew who the killer was and spent the whole book playing his games in order to save Chelsea. It was a different take on her normal whodunnit kind of thing, so I liked that.
It's hard for me to rate her books poorly even if they seem similar to one another. Her books are so easy to read in one sitting and honestly that's what I usually do. I was behind on my GR challenge for the first time this year and was able to binge this one quickly to get back on track. I'm eager to read another book in this series and it looks like there will be one!
Related Posts