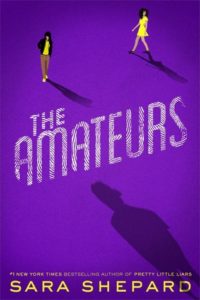 The Amateurs
by
Sara Shepard
Series:
The Amateurs #1
on November 1st 2016
Also by this author:
The Heiresses
,
Pretty Little Liars
,
The Perfectionists
,
Vicious
,
The Good Girls
,
The Lying Game
,
Never Have I Ever
,
Two Truths and a Lie
,
The First Lie
,
Hide and Seek
,
Cross My Heart, Hope to Die
,
Seven Minutes in Heaven
,
True Lies
,
Follow Me
,
Meet Cute: Some People Are Destined to Meet
,
The Elizas
(320 pages) •
Goodreads
•
Amazon
•
Barnes & Noble

I need some answers about my sister. Help…

Five years ago, high school senior Helena Kelly disappeared from her backyard in Dexby, Connecticut, never to be heard from again. Her family was left without any answers—without any idea who killed Helena, or why.

So when eighteen-year-old Seneca Frazier sees a desperate post on the Case Not Closed message board, she knows it's time to change that. Helena's high-profile disappearance is the one that originally got Seneca addicted to true crime. It's the reason she's a member of the site in the first place.

Determined to get to the bottom of the mystery, she agrees to spend spring break in Connecticut working on the case with Maddy Wright, her best friend from Case Not Closed. However, the moment she steps off the train, things start to go wrong. Maddy's nothing like she expected, and Helena's sister, Aerin, doesn't seem to want any help after all. Plus, Seneca has a secret of her own, one that could derail the investigation if she's not careful.

Alongside Brett, another super-user from the site, they slowly begin to unravel the secrets Helena kept in the weeks before her disappearance. But the killer is watching…and determined to make sure the case stays cold.
Initial Excitement
I think everyone knows at this point how I feel about Sara Shepard? If you don't, check this post out. I've read all of her YA books/series and 1 out of 3 of her "adult" books. She's one of my favorite authors because her books are so quick and easy to read; I'm second-guessing my theories of whodunnit until the very end. I knew that reading this book would further propel me out of my reading slump, so it was released at the perfect time. I'd also like to point out that any book set in Connecticut is going to make me excited!
Quick Summary
Five years ago, a high school senior named Helena disappeared from her backyard in Connecticut. Her case remained unsolved and amateur detectives on the Case Not Closed website recently opened it again. Helena's younger sister, Aerin, posts for help and Seneca is on the case. She used to be obsessed with it and is ready to dive in with two other members of the board – Maddy and Brett. They all head up to Connecticut over spring break to help Aerin, learn more, and hopefully crack the case.
Storytelling, Setting, and Feels
If you've read other Sara Shepard books you're probably sitting here thinking that it sounds the same as her other series. Yes, they all seem to involve some kind of mystery and/or murder, a group of teens coming together to solve it, and other drama along the way. I have to say – she really kills it with this formula and I'm never bored by the similarities. (I was telling Chris the other night that I compare her to AC/DC. Even though all of their songs sound the same with only a few differences between them, I still totally love them and their music.)
There are some differences in the setup here too. The main characters are all essentially strangers who met on the Case Not Closed website. They meet for the first time IRL in Connecticut and are solving a case about someone they've also never met. They have some unsolved mystery experience, as they all use the website pretty regularly, and have connections to retired police officers and other professionals.
The story overall was really interesting and kept me guessing until close to the end. If you're good at solving mysteries when you read them, you may be able to predict it before you get there. I liked the characters enough; Seneca had an interesting background and I loved the connections between Maddy and Aerin.
I LOVED that the story was set in Connecticut, even if it obviously isn't the kind of story you want to read about happening in your home state. The town of Dexby definitely reminded me of some other towns. Judging from its proximity to a couple of real towns in CT (Greenwich and Norwalk) and the super easy access to the Metro-North train to NYC, I'm assuming its located down in the bottom part of the state.
Characters
Seneca is probably the main character even though it alternates between each person's POV. She is hiding some secrets of her own and is probably more invested in the case than anyone else as a result. I liked her as a character but think there wasn't a lot of development there.
Maddy was not what Seneca expected during their first meeting. You can read the rest of the paragraph here because I don't think this is really a spoiler; it's included in the first couple of chapters. — Maddy is actually short for Maddox and he's a guy instead of a girl.
Aerin is the little sister of Helena and suddenly wants them to come crack the case finally. She's portrayed as somewhat of a party girl who hooks up with almost anyone, but she has a good personality and means well. I liked that she did whatever she wanted without caring too much what others thought.
Brett, another user from the site, comes into town to help out too. He has a lot of money but there's not much else there. Madison is Maddy's sister and she becomes a big character as well; she helps them with some of the tech stuff and seems to be really fun.
Negative Stuff & Ending
I think I'm a little too experienced with Sara Shepard and was actually able to predict the ending. It didn't take away from my enjoyment though! I'm not usually good with predicting twists in her books (like I never saw the ending to The Perfectionists series coming – good lord), but this one felt more obvious to me? I liked following the characters through their thought process because so much of their investigating uncovered other things about Helena that they used to come up with theories. But yeah, predicting whodunnit is not a good sign usually!
I'm definitely hypersensitive to these things, so maybe take this with a grain of salt? But there were a lot of Asian stereotypes that annoyed me. Brett said something to Madison about speaking Chinese and doing Kung Fu when she's Korean, and there wasn't a lot of discussion about that. View Spoiler »Of course, you later find out that Brett is a psychopath murderer, so maybe that's a hint that he isn't the best person in general… « Hide Spoiler I don't know. I happen to focus on these things more than your average person because of the things I hear and see Chris deal with. I digress.
TL;DR?
If you're an amateur (har har) mystery/thriller reader who doesn't predict the ending that easily, this book could very well be for you. If you're also just a general Sara Shepard/Pretty Little Liars fan, I also recommend this book for you! Because I'll read anything she writes, it's a no-brainer that I enjoyed this one. It was a little different than the rest of her books in setup but has the same general premise of teens getting together to solve mysteries/murders.
Thoughts in a Gif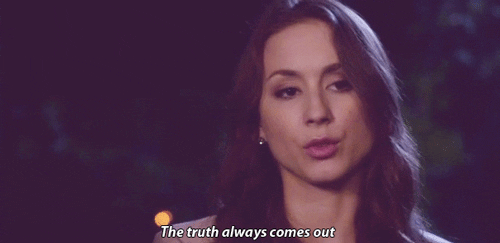 Rating Breakdown
| | |
| --- | --- |
| Plot & Premise | |
| Characters | |
| Writing Style | |
| Pacing & Flow | |
| Feels or Swoons | |
| Addiction Level | |
| Overall: | 4.2 |
Related Posts