In an effort to cut down on posts and burnout, my Review Roundups will feature 2-4 books I've read or listened to recently. Sometimes they're newer releases and sometimes they're all backlist titles. My ARC reviews usually get the solo treatment. Enjoy the mini reviews!
---
Influence
by
Sara Shepard
,
Lilia Buckingham
Genres:
Young Adult
,
Mystery/Thriller
Published by
Penguin Random House
on January 5, 2021
Also by this author:
The Heiresses
,
Pretty Little Liars
,
The Perfectionists
,
Vicious
,
The Good Girls
,
The Lying Game
,
Never Have I Ever
,
Two Truths and a Lie
,
The First Lie
,
Hide and Seek
,
Cross My Heart, Hope to Die
,
Seven Minutes in Heaven
,
True Lies
,
The Amateurs
,
Follow Me
,
Meet Cute: Some People Are Destined to Meet
Format:
Hardcover
(368 pages) •
Source:
Library
Goodreads
•
Amazon
•
Barnes & Noble

Get ready to delve into the world of teen influencers like you've never done before--from the #1 New York Times bestselling author of PRETTY LITTLE LIARS Sara Shepard and sixteen-year-old actress and social media personality Lilia Buckingham comes a twisty mystery that takes place in the fiercely competitive world of Internet stars.

After a video she makes goes viral, everyone knows Delilah Rollins. And now that she's in LA, Delilah's standing on the edge of something incredible. Everything is going to change. She has no idea how much.

Jasmine Walters-Diaz grew up in the spotlight. A child star turned media darling, the posts of her in her classic Lulu C. rainbow skirt practically break the Internet. But if the world knew who Jasmine really was, her perfect life? Canceled.

Fiona Jacobs is so funny--the kind of girl for whom a crowd parts--no wonder she's always smiling! But on the inside? The girl's a hot mess. And when someone comes out of the shadows with a secret from her past, it's one that won't just embarrass Fiona: it will ruin her.

Who wouldn't want to be Scarlet Leigh? Just look at her Instagram. Scarlet isn't just styled to perfection: she is perfection. Scarlet has a gorgeous, famous boyfriend named Jack and there's a whole fanbase about their ship. To everyone watching online, their lives seem perfect . . . but are they really? The sun is hot in California . . . and someone's going to get burned.
All Sara Shepard books are the same… and I mean that as a compliment. I know what I'm getting into and her books always hit the spot. They're so easy to read, are super addicting, and always have a surprising ending. That's all I ask for with my mystery/thrillers, to be honest, and reading her books feels like coming home for me. I remember the good ol' PLL days and some of her older series. So good, so classic.
This one involves influencers – a topic I personally haven't encountered much in YA books yet. Just a little bit here and there. It goes between Delilah, Jasmine, and Fiona, with flickers of Scarlet's live streams and vlog transcripts in between as well. Delilah just moved to LA and is a budding influencer after saving a puppy from a burning shed. Jasmine and Fiona are well-established influencers hiding major secrets, both trying to break out of their shells. I liked each of the points of view here but Delilah's felt a bit young compared to the other two.
Of course, because it's Sara Shepard, there's a mystery involved. The book starts with a prologue where one of the girls (we assume one of the MCs) ends up dying after a big party. The story goes back to a few months before and showcases the events leading up to that night and what happens during it. The remaining girls try to figure out what happened to their fallen friend and whodunnit. From a mystery perspective, I really didn't see the ending coming – there were a few little twists that definitely caught me by surprise.
All in all, if you've liked any or all of her books in the past, it would surprise me if you didn't enjoy this one too. A classic Sara Shepard, written in conjunction with an up-and-coming young author named Lila Buckingham.

This Is Not the Jess Show
by
Anna Carey
Series:
This is Not the Jess Show #1
Genres:
Young Adult
,
Contemporary
,
Mystery/Thriller
Published by
Penguin Random House
on February 2nd 2021
Also by this author:
This Is Not the Real World
Format:
Hardcover
(304 pages) •
Source:
Library
Goodreads
•
Amazon
•
Barnes & Noble

A timely YA thriller about a teenage girl whose reality may not be what it seems, blending 90s nostalgia with a speculative hook that dissects our modern reality TV and influencer-obsessed culture.

Like many teens, sometimes it feels as though everything in Jess Flynn's life has been engineered for maximum drama--from her performance at the school talent show, to the reappearance of her childhood best friend and perennial crush Jeremy, to her friends trying to set her up with one of the hottest guys in school. It's almost as if everything might finally be going her way...until one day a tiny black phone with an apple logo on its screen falls out of her best friend's backpack and lands at Jess's feet.

The problem is, it's 1998, and the first iPhone isn't due out for another nine years.

Jess's friends refuse to acknowledge the strange device. Her sister Sara, on hospice care with a terminal blood disease, for once can't tell Jess what she should do. It's almost as if everyone is hiding something from her. Even her beloved dog Fuller seems different...like, literally different, because he definitely didn't have that same pattern of spots on his stomach last week...

Nothing in Jess Flynn's world is as it seems, and as the cracks begin to show, Jess will discover her entire life is nothing more than someone else's entertainment. Except in this reality, the outside world is no place anyone would want to escape to.
This is one of those books where I've been waiting and tracking it forever. The premise reminds me a lot of The Truman Show, a favorite movie/concept of mine, so I was super eager to get my hands on it! Unfortunately this is definitely the kind of book where a review spoils the majority of the concept so I'll try to be vague.
Jess is your average 90s girl with a best-friend-turned-crush, two girls she spends her time with, a sick sister, and two interesting parents. Her life is boring and normal in the suburbs of NYC… until an iPhone falls out of one of her friend's backpacks. She's hearing weird chants and her sister is acting a little strange. Suddenly, her life doesn't feel real or average at all.
This was super addicting and honestly exactly what I expected from a concept/plot perspective. I don't necessarily think the romance element was necessary but I'm not mad about it overall. I liked Jess and the whole story intrigued me for sure – I was so addicted to reading this that I finished in a few sittings.
I had a realization super late in the book that there weren't enough pages left for a satisfying conclusion, only to remember this is a SERIES. Things are just getting started! I think there's a lot of potential of where things go from here. I don't know if there will be any surprises necessarily but the concept is definitely interesting enough to keep going with.
Overall, a super addicting "thriller" mixed with "historical fiction." Definitely hard to categorize this one! haha. I enjoyed the characters and concept – it's nice that it was exactly what I expected but I was thinking there would be a couple more twists.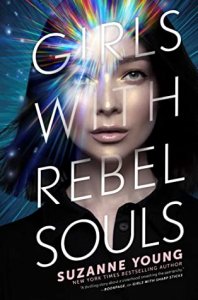 Girls with Rebel Souls
by
Suzanne Young
Series:
Girls with Sharp Sticks #3
Genres:
Young Adult
,
Contemporary
,
Sci-Fi
Published by
Simon and Schuster
on March 23, 2021
Also by this author:
Just Like Fate
,
The Program
,
The Treatment
,
The Remedy
,
Hotel Ruby
,
The Epidemic
,
The Adjustment
,
The Complication
,
Girls with Sharp Sticks
,
Girls with Razor Hearts
Format:
Hardcover
(320 pages) •
Source:
Purchased
Goodreads
•
Amazon
•
Barnes & Noble

The girls make their final stand in this third and final novel in the thrilling, subversive near-future series from New York Times bestselling author Suzanne Young about a girls-only private school that is far more than it appears to be.

Never underestimate a girl with a rebel soul…

The girls of Innovations Academy escaped the confines of their unethical school, fought against the system protecting predators who targeted girls for harassment, and they're not done yet. They're still not free.

Reeling from one revelation after the next, Mena and her friends begin to unwind the truth of their existence and, as a result, their destiny. The men from Innovations Corporation still hunt them, the woman who created them still wants control over them, and worst of all, Mena realizes that through all her pain, all her tears, the world of men has not changed. There is no more time to hope for the best. The girls know they are in a battle for their lives, a war for their very existence.

The girls of Innovations Academy have sharpened their sticks to fight back, they have fought for justice with blood from their razor hearts. And now, the girls will choose their true nature...and how they define their rebel souls.
I will always shout my love for Suzanne Young's books – they're just unlike any others I've had the pleasure of reading. They're consistently great for me and I always rate them around 4 or more stars. Pretty often they're 5 stars. The finale of the GIRLS WITH SHARP STICKS trilogy was pretty damn perfect.
This series follows the best-friends-but-more-like-sisters from Innovations Academy, with Mena as our main character. The girls have been trying to dismantle the patriarchy (here represented by the academy/corporation itself and ya know, the actual patriarchy of our society) and stay together as best they can while doing it. I don't want to give anything major away because there's a huge surprise/spoiler at the end of book one. If you're reading this review, you hopefully already know it, but I'll still keep it quiet.
Mena and her crew are tasked with tracking down some of the top investors of the company and try to demolish what remains of it. There are so many different layers to these books. The academy and corporation themselves represent the garbage ways that men (and even some women) try to control and own women in our society. There were so many realizations of the girls throughout the book that made me want to cry and scream for them. They were just so hopeless about the state of the world, the more they uncovered about it. Can definitely relate.
I know some people weren't totally on board during book two because it went in different directions, but I do think this one circles back a little bit more toward book one. To me, it was a near perfect finale and ending for these girls. Based on the epilogue and some other hints toward the end… I'm dying for a spin-off. So please, if you want that to happen, buy and read this series. I need more.
Related Posts