In an effort to cut down on posts and burnout, my Review Roundups will feature 2-4 books I've read or listened to recently. Sometimes they're newer releases and sometimes they're all backlist titles. My ARC reviews usually get the solo treatment. Enjoy the mini reviews!
---
I received this book for free (hey, thanks!) in exchange for an honest review. I promise that this does NOT affect my opinion of the book or the content of my review. For real.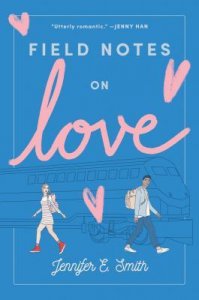 Field Notes on Love
by
Jennifer E. Smith
Genres:
Young Adult
,
Contemporary
Published by
Penguin Random House
on March 5, 2019
Also by this author:
This Is What Happy Looks Like
,
Happy Again
,
The Statistical Probability of Love at First Sight
,
Summer Days & Summer Nights
,
Windfall
Format:
ARC
(288 pages) •
Source:
Author
Goodreads
•
Amazon
•
Barnes & Noble

It's the perfect idea for a romantic week together: traveling across America by train.

But then Hugo's girlfriend dumps him. Her parting gift: the tickets for their long-planned last-hurrah-before-uni trip. Only, it's been booked under her name. Nontransferable, no exceptions.

Mae is still reeling from being rejected from USC's film school. When she stumbles across Hugo's ad for a replacement Margaret Campbell (her full name!), she's certain it's exactly the adventure she needs to shake off her disappointment and jump-start her next film.

A cross-country train trip with a complete stranger might not seem like the best idea. But to Mae and Hugo, both eager to escape their regular lives, it makes perfect sense. What starts as a convenient arrangement soon turns into something more. But when life outside the train catches up to them, can they find a way to keep their feelings for each other from getting derailed?
THIS WAS SO CUTE. I was determined to finish another book in February to keep up with 10 books per month, so I ended up scrambling to read this between the last two days. I read so much of it in one sitting on the 28th, both because I "had to" and definitely because I wanted to. Seriously, let me say again, it was ADORABLE.
I'm a sucker for those weird circumstances where people meet, especially when traveling. In this case, Hugo was planning a cross-country train trip with his girlfriend (Margaret Campell), when she surprisingly broke up with him. He decided to continue on the trip with the one caveat that that whole thing was nontransferable and booked under HER name. He needed a new Margaret Campbell, put out an ad, and found Mae.
The vast majority of the book takes place on the train. I love the idea of this kind of journey, so reading about it was almost as good as doing it myself. I didn't find it boring or repetitive to read about them talking and spending time one-on-one. Even though the side characters weren't IN the story that much, they felt fully fleshed out. Alfie's siblings (he's a sextuplet!) and cute parents, Mae's dads and Nana… everyone was wonderful. They felt real. Alfie and Mae both had real interests and THINGS happening in their lives that made them feel so real too. I loved reading Alfie's chapters with all of the British words too lol.
I feel like my only complaints would be related to the actual travel? The book is pretty short, so maybe a couple of chapters where they further explore the cities they stopped in would have been nice. You could cry instalove with this one and you wouldn't be super off-base, but I think spending an actual week straight with someone could definitely elicit those kinds of feelings without the "insta" part.
Overall, this was fluffy perfection. I can't bring myself to give it a perfect rating for some reason but it comes damn near close. I'd highly recommend this one. Smith's novels seem to get better as she goes on, with her most recent two EASILY being my favorites and the most well-written.

I received this book for free (hey, thanks!) in exchange for an honest review. I promise that this does NOT affect my opinion of the book or the content of my review. For real.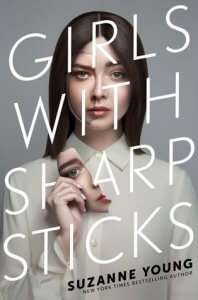 Girls with Sharp Sticks
by
Suzanne Young
Series:
Girls with Sharp Sticks #1
Genres:
Young Adult
,
Contemporary
Published by
Simon and Schuster
on March 19, 2019
Also by this author:
Just Like Fate
,
The Program
,
The Treatment
,
The Remedy
,
Hotel Ruby
,
The Epidemic
,
The Adjustment
,
The Complication
,
Girls with Razor Hearts
,
Girls with Rebel Souls
Format:
ARC
(400 pages) •
Source:
Publisher
Goodreads
•
Amazon
•
Barnes & Noble

The Girls of Innovations Academy are beautiful and well-behaved—it says so on their report cards. Under the watchful gaze of their Guardians, the all-girl boarding school offers an array of studies and activities, from "Growing a Beautiful and Prosperous Garden" to "Art Appreciation" and "Interior Design." The girls learn to be the best society has to offer. Absent is the difficult math coursework, or the unnecessary sciences or current events. They are obedient young ladies, free from arrogance or defiance. Until Mena starts to realize that their carefully controlled existence may not be quite as it appears.

As Mena and her friends begin to uncover the dark secrets of what's actually happening there—and who they really are—the girls of Innovations will find out what they are truly capable of. Because some of the prettiest flowers have the sharpest thorns.
Holy shit, that was intense. I honestly don't think I have the words to describe my thoughts, feelings, and reactions to this book and its powerful messages. It's multi-layered and touches on so many different things. People who are more thorough and analytical reviewers will do a great job analyzing every part of this novel.
It is an extremely feminist and powerful story about an extreme (but real-feeling) version of patriarchal obedience, and what happens when girls fight back. I'm genuinely not sure how to review this one. The book follows Mena and her close-knit group of girlfriends at their school, Innovations Academy. They're being trained to be obedient and beautiful girls, molded to fit society's expectation of women and be satisfying to men only. When Mena starts to notice things around her are amiss and the school is not what they believe it is, the girls rally together as a badass group of women who stick together above all else. This is fiercely feminist and shows the world what girls do when they band together, trust each other, and support one another. (We all know girls can/already do this on a regular basis, but society likes to ignore that.)
This wasn't a pleasant reading experience because of the content and endless frustration toward the authority figures (men) in the novel, but I was unable to put it down (like all of her books!). It was addicting, fascinating, anger-filled, and easily Suzanne Young's best work. That's saying a lot from me, because I'm pretty sure my average ratings for all of her books is around 4.5 stars. I spent so much of the book shaking my head in disbelief at how amazing her writing is. I'll use the word again – this was so powerful.Without getting into spoiler territory, the ending of the book was crazy and excellent. I'm SO eager to see what happens in the next book.

I received this book for free (hey, thanks!) in exchange for an honest review. I promise that this does NOT affect my opinion of the book or the content of my review. For real.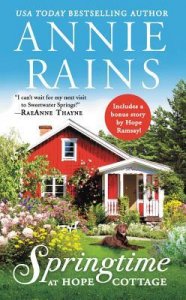 Springtime at Hope Cottage
by
Annie Rains
Series:
Sweetwater Springs #2
Genres:
Adult
,
Contemporary
Published by
Hachette
on March 5, 2019
Also by this author:
Christmas on Mistletoe Lane
,
Snowfall on Cedar Trail
,
Starting Over at Blueberry Creek
,
Sunshine on Silver Lake
,
Season of Joy
,
Reunited on Dragonfly Lane
,
The Summer Cottage
,
The Christmas Village
,
The True Love Bookshop
,
The Good Luck Cafe
Format:
eARC
(416 pages) •
Source:
Publisher
Goodreads
•
Amazon
•
Barnes & Noble

Fans of RaeAnne Thayne and Debbie Mason will want to cozy up with this small-town series from USA Today bestselling author Annie Rains.

When opposites attract...

As an editor at a major New York City magazine, Josie Kellum is always on the go...until an injury sidelines her in the small town of Sweetwater Springs. Luckily, her new physical therapist is easy going and easy on the eyes. When their sessions start to heat up, in more ways than one, Josie is intrigued. But she has a city and career she loves waiting for her. So why does the thought of leaving him suddenly feel a lot like leaving home?

Tucker Locklear is just starting to move on after his wife's death. While he can't deny his attraction to the gorgeous, vivacious Josie, he won't risk the pain of losing someone again. The sooner he gets Josie back on her feet and back to her real life, the safer he'll be. But in Sweetwater Springs, love has a way of mending even the most damaged heart.

Includes the bonus short story "Last Chance Bride" from Hope Ramsay.
So cute! I love Sweetwater Springs… you know I'm a sucker for the small town companion series. It reminds me a bit of Haven Point, if I had to compare it to an existing series I already love. This one centers around Josie and Tuck. Josie was Kaitlyn's (from the previous book) high-powered journalist friend from New York, who ends up stranded in Sweetwater Springs for longer than expected. She falls for Mitch's (also from the previous book) friend Tuck, who has been slowly getting through the loss of his wife.
I loved that this was relatively low-drama, with the characters (mostly) talking about how they felt and working through their issues in a logical way. Josie and Tuck made a great couple and had some good chemistry. It was nice to see Josie grow as a character and realize that she wanted something different from her life. Tuck also goes through some major changes during the book too; it was nice to see him open up more. I think there were some pieces that could have had a little more focus or development, based on the severity of these changes in their lives. I don't want to get into spoilers, but I think a lot of the characters under-reacted to things. It was nice because, like I said, there wasn't as much drama, but I would have thought stronger reactions could have happened here. It didn't dampen my enjoyment of the book in any way, but just felt slightly unrealistic.
I'm eager to read more in Sweetwater Springs and get to know the town even more. The next plot summary sounds PERFECT, with the ~forbidden romance~ of Alex, another friend from this group of guys, with Tuck's sister! I can't emphasize enough: this series so far is WONDERFUL.
Related Posts