This month I'll be highlighting different holiday or Christmas-oriented books on the blog. I love reading based on the season, so stay tuned for more wintery reviews. To learn more about what's coming and my holiday book rating system, check here!
---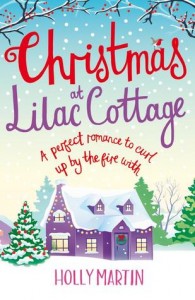 Christmas at Lilac Cottage
by
Holly Martin
Series:
White Cliff Bay #1
Published by
Bookouture
on September 25th 2015
(350 pages) •
Goodreads
•
Amazon
•
Barnes & Noble
Welcome to the charming seaside town of White Cliff Bay, where Christmas is magical and love is in the air…

Penny Meadows loves her home – a cosy cottage decorated with pretty twinkling fairy lights and stunning views over the town of White Cliff Bay. She also loves her job as an ice-carver, creating breathtaking sculptures. Yet her personal life seems frozen.

When Henry and daughter Daisy arrive at the cottage to rent the annex, Penny is determined to make them feel welcome. But while Daisy is friendly, Henry seems guarded.

As Penny gets to know Henry, she realises there is more to him than meets the eye. And the connection between them is too strong to ignore…

While the spirit of the season sprinkles its magic over the seaside town and preparations for the ice sculpting competition and Christmas eve ball are in full swing, can Penny melt the ice and allow love in her heart? And will this finally be the perfect Christmas she's been dreaming of?

This book started out really strong for me and then my feelings kind of dwindled towards the end. I can't put my finger on it, but I feel like I've been reading a lot of instalove-like romances and I'm getting tired of it. I need a good hate-to-love romance to get back in the swing of things. I didn't realize throughout most of my reading that this book basically only happens over the course of a week… meaning there was some EXTREME instalove. This bugs me more than love triangles do. I did feel some chemistry but the whole use of the L-word right away is a major deterrent. Here's a breakdown of some good/bad things.
YEP
The plot was cute!
Penny was adorable and Henry was a dreamboat. I shipped them for sure (in general).
Lots of "baggage" in both of their backstories; it added a little something new/different.
Daisy was fun and real.
Enjoyable epilogue.
I want to live at the lilac cottage. Cozy AF.
NOPE
Fucking instalove.
It lost my attention but I was determined to finish, so I pushed through.
Repetitive: the same issues and conversations brought up constantly; it got a bit tiring after a while.
Not as many Christmassy feels as expected.
Overall, I would definitely recommend this book if you don't mind the instalove factor. I enjoyed it a lot aside from that. If the plot was just stretched out over a longer period of time, it would probably work okay for me. The story was cute in general and very atmospheric. I love the town of White Cliff Bay so I will definitely be reading the next story at some point!

I definitely expected the book to be more Christmassy, especially because of the title. It took place in the week leading up to Christmas and did involve getting a tree, but I wanted more. The actual day of Christmas didn't even happen in the book! (Except in the epilogue, which is different.)
| | |
| --- | --- |
| Plot & Premise | |
| Characters | |
| Writing Style | |
| Pacing & Flow | |
| Feels or Swoons | |
| Addiction Level | |
| Overall: | 3.6 |
Related Posts