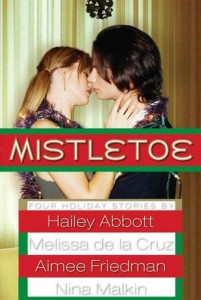 Mistletoe
by
Aimee Friedman
,
Hailey Abbott
,
Melissa de La Cruz
,
Nina Malkin
Genres:
Holiday
,
Young Adult
Published by
Scholastic
on September 1st 2006
Also by this author:
Two Summers
,
Snow in Love
Format:
Paperback
(222 pages) •
Source:
Library
Goodreads
•
Amazon
•
Barnes & Noble

Glittering white snowflakes. The handsome blond ski instructor. The sparkle on a cashmere skirt. Hot cocoa and kisses in front of a crackling fire. The holiday season is the ESSENCE of magic...and romance. Four of today's bestselling teen authors -- Melissa de la Cruz (THE AU PAIRS), Aimee Friedman (SOUTH BEACH), Hailey Abbott (SUMMER BOYS), and Nina Malkin (6X) -- bring us delectable tales of love and lust and holiday cheers (and tears) in this one-of-a-kind collection that teens will devour faster than a plate of Christmas cookies.
This compilation has been on my TBR for a loooong time. The authors in this one are some that I read back in middle school/early high school and haven't really heard from since. Regardless, I was excited to embark on these stories. I wish I could say that I was impressed, but I definitely wasn't. Most of the stories were juvenile and superficial. They definitely were not "delectable tales of love and lust" or "juicy" or "steamy." They were all really bland and I'm sad. I certainly rounded up in my rating because I tried not to let the one story's DNF affect the other ratings.
Working in a Winter Wonderland by Aimee Friedman 
I feel like I'm being generous with this rating, but I guess the story was pretty entertaining throughout. The main character, Maxine, is a Jewish girl who gets a Christmas-related job in a department store. Seems like a kind of weird way to start a Christmas anthology, no? A girl who doesn't even celebrate Christmas? The main thing that bugged me about this story was how transparent it was. I predicted what was going to happen completely. That's okay with me sometimes, but I didn't get a lot from the characters or really even learn anything from the story. It felt rushed (even more so than short stories normally do). The love interest throughout the story, Heath, really rubbed me the wrong way. A lot of the story was wasted on him when he was a jerk. There was also a lot of insta-love. I enjoyed the cute scene at the end of the book for the most part, and enjoyed the overall conclusion of the story, but again it felt so rushed and almost random. It made me smile though.
Have Yourself a Merry Little Breakup by Hailey Abbott 
Damn I'm sad about this one. Of the four authors in this book, Abbott used to be a favorite of mine. Unfortunately this story was incredibly cliched, predictable, and pretty much featured everything we complain about as bloggers. The story was love triangle-y and not fun to read. It seems like everything was wrapped up too nicely, given the circumstances that happened in the story. There's no way the resolution would be THAT easy. Beyond that, the character came to her major life-altering realization WAY too quickly. I liked that parts of it were relatable; going away to college and coming home for the first time can be awkward. People have changed. That part was very realistic, but the rest of the story was just not.
Scenes from a Cinematic New Year by Nina Malkin /
Um, wow. I wanted to DNF this one literally after reading the first page. Within the next couple of pages, the main characters act sexist/misogynist (he calls one girl a "barnacle babe" because she wouldn't get off of him), a potential love triangle is introduced (it actually ended up being the guy's character and the real person?), and the writing style was just…weird. After reading a little bit, I referenced Goodreads and saw that someone out there hated this story at first, but then it ended up being their favorite of the bunch. Color me interested; I decided to continue. I read probably two more pages before deciding to seriously not waste my time. Everyone in this story seems awful. The girl is talking about how she likes the character her "boyfriend" plays on TV better than she likes the real him. The guy is cheating on her (she's aware that they're apparently not exclusive, but somehow it would hurt her "fragile ego" if she found out he was actually hooking up with someone else?? Umm) and he named his car "The Bitch." GAH. And right after he introduces his car, he says "speaking of difficult females" …. NOPE. Sorry. Bye!
The Christmas Choos by Melissa de la Cruz 
It took me a little too long to figure out what Christmas story this one was "revamping." This was probably my favorite story of the bunch, but frankly it was still pretty meh. I loved the two main characters because one of my favorite tropes is childhood-best-friend-turned-boyfriend. The two of them seemed to really get along well and had a pretty healthy relationship. It did bug me a bit when she was complaining about his lack of PDA and his grungy clothes; I hate when characters want to change their significant other. What's the point in dating them if you don't like them the way they are? Regardless, this one definitely got better as it got going and I finally realized it was a play on The Christmas Shoes. I won't spoil it, but overall it was a really cute story about true love and the gift of giving instead of receiving.
Related Posts