In an effort to cut down on posts and burnout, my Review Roundups will feature 2-4 books I've read or listened to recently. Sometimes they're newer releases and sometimes they're all backlist titles. My ARC reviews usually get the solo treatment. Enjoy the mini reviews!
---
Crazy Little Thing Called Love
by
Charlotte Butterfield
Genres:
Adult
,
Contemporary
Published by
Harper Collins
on September 7th 2017
Format:
eBook
(300 pages) •
Source:
Purchased
Goodreads
•
Amazon
•
Barnes & Noble

You will LOVE this wonderfully warm-hearted and laugh-out-loud funny romantic comedy for fans of Just Haven't Met You Yet and Mhairi McFarlane.When Leila finds herself on the painful end of yet another disastrous break-up, no amount of Ben Jerry's and trashy rom-coms can cheer her up. And so – to the amusement of her friends and family – Leila takes a more drastic approach to dealing with heartbreak: she swears off sex for an entire year.

Luckily, she has plenty to keep her mind off men. Between starting a business with ice queen Lucy, straightening out her sister Tasha's tangled love life, and running a blog read by thousands of single ladies, Leila is soon snowed under. But she can't help finding a little time for irresistible architect Nick – Lucy's funny and infuriatingly sexy brother.

After an unplanned encounter under the mistletoe, the Man Ban looks like it might be skidding to a halt. Has Leila found love when she least expected it?
I either buy an ebook on sale and never read it, or read it within the first couple weeks of buying it. There's no in-between. In this case, I'm very glad I hopped on reading CLTCL because it was completely delightful. The book starts on Christmas, has a big Christmas scene/section in the middle, and ends on Christmas as well. It was a nice unexpected "first holiday read" of the year, but could definitely be read in any season.
Leila has gone on a "man ban" and started running a successful blog for other single women, which then moves into events, retreats, and presentations, all while balancing her landscape design job. When her brother gets married three months into her celibacy promise, she meets his new brother-in-law, Nick… and her man ban is all downhill from there!
I really loved the couple of Leila and Nick, even though they had a number of obstacles to overcome in their journey. Leila was definitely a spunky main character and I just loved their chemistry together. The ending got a bit wild and absurd, but I really liked it. I think it actually was fairly reasonable based on how the characters' personalities were. The reader really gets to know everyone involved, which was great.
This book somewhat reminded me of a Sophie Kinsella novel, but maybe a little tamer. (Maybe it's because it's an English book set in London too…) I did laugh out loud a few times and immediately added her other book to my TBR!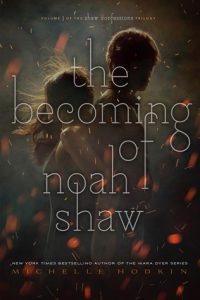 The Becoming of Noah Shaw
by
Michelle Hodkin
Series:
The Shaw Confessions #1
Genres:
Young Adult
,
Paranormal
Published by
Simon and Schuster
on November 7th 2017
Also by this author:
The Unbecoming of Mara Dyer
,
The Evolution of Mara Dyer
,
The Retribution of Mara Dyer
,
The Reckoning of Noah Shaw
Format:
Audiobook
(384 pages) •
Source:
Audible
Goodreads
•
Amazon
•
Barnes & Noble
In the first book of the Shaw Confessions, the companion series to the New York Times bestselling Mara Dyer novels, old skeletons are laid bare and new promises prove deadly. This is what happens after happily ever after.

Everyone thinks seventeen-year-old Noah Shaw has the world on a string.

They're wrong.

Mara Dyer is the only one he trusts with his secrets and his future.

He shouldn't.

And both are scared that uncovering the truth about themselves will force them apart.

They're right.
My book club kept up with our binge of the Mara Dyer books for November. It worked out super perfectly that this new spin-off series was released mid-month for us to keep going back-to-back. I'm not sure what the heck we're going to read next…
I had really mixed expectations going into this one, which definitely was because of the mixed reviews I kept reading. I tried to remain cautiously optimistic because Noah's head is a place you HAVE to be intrigued about after reading the first series. I decided to do an audiobook for this one, for some reason, and plugged along in the week before my book club meeting.
I liked the overall story of this book because it involved learning about other gifted people, the kinds of powers they had, and what was happening to all of them. I also really liked being in Noah's head instead of Mara's this time around. She actually annoyed me a lot in this book, even though I don't remember disliking her in the other series… Maybe she's hard for me to read about but easier to be in her head? I just didn't really like her and it's weird. Not to mention View Spoiler »the crazy shit at the ending! What the fuuuuuck. « Hide Spoiler
Overall, I'm definitely intrigued to see where this series goes next. I hate that I have to wait for the next one because I was able to essentially binge the entire Mara Dyer trilogy in a row.
Related Posts