I received this book for free (hey, thanks!) in exchange for an honest review. I promise that this does NOT affect my opinion of the book or the content of my review. For real.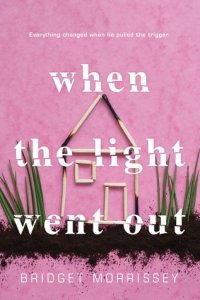 When the Light Went Out
by
Bridget Morrissey
Genres:
Young Adult
,
Contemporary
,
Mystery/Thriller
Published by
Sourcebooks
on June 4, 2019
Format:
ARC
(320 pages) •
Source:
Publisher
Goodreads
•
Amazon
•
Barnes & Noble

Five years after the accidental shooting of Marley Bricket, her friends, who were there the day she died, reunite when a box of letters from Marley is found in her former home. The discovery leads them on a scavenger hunt that reopens old memories, wounds, and betrayals, and leads them to question what they thought they knew about Marley's death.
I hadn't seen much about WHEN THE LIGHT WENT OUT, both before I requested it and after the pub date. I went in with no preconceived notions or expectations. I think I did expect it to have more of a mystery/thriller vibe than contemporary, but not enough to have that ruin the book.
I love books about scavenger hunts or to-do lists, especially when left behind by someone who has passed away. In this story, a group of neighborhood kids were forever affected when Marley was accidentally shot by Nick five years ago. Olivia, the main character, was the only one of the group who witnessed it. Bigs, Teeny, Ruby, Harrison, and Olivia's sister Aidy, join in with Olivia and a returning Nick to follow on Marley's final "Adventure" scavenger hunt for them.
To be honest, there's not much to say about these characters. They were all fine and moderately developed but there's not much more. Marley was essentially a manic pixie dream girl character throughout most of the book, which was unsurprising – a lot of books like this memorialize and glamorize the lost person. I can't even say too much about the plot without spoiling how everything ends. I will say that I really didn't enjoy how it ended.
I ended up starting this one on a complete whim one Sunday and finished it before the day was over. I didn't want to stop reading; the writing style and setup were so intriguing. I'd read more from this author and see what else she can come up with!
---
I received this book for free (hey, thanks!) in exchange for an honest review. I promise that this does NOT affect my opinion of the book or the content of my review. For real.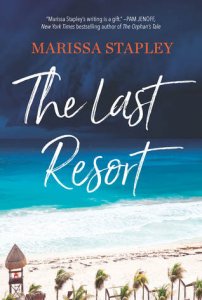 The Last Resort
by
Marissa Stapley
Genres:
Adult
,
Mystery/Thriller
,
Contemporary
Published by
Harlequin
on June 18, 2019
Format:
eARC
(368 pages) •
Source:
Publisher
Goodreads
•
Amazon
•
Barnes & Noble

"Marissa Stapley's writing is a gift."—Pam Jenoff, New York Times bestselling author of The Orphan's Tale

The Harmony Resort promises hope for struggling marriages. Run by celebrity power couple Drs. Miles and Grace Markell, the "last resort" offers a chance for partners to repair their relationships in a luxurious setting on the gorgeous Mayan Riviera.

Johanna and Ben have a marriage that looks perfect on the surface, but in reality, they don't know each other at all. Shell and Colin fight constantly: after all, Colin is a workaholic, and Shell always comes second to his job as an executive at a powerful mining company. But what has really torn them apart is too devastating to talk about. When both couples begin Harmony's intensive therapy program, it becomes clear that Harmony is not all it seems—and neither are Miles and Grace themselves. What are they hiding, and what price will these couples pay for finding out?

As a deadly tropical storm descends on the coast, trapping the hosts and the guests on the resort, secrets are revealed, loyalties are tested and not one single person—or their marriage—will remain unchanged by what follows.

Marissa Stapley is a journalist and the author of the acclaimed novel Things to Do When It's Raining. She writes page-turning, deeply emotional fiction about families, friends and women's lives. Visit her at marissastapley.com or follow her on Twitter, @marissastapley.
I waited long enough to finally read this damn book that I was able to listen to the audiobook. I found that I definitely need audiobooks to be intriguing and somewhat mysterious for me to really want to pick listening to one over listening to a podcast. Apparently that's just the way I am. I listened to most of the audiobook and read some of my egalley afterwards because I really just wanted to finish it off.
The premise of this book is that a bunch of couples head to Mexico for a couples retreat to rebuild their relationships, under the guidance of popular married therapist couple of Miles and Grace. There's Jo and Ben, who are newlyweds already struggling with their compatability, and Colin and Shell, who have been together for about 30 years. I was kind of expecting more couples to be featured but I think it would have gotten too complicated at the end of the book when things kicked up.
I don't have much to say about this one, to be honest? It was mostly fine. I didn't love the characters – not sure if I was supposed to – and pretty much every "twist" was predictable. I knew exactly all of the "secrets" everyone was hiding before coming to the island. I thought this was a bit of a thriller going into it but I think it's mostly just a slightly thrilling contemporary? Maybe a domestic thriller set on an island.
It definitely picked up at the end just because the storm finally arrived at the island around the 80% mark, despite being a part of the synopsis of the book…  Anyways, I think this was a quicker read overall and kind of entertaining. I would read another book by this author and see how I feel.
Related Posts