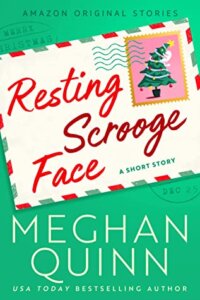 Resting Scrooge Face by Meghan Quinn
Genres: Adult, Contemporary, Holiday
Published by Amazon on November 29, 2022
Format: eBook (80 pages) • Source: Kindle Unlimited
Goodreads • Amazon


From USA Today and Amazon Charts bestselling author Meghan Quinn comes a festive short romance about old flames and mistaken identities.

After a bad breakup, Nola wants nothing to do with Christmas, especially in her quaint hometown of Bright Harbor, Maine. Infuriatingly charming and cheery, Nola's surroundings only worsen her sour mood.

To make matters worse, Caleb, the boy who broke her heart years ago, is all grown up and still living in town. While doing her best to avoid him, Nola bumps into the local mailman, who gives her a mysterious letter. And when she finds that the writer is a fellow Scrooge, she can't help but feel her spirit lifting.

Nola writes back to her new pen pal—who, unbeknownst to Nola, is none other than Caleb. When Caleb gets a response hand delivered by the mailman, he's intrigued by the mystery sender. A friendly correspondence develops—and quickly turns flirtatious.

Although Nola and Caleb claim they can't stand each other, they can't deny the simmering attraction that brought them together in the first place.

Can these nameless pen pals write their own love story—or will they be too caught up with the ghosts of their Christmases past to find a future together?
Story
I picked this one up on a whim when I wanted another holiday novella – clearly I'm all about quantity this year but luckily most of the novellas have been quality too! This one was unfortunately the "worst" of the bunch but still not too bad, especially considering the length.
Nola heads home to her cute hometown in Maine after a breakup and subsequent relocation out of NYC. Her high school sweetheart, Caleb, is still there running the local hardware store. He broke her heart and they haven't had to see each other in a while. The mailman does a little meddling and the two of them end up writing anonymous Christmas-hating letters back and forth without realizing who they're writing to.
It was a cute concept that really should have been a full-length novel.
Wintery Setting & Holiday Feels
As always, I will read a book set in Maine… especially during the holiday season! The setting was good and explained well enough, I think, for this story. It's really hard to feel major holiday vibes from a book this short but it was nice hearing the characters go back and forth on their Scrooge-y feelings about Christmas… and then gradually warming up to it all!
Overall
This is a hard one to recommend or rate just because so much of it went right out of my brain upon finishing. Yes, for the millionth time, it's very short, which is part of the problem (but not the whole problem). Even if the length was doubled I would still not really think it was enough time to get holiday feels in there.


---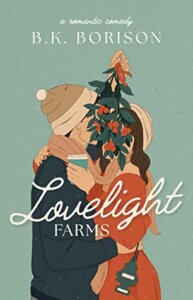 Lovelight Farms
by
B.K. Borison
Series:
Lovelight #1
Genres:
Adult
,
Contemporary
,
Holiday
Published by
Dreamscape Media
on November 10, 2021
Format:
Audio/eBook
(309 pages) •
Source:
Kindle Unlimited
,
Scribd
Goodreads
•
Amazon
•
Barnes & Noble

Where the lovelight gleams …

A pasture of dead trees. A hostile takeover of the Santa barn by a family of raccoons. And shipments that have mysteriously gone missing. Lovelight Farms is not the magical winter wonderland of Stella Bloom's dreams.

In an effort to save the Christmas tree farm she's loved since she was a kid, she enters a contest with instafamous influencer Evelyn St. James. With the added publicity and the $100,000 cash prize, she might just be able to save the farm from its financial woes. There's just one problem. To make the farm seem like a romantic destination for the holidays, she lied on the application and said she owns Lovelight Farms with her boyfriend. Only … there is no boyfriend.

Enter best friend Luka Peters. He just came home for some hot chocolate, and somehow got a farm and a serious girlfriend in the process.

Lovelight Farms is a romantic comedy featuring a handsome, freckled data analyst, a messy, optimistic Christmas tree farm owner, and a small town with the best hazelnut lattes on the east coast. This sweet and steamy romance is a holiday happily ever after.
Story
Stella took over her childhood favorite Christmas tree farm the year before and now they're struggling. Enter the influencer Evelyn St. James: she's offering a prize of $100k for her favorite spot. The only problem? Stella let Evelyn know that she runs the farm with her boyfriend… when there is no boyfriend. Her best-friend-of-ten-years-she's-secretly-in-love-with Luka agrees to be her fake boyfriend for the week and you can imagine what happens next!
Honestly this book was so unexpectedly delightful. I loved Lovelight Farms SO much and every single character. Luka was adorable, their friendship-turned-fake-romance was excellent, and the story overall was very light on drama. In fact, it kind of felt like sooo many things happened unceremoniously and quickly. It was a odd because there was very little tension (in terms of dramatic romance-related moments). There was definitely sexual tension and chemistry, for sure, but not really a lot of actual drama. Some issues got referenced briefly and later resolved within a paragraph, almost as an afterthought (like issues with her dad, the person who was sabotaging the farm, the contest with Evelyn). The influencer aspect was actually a SUPER small portion of the book and overall story arc. It appears to be setting up for the next companion novel, which is fine, but it was weird that it wasn't more of a big deal when she arrived? It reads more like a slice of life from Halloween through Christmas.
Wintery Setting & Holiday Feels
Lovelight Farms is definitely one of the most Christmassy settings I read this year, which is why it had to be 4/4 on my holiday cheer-o-meter. Christmas tree farm with tons of holiday activities like skating, gumdrop forests, barns to meet Santa's helpers… the list goes on and on. The town itself seemed very cute, like a classic small town I'd love to read more about in upcoming companions (!!). I definitely could have gone for even more holiday feels in this one but the overall setting was very vivid and Christmassy.
Overall
I definitely complained a lot about a book I kind of loved. The writing was not amazing (was this originally self-published and not edited? Some sentences were direct repeats of others, I feel like…) The Christmas feels were strong because of the setting and all of the cute Christmas vibes of Lovelight Farms. I'm jazzed to know there are more books in this series because I need Lovelight Farms in my life for much longer! I wish the next books were also set at Christmas though.


---

Related Posts