I received this book for free (hey, thanks!) in exchange for an honest review. I promise that this does NOT affect my opinion of the book or the content of my review. For real.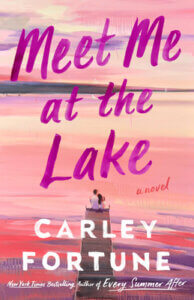 Meet Me at the Lake
by
Carley Fortune
Genres:
Adult
,
Contemporary
Published by
Viking
on May 2, 2023
Also by this author:
Every Summer After
Format:
eARC
(336 pages) •
Source:
Publisher
Goodreads
•
Amazon
•
Barnes & Noble

Fern Brookbanks has wasted far too much of her adult life thinking about Will Baxter. She spent just twenty-four hours in her early twenties with the aggravatingly attractive, idealistic artist, a chance encounter that spiraled into a daylong adventure in Toronto. The timing was wrong, but their connection was undeniable: they shared every secret, every dream, and made a pact to meet one year later. Fern showed up. Will didn't.

At thirty-two, Fern's life doesn't look at all how she once imagined it would. Instead of living in the city, Fern's back home, running her mother's Muskoka lakeside resort--something she vowed never to do. The place is in disarray, her ex-boyfriend's the manager, and Fern doesn't know where to begin.

She needs a plan--a lifeline. To her surprise, it comes in the form of Will, who arrives nine years too late, with a suitcase in tow and an offer to help on his lips. Will may be the only person who understands what Fern's going through. But how could she possibly trust this expensive-suit wearing mirage who seems nothing like the young man she met all those years ago. Will is hiding something, and Fern's not sure she wants to know what it is.

But ten years ago, Will Baxter rescued Fern. Can she do the same for him?
I absolutely devoured EVERY SUMMER AFTER last year. I was on the fence about reading it and was cautious about the hype, but I literally sat there and finished the book in one sitting on my deck on a sunny afternoon. That was such a wonderful and specific reading experience that I was super nervous to read her sophomore novel. Such high expectations! ESA was not perfect – it was messy in a way that really worked for me. I was curious to see if this novel would have much of the same (not really!) or if the author would branch out a bit. I was happy to still see dual timelines following the lead couple, a second chance romance, and another glorious summer setting.
MEET ME AT THE LAKE is centered around the main character's family resort on a lake in Canada. Fern determined as a college student that she didn't want to take over the business someday and broke her mom's heart in the process. Years later, with some success managing coffee shops in Toronto in the meantime, her mom passes away in an accident… leaving the resort to her.
Beyond the grief and family feels of it all, the story alternates between past and present with Fern and Will – a boy she had a whirlwind day/night with as a college student. It feels a bit like instalove (especially because the chemistry 10 years ago just wasn't there for me as much as it was in present day). The two of them set up a plan to meet one year later at the resort but Will never shows and never communicates with her. When he shows up years later as a consultant (her mom hired before she died), she tries to figure out what went wrong, why he didn't show up, and if they have the opportunity to do things right this time around.
I really liked the overall premise but if I'm being honest, the present day love story and Fern falling back in love with her family's resort were much better than the flashback scenes. Like I said, I just didn't FEEL it that much. I think there was always going to be too much comparison for me to EVERY SUMMER AFTER and this book didn't match up for me. I wonder if I would have felt differently if I read this one first?
Overall, I think readers of her first book will still enjoy this one but try to go in with normal expectations.
Related Posts