I received this book for free (hey, thanks!) in exchange for an honest review. I promise that this does NOT affect my opinion of the book or the content of my review. For real.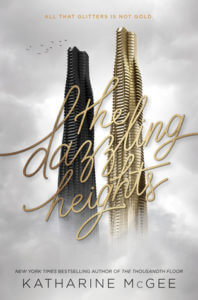 The Dazzling Heights
by
Katharine McGee
Series:
The Thousandth Floor #2
on August 29th 2017
Also by this author:
The Thousandth Floor
,
Meet Cute: Some People Are Destined to Meet
,
The Towering Sky
,
American Royals
(432 pages) •
Goodreads
•
Amazon
•
Barnes & Noble
New York City, 2118. A glittering vision of the future, where anything is possible – if you want it enough.

Manhattan is home to a thousand-story supertower, a beacon of futuristic glamour and high-tech luxury… and to millions of people living scandalous, secretive lives.

Leda is haunted by nightmares of what happened on the worst night of her life. She's afraid the truth will get out – which is why she hires Watt, her very own hacker, to keep an eye on all of the witnesses for her. But what happens when their business relationship turns personal?

When Rylin receives a scholarship to an elite upper-floor school, her life transforms overnight. But being here also means seeing the boy she loves: the one whose heart she broke, and who broke hers in return.

Avery is grappling with the reality of her forbidden romance – is there anywhere in the world that's safe for them to be together?

And then there's Calliope, the mysterious, bohemian beauty who's arrived in New York with a devious goal in mind – and too many secrets to count.

Here in the Tower, no one is safe – because someone is watching their every move, someone with revenge in mind. After all, in a world of such dazzling heights, you're always only one step away from a devastating fall….
There will be some spoilers for book one in this review,
so don't read it unless you've already read THE THOUSANDTH FLOOR!
This was absolutely one of my most anticipated books this year, so you can only imagine my excitement when I got an advanced copy from Edelweiss. I don't want to say that this sequel disappointed me, because the final 25% of this book made up for the slower start for sure, but it definitely didn't reach my expectations. I sped through book one and was so eager to learn all their secrets, discover new places in the tower, and see how it would all end. This book was less addicting for me and I was surprised that it took me so many sittings to actually finish it. It really felt like this book was heading nowhere for a loooong time. It was slow-going and almost no action really happened until the 75% mark.
THE DAZZLING HEIGHTS is centered around mostly the same characters, except for Eris for obvious reasons. I originally thought Mariel was going to be a new character POV for this one, but it ended up being a completely new character – Calliope. I didn't exactly understand why she was introduced (even now after finishing it) because her character didn't matter much in the grand scheme of things. I did enjoy her POV for sure, so I'm not complaining, but I kind of think the book would have benefited more from having Mariel's perspective as that last character. More on that later.
Again, the other characters were pretty much the same mostly-shitty people that they were in the previous book. Constant blackmail, blackstabbing, and secrets throughout their "friend" group. I was happy with how certain things developed toward the end of the story between different characters. I enjoyed reading Watt's and Leda's POVs in this book, but Avery was pretty boring. Her story just does not interest me at all because it involves loving her (adopted) brother and I'm over it.
The whole situation with Mariel was not done well at all. The synopsis, end of the first book, and beginning of this book all make it seem like Mariel will be lurking around and the characters will feel threatened or something. I don't want to spoil much, but that's definitely not how this one happened. I actually forgot she even existed for the vast majority of this story. View Spoiler »She appeared once at the cemetery and again at the very end, but that's it. « Hide Spoiler
As for the setting, it still remains one of my favorites. It's definitely hard to picture a 1,000 story tower in the middle of New York that has parks and farms and restaurants and everything else that current NYC has. I'm totally fascinated by every aspect of it. I love the futuristic elements and all of the things that might exist 100 years from now.
Overall, this was a pretty good second book in a series. There aren't any others listed on Goodreads but judging from the ending, I'm predicting there could be a third book? I'll definitely be eager to see what happens with that. I think these characters still have so many secrets they've gotten away with so far.
| | |
| --- | --- |
| Plot & Premise | |
| Characters | |
| Writing Style | |
| Pacing & Flow | |
| Feels or Swoons | |
| Addiction Level | |
| Overall: | 3.6 |
Related Posts