I've been saying for literal years that I needed to get going on this series. I kept promising everyone "by the end of the year!!" and it never happened. Something just clicked the other day when I needed a new audiobook, and I just pressed play on the first book without thinking. I had actually planned to read the novella bind-up first because people are very passionate about doing that, but I completely didn't think of it at the time. In any case, I hopped into it right after finishing book one and before heading to book two. SO, here you'll find my reviews for the first book, the novella bind-up, and the second book. (The order below is in the order I read them, but technically you could definitely read the novellas first!)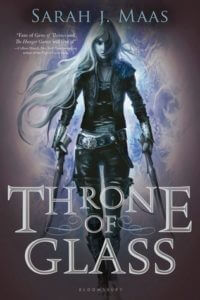 Throne of Glass
by
Sarah J. Maas
Series:
Throne of Glass #1
Genres:
Young Adult
,
Fantasy
Published by
Bloomsbury
on May 7th 2013
Also by this author:
A Court of Thorns and Roses
,
A Court of Mist and Fury
,
A Court of Wings and Ruin
,
A Court of Frost and Starlight
Format:
Audiobook
(404 pages) •
Source:
Audible
Goodreads
•
Amazon
•
Barnes & Noble

In a land without magic, where the king rules with an iron hand, an assassin is summoned to the castle. She comes not to kill the king, but to win her freedom. If she defeats twenty-three killers, thieves, and warriors in a competition, she is released from prison to serve as the king's champion. Her name is Celaena Sardothien.

The Crown Prince will provoke her. The Captain of the Guard will protect her. But something evil dwells in the castle of glass--and it's there to kill. When her competitors start dying one by one, Celaena's fight for freedom becomes a fight for survival, and a desperate quest to root out the evil before it destroys her world
I finally did it, guys! I can't believe it. After reading and loving both ACOTAR and ACOMAF, I thought it really was time to get to Sarah J. Maas's first series. I obviously had built it up a little in my head because it's so many people's favorite series ever. Luckily, I also knew that this is a series that gets better with each book (supposedly). My expectations were held in check a little because of that; I knew if I didn't LOVE the first book I could still likely love later books. That's kind of what happened here!
I was a little bit underwhelmed at times because it felt like not much was happening. I know that magic is banned so there wasn't going to be as much cool fantasy stuff, but I still was kind of like ehhhh meh about things. However, there's so much potential for more to happen in this series!!
As for the characters, I'm nervous about (1) who to like and (2) who to ship. I know that there's a ship switch or two within the series and she does some things to make you not like Chaol. (Too many spoilers out there, man!) It was kind of nice knowing this because I'm keeping everyone at an arm's length away. I don't want to get invested in a ship right now and have the rug pulled out from under me. (Enough metaphors in that sentence? Good lord.) I will say that I kind of love Dorian right now at least. He's cute! And Chaol has that kind of dark and mysterious vibe going, which I also enjoy.
Sooo Celaena is definitely a special snowflake, eh? I mean, I love that she's a fucking badass assassin, don't get me wrong, but I think she's a bit much. She's super attractive on top of all of that (and she knows it). I don't think she has any "flaws" and that's kind of annoying. Her biggest flaw is that she's cocky as hell because of how damn special she is. I have a feeling there will be some character development. It was nice to see some emotion from her at times though. I'm excited  to see where the story takes her!
---
The Assassin's Blade
by
Sarah J. Maas
Series:
Throne of Glass #0.5
Genres:
Young Adult
,
Fantasy
Published by
Bloomsbury
on March 4th 2014
Also by this author:
A Court of Thorns and Roses
,
A Court of Mist and Fury
,
A Court of Wings and Ruin
,
A Court of Frost and Starlight
Format:
Audio/eBook
(448 pages) •
Source:
Owned
,
Audible
Goodreads
•
Amazon
•
Barnes & Noble
Contains all five novellas.

Celaena Sardothien is Adarlan's most feared assassin. As part of the Assassin's Guild, her allegiance is to her master, Arobynn Hamel, yet Celaena listens to no one and trusts only her fellow killer-for-hire, Sam. In these action-packed novellas - together in one edition for the first time - Celaena embarks on five daring missions. They take her from remote islands to hostile deserts, where she fights to liberate slaves and seeks to avenge the tyrannous. But she is acting against Arobynn's orders and could suffer an unimaginable punishment for such treachery. Will Celaena ever be truly free? Explore the dark underworld of this kick-ass heroine to find out.
The Assassin and The Pirate Lord

I liked reading about Celaena and Sam, since he was talked about just briefly in the first book. I love that she has a heart even though she's an assassin; seeing her free the slaves and prioritize them over her "mission" was really sweet. This story gives some nice background into her life and the personality underneath the confident exterior. It didn't blow me away or anything; I had a hard time paying attention for some reason.
The Assassin and The Healer

This was a short one and there was nothing really wrong with it. It felt somewhat pointless, even though it did show about more of Celaena's personality. I liked her quick relationship with the barmaid and how the story ended. Nothing groundbreaking but a nice little story to show how she's less selfish sometimes.
The Assassin and The Desert

I loved this one a lot. I didn't care about it in the beginning but I loved seeing Celaena get close to Ansel, so my enjoyment increased with each page. Seriously, the ending was crazy and shocking and I loooooved it. For a novella, I think it may be kind of long? (Couldn't tell with the audiobook!) I loved the development of the story a lot and it was cool to hear a little about the magic that was previously banned.
The Assassin and The Underworld

Sometimes Celaena really bugs me. I just feel that she's incredibly cocky but also sensitive? I love reading about complex characters but sometimes I just want to shake some sense into her. Either way, she annoyed me more than usual in this one. Sometimes she just acts without thinking first. I love spending more time with Sam! This novella overall was really good. I didn't see the twist coming at the end, but I keep thinking that this badass, well-trained assassin will at some point…
The Assassin and The Empire

l started skimming this one a little towards the end. It was okay. I liked seeing Celaena and Sam getting some time together, even though I knew where that was going to go….  I think I had a "let's just get this shit over with" kind of attitude about the novella bind-up at that point. I liked learning more about her before everything else goes down in ToG but only one story really blew me away. This one was no different – not terrible, not great.
---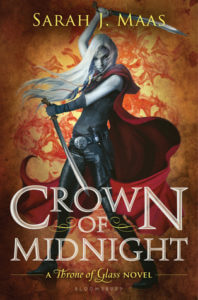 Crown of Midnight
by
Sarah J. Maas
Series:
Throne of Glass #2
Genres:
Young Adult
,
Fantasy
Published by
Bloomsbury
on August 27th 2013
Also by this author:
A Court of Thorns and Roses
,
A Court of Mist and Fury
,
A Court of Wings and Ruin
,
A Court of Frost and Starlight
Format:
Audiobook
(418 pages) •
Source:
Audible
Goodreads
•
Amazon
•
Barnes & Noble

"A line that should never be crossed is about to be breached.

It puts this entire castle in jeopardy—and the life of your friend."

From the throne of glass rules a king with a fist of iron and a soul as black as pitch. Assassin Celaena Sardothien won a brutal contest to become his Champion. Yet Celaena is far from loyal to the crown. She hides her secret vigilantly; she knows that the man she serves is bent on evil.

Keeping up the deadly charade becomes increasingly difficult when Celaena realizes she is not the only one seeking justice. As she tries to untangle the mysteries buried deep within the glass castle, her closest relationships suffer. It seems no one is above questioning her allegiances—not the Crown Prince Dorian; not Chaol, the Captain of the Guard; not even her best friend, Nehemia, a foreign princess with a rebel heart.

Then one terrible night, the secrets they have all been keeping lead to an unspeakable tragedy. As Celaena's world shatters, she will be forced to give up the very thing most precious to her and decide once and for all where her true loyalties lie... and whom she is ultimately willing to fight for.
After getting through the book of novellas, I was honestly feeling meh on binging the rest of the series. I obviously wanted to read them in general, but I wasn't in the mood to jump right into the next books. I waited about a month and then started CROWN OF MIDNIGHT…. and it was amazing.
I was so surprised at how quickly I fell back into the world and was interested in what was going on. It took me a while to warm up to THRONE OF GLASS, but that was super not the case for this one. I was intrigued right away and ready to learn more about Celaena. I knew about spoilers coming towards the end because people are fairly obvious about them, which isn't a huge deal, but I was really excited to learn more about how that reveal comes about.
Compared to the first book, there are so many twists and turns and betrayals and reveals and romance and just everything I wanted. Not a perfect rating because I did find myself zoning out sometimes (probably because of the audio format, which I'm addicted to for this series). But I am suuuuper ready for HEIR OF FIRE now.
You'll see the Part Two of this coming up in September, because I'll review HEIR OF FIRE, QUEEN OF SHADOWS, and EMPIRE OF STORMS in the same post like this one, once EoS is released. I'm excited to join with everyone else timing-wise!
Related Posts