When REBEL BELLE was selected for the Make Me Read It Readathon, I was a little nervous. I planned to binge Hawkins' HEX HALL series previously and was stuck after book one. I just never had the burning desire to pick up the second book. However, something about this particular series kept me reading. I started the first book via audio and then finished it up with my physical copy. I immediately went on to the audiobooks for the next two stories.
There won't be spoilers from the current book in the current review, but there will be spoilers for the PREVIOUS book(s) – so don't read beyond book one below if you haven't read the series!!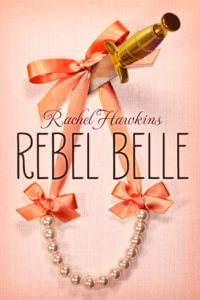 Rebel Belle
by
Rachel Hawkins
Series:
Rebel Belle #1
Genres:
Young Adult
,
Paranormal
Published by
Penguin
on April 8th 2014
Also by this author:
Royals
,
Her Royal Highness
,
The Wife Upstairs
,
Reckless Girls
,
The Villa
Format:
Audio/Physical
(345 pages) •
Source:
Hoopla
,
Owned
Goodreads
•
Amazon
•
Barnes & Noble

Harper Price, peerless Southern belle, was born ready for a Homecoming tiara. But after a strange run-in at the dance imbues her with incredible abilities, Harper's destiny takes a turn for the seriously weird. She becomes a Paladin, one of an ancient line of guardians with agility, super strength and lethal fighting instincts.

Just when life can't get any more disastrously crazy, Harper finds out who she's charged to protect: David Stark, school reporter, subject of a mysterious prophecy and possibly Harper's least favorite person. But things get complicated when Harper starts falling for him—and discovers that David's own fate could very well be to destroy Earth.

With snappy banter, cotillion dresses, non-stop action and a touch of magic, this new young adult series from bestseller Rachel Hawkins is going to make y'all beg for more.
The biggest thing I can say about this book and its plot is that it's super unique. It doesn't feel similar to other paranormal romances I've read before. First of all, I'd never even heard of a Paladin before. Second, the southern setting really enhanced the story quite a bit. It took me a VERY long time to get used to the setting though, to be honest, because it seriously felt like historical fiction. Anytime she referenced Marvel or something else that happens in "present day," I was thrown a little. Like, oh wait, this isn't taking place in the early 1900s or something. It just felt old-school because of the southern vibes, cotillion, and all of her manners/lady-like behaviors. Not something I'm used to reading outside of historical fiction!
Expanding a little on the Paladin thing – seriously such a cool concept! Really unique. Other elements related to the paranormal aspects are pretty cliche, like the fact that she gains powers and is Very Special all of a sudden. All I'm saying is, it was nice to not read about vampires or werewolves.
I enjoyed the characters a lot! Harper wasn't a character I'd necessarily connect with, but I still managed to in a lot of ways. The idea of being lady-like and proper actually really bothers me because I want to act like a fucking person and not like what gendered expectations tell me to do. Ahem. Anyways, she was pretty badass in general. I loved her friendship with Bee. The romance was also nice! I did love Ryan and the "love triangle" (kinda??) wasn't that fun, but I'm happy with what happened overall I think. View Spoiler »It was simply a case of people growing apart… mostly. I knew her and David were going to end up because duh. « Hide Spoiler
Overall, a really solid series-start! It definitely made me eager to continue binging the rest.
---
Miss Mayhem
by
Rachel Hawkins
Series:
Rebel Belle #2
Genres:
Young Adult
,
Paranormal
Published by
Penguin
on April 7th 2015
Also by this author:
Royals
,
Her Royal Highness
,
The Wife Upstairs
,
Reckless Girls
,
The Villa
Format:
Audiobook
(273 pages) •
Source:
Hoopla
Goodreads
•
Amazon
•
Barnes & Noble

Life is almost back to normal for Harper Price. The Ephors have been silent after their deadly attack at Cotillion months ago, and her best friend, Bee, has returned after a mysterious disappearance. Now Harper can focus on the important things in life: school, canoodling with David (her nemesis-turned-ward-slash-boyfie), and even competing in the Miss Pine Grove pageant.

Unfortunately, supernatural chores are never done. The Ephors have decided they'd rather train David than kill him. The catch: Harper has to come along for the ride, but she can't stay David's Paladin unless she undergoes an ancient trial that will either kill her . . . or make her more powerful than ever.
I was pretty eager to get into MISS MAYHEM after finishing REBEL BELLE. There was a bit of a cliffhanger because you can't help but wonder how they're going to deal with the new, awkward Ryan-David-Harper triangle of magic. I thought this was a super fun set-up for the next book so I was really excited to see how they all fare.
I think my favorite parts of these books (or, more specifically – this book) are the relationships between the characters. I've said before that I think Harper and Bee have a cute relationship. I also love the exes-as-friends bond between Harper and Ryan in this book. Don't get me wrong, it's not EASY and it causes some problems. It's not going to be perfect… but for me, it's SO real. I've always maintained friendships with my exes and think it's very possible to do so. Not easy, but seriously possible. You run into issues with new/current relationships, you have to deal with people thinking it's awkward, etc. etc. etc. I just love reading about Harper/Ryan as they try to navigate their new relationship dynamic.
That being said… things started to change a little past the halfway point. I think some of the relationships and "friend group" things started changing just because the plot wasn't there as much. The trials she was going through for the Ephors were kind of lame? I never felt like they were THAT big of a deal and didn't take up enough time in the book. Because of that, the plot wasn't moving along at all. Instead, we get drama between all of the characters and other bullshit I didn't care about. This would bug me on and off throughout, but there are some moments or chapters of the book that I REALLY enjoyed.
I want to give this book 3.5 stars because I did generally like it as it was happening, but I found myself wondering where the plot went for this story. It seemed way too much like a middle book for me.
---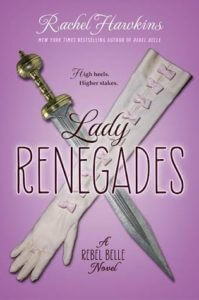 Lady Renegades
by
Rachel Hawkins
Series:
Rebel Belle #3
Genres:
Young Adult
,
Paranormal
Published by
Penguin
on April 5th 2016
Also by this author:
Royals
,
Her Royal Highness
,
The Wife Upstairs
,
Reckless Girls
,
The Villa
Format:
Audiobook
(264 pages) •
Source:
Hoopla
Goodreads
•
Amazon
•
Barnes & Noble
Just as Harper Price starts coming to terms with her role as David Stark's battle-ready Paladin, protector, and girlfriend—her world goes crazy all over again.

Overwhelmed by his Oracle powers, David flees Pine Grove and starts turning teenage girls into Paladins—and these young ladies seem to think that Harper is the enemy David needs protecting from. Ordinarily, Harper would be able to fight off any Paladin who comes her way, but her powers have been dwindling since David left town…which means her life is on the line yet again.

New York Times bestselling author Rachel Hawkins brings the fun once again in the finale of this pitch-perfect romantic paranormal comedy series.
I  think I was kind of tired of this series by the time I got to the final book. Again, not bad at all, but it was kind of hard to keep my interest.
I really enjoyed the road trip element to the story, even if the characters on the road trip were surprising 😉  There are certain parts of the story I spaced out during so I honestly don't feel like I know what happened during some of their road trip stops. The premise for this one was definitely better than the second, especially because it actually had some events and a plot to it.
I was overall pretty pleased with how the series wrapped up. I had some feelings about what may happen towards the end and they were mostly correct. So, definitely worth the read by the end, I think. Someone commented on my GR status during the second book and asked if she should continue the series if she loved the first  book. (I think I had said something about the second book not being as good.) I always think if you love a book, keep going with the series. Why not? I didn't love the first book but I definitely enjoyed it enough to see how Harper's story wrapped up. I would recommend reading these if you're interested in them.
Related Posts