In an effort to cut down on posts and burnout, my Review Roundups will feature 2-4 books I've read or listened to recently. Sometimes they're newer releases and sometimes they're all backlist titles. My ARC reviews usually get the solo treatment. Enjoy the mini reviews!
---
The Fairest Kind of Love
by
Crystal Cestari
Series:
Windy City Magic #3
Genres:
Young Adult
,
Paranormal
Published by
Disney-Hyperion
on March 5, 2019
Also by this author:
The Best Kind of Magic
,
The Sweetest Kind of Fate
,
Super Adjacent
Format:
eBook
(296 pages) •
Source:
Hoopla
Goodreads
•
Amazon
•
Barnes & Noble

"Amber! I never even thought of that! Maybe she can tell you your match."

Whoa. Now that's interesting.

Amber Sand has spent half her life solidifying other people's happily-ever-afters. As a matchmaker, she has the ability to look into anyone's eyes and see their perfect match. But lately, her powers have been on the fritz, and not only is she totally unsure whether her matches are true, she can't see anyone in the eyes of her boyfriend Charlie Blitzman. With Amber and her friends graduating high school and about to take off for various colleges, Amber is hoping to have one last carefree summer-but she's also dying to find a way to fix her powers, and learn, for better or worse, if she and Charlie are truly meant to be.

So when an online matchmaker named Madame Lamour comes to Chicago, Amber sets out to talk to her and find out who her match is once and for all. Of course, when it comes to the magical community, nothing's ever that easy, and Amber soon finds herself caught up in a breathless showdown that involves a fairy family feud and a magical-creature auction--and requires teaming up with a certain siren nemesis. Can Amber and her friends save the day one more time before setting off for their new lives? And will Amber ever learn whether Charlie is her one true love?

With tons of laugh-out-loud moments, appearances by all your favorite characters, and one totally tearful reveal, you won't want to miss a single swoony moment of this romantic conclusion to the Windy City Magic trilogy.
This series is something I would call a guilty pleasure if I believed in that term. I genuinely don't. BUT it's a whimsical, short, breezy, easy, and cute series. There isn't a lot of substance involved but I love the magical beings and seeing what Amber gets up to next! This is the final book in the series, I believe, and it's one I've remained loyal to over the past few years of new releases. I saw it on Hoopla and immediately downloaded it, of course.
Amber is gearing up to meet with a matchmaker to determine a few things – can she get her powers back and functioning properly? AND, is Charlie her soulmate? Since her abilities have gone haywire, she's been trying to figure out how to get them back and move on with her life after graduating high school. I liked that this installment involved fairies, my fave magical creature, and some of the classic elements you're familiar with (like wishing using fairy dust and having to be very specific about what you want!).
This one felt cheesier than the last two. I'm not sure if it's just because there's been enough time in between where I forgot what they were like, or if this one was genuinely a little more forced humor than the rest. It was a bit off-putting while I was reading it, even though the story made me smile.
I stand by the fact that these would make for such a great Disney TV show. (I actually don't know if I've said that before, to be honest, but let me say it now then.) Amber's shenanigans, the style of humor, the characters, the bit of magic, and the Chicago setting make for a great dupe for Wizards of Waverly Place! (I'd recommend this series for younger-YA readers / verging on middle grade in some spots. If you liked the Disney Descendants books or movies, you'd like these.)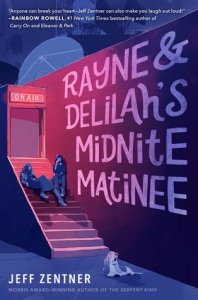 Rayne & Delilah's Midnite Matinee
by
Jeff Zentner
Genres:
Young Adult
,
Contemporary
Published by
Penguin Random House
on February 26, 2019
Format:
Hardcover
(400 pages) •
Source:
Library
Goodreads
•
Amazon
•
Barnes & Noble
A contemporary novel about two best friends who must make tough decisions about their futures--and the TV show they host--in their senior year of high school.

Every Friday night, best friends Delia and Josie become Rayne Ravenscroft and Delilah Darkwood, hosts of the campy creature feature show Midnite Matinee on the local cable station TV Six.

But with the end of senior year quickly approaching, the girls face tough decisions about their futures. Josie has been dreading graduation, as she tries to decide whether to leave for a big university and chase her dream career in mainstream TV. And Lawson, one of the show's guest performers, a talented MMA fighter with weaknesses for pancakes, fantasy novels, and Josie, is making her tough decision even harder.

Scary movies are the last connection Delia has to her dad, who abandoned the family years ago. If Midnite Matinee becomes a hit, maybe he'll see it and want to be a part of her life again. And maybe Josie will stay with the show instead of leaving her behind, too.

As the tug-of-war between growing up and growing apart tests the bonds of their friendship, Josie and Delia start to realize that an uncertain future can be both monstrous...and momentous.
The first of two book club books on here! My local YA book club that I founded picked this one to read for March. We spent the first two months of the year reading the behemoth that is ARCHENEMIES so we made our lives a little easier in March with something fluffier(ish) and shorter. I wasn't 100% keen on reading this one, if I'm being honest, but some parts of it were a pleasant surprise.
The first 40ish pages were kind of a blur, where the short chapters (meaning quick POV changes) didn't allow me to differentiate between the main characters. This changed pretty quickly, for the most part… but their voices were definitely too similar, despite the different life circumstances, so I often forgot who I was reading. I really related to Josie and her inability to make decisions that are best for HER instead of considering other people too much. I have a tendency of doing this – putting other people's happiness before myself and getting caught up in what THEY want, instead of what I want. She constantly texted Delia to manage her emotions and make her feel better, but ignored what was in front of her at that time. I totally connected with this even though it was so frustrating to read (so yeah, I don't love this about myself).
I'm not a horror movie/book kind of gal so the references were out of my wheelhouse, but the concept of them working on a late night show was really fun. I loved Lawson SO much; he was such a unique person with unexpected hobbies and interests. Like the synopsis says, he was an MMA fighter who loved pancakes and fantasy books. So random and so cute. I'll admit that I laughed out loud multiple times with some of the jokes and banter (especially when they eviscerated people with their back-and-forth – it reminded me of my relationship with a friend back in high school).
All in all, I did end up liking this more than expected. The ending, Delia's relationship with her mom, and Lawson (everything about him) were highlights for me. My biggest gripe is that this felt like it was trying too hard to be John Green. It tried to pack an emotional punch without actually having one, in my opinion. I didn't find this to be sad or hard-hitting or feelsy even though it was DEFINITELY trying too hard to be all of those things.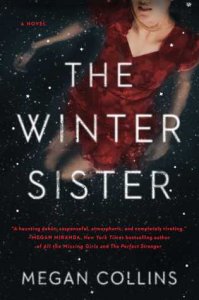 The Winter Sister
by
Megan Collins
Genres:
Adult
,
Mystery/Thriller
Published by
Simon and Schuster
on February 5, 2019
Also by this author:
Behind the Red Door
Format:
Hardcover
(320 pages) •
Source:
Borrowed
Goodreads
•
Amazon
•
Barnes & Noble

In this spellbinding and suspenseful debut, a young woman haunted by the past returns home to care for her ailing mother and begins to dig deeper into her sister's unsolved murder.

Sixteen years ago, Sylvie's sister Persephone never came home. Out too late with the boyfriend she was forbidden to see, Persephone was missing for three days before her body was found—and years later, her murder remains unsolved.

In the present day, Sylvie returns home to care for her estranged mother, Annie, as she undergoes treatment for cancer. Prone to unexplained "Dark Days" even before Persephone's death, Annie's once-close bond with Sylvie dissolved in the weeks after their loss, making for an uncomfortable reunion all these years later. Worse, Persephone's former boyfriend, Ben, is now a nurse at the cancer center where Annie is being treated. Sylvie's always believed Ben was responsible for the murder—but she carries her own guilt about that night, guilt that traps her in the past while the world goes on around her.

As she navigates the complicated relationship with her mother, Sylvie begins to uncover the secrets that fill their house—and what really happened the night Persephone died. As it turns out, the truth really will set you free, once you can bear to look at it.

The Winter Sister is a mesmerizing portrayal of the complex bond between sisters, between mothers and daughters alike, and forces us to ask ourselves—how well do we really know the people we love most?
Aaaand now the second book for a book club. My coworker and I decided to join in at a local brewery for an author signing/meeting and discussion, hosted by a book store called Book Club (good lord, using those words too many times!). She bought the book and I borrowed it, since my library version was due right before the meeting.
This was a bit underwhelming, if I'm being perfectly honest. The book itself got quite addicting after the first 40% or so, but I figured out the ~mystery~ around the 50% mark. The rest was just racing to see how correct I'd be and some of the motivations behind it. I had a few theories but the one that stood out the most ended up being true. Usually I get an inkling and can't think of how that person is connected, but it felt so obvious to me. The red herrings were so obviously red herrings. There were a few other elements that intrigued me (like her mother's Dark Days) that were definitely things I didn't see coming, so that was nice.
Other than the mystery itself being a bust, the writing was pretty good. Sylvie was an extremely frustrating character with zero personality (I guess that was kind of the point, since she skated through life after her sister's murder – understandably). I can't imagine what it's like to be in that position, but I still hated how quickly she jumped to certain conclusions and raced off before hearing certain things out.
Overall, I didn't love this one. I think the mystery was too easy and obvious for me. The decent writing and "hook" after the initial info-dump from the past was solid, which kept me invested and reading most of it in one sitting.
---
I'll Be There for You: The One about Friends
by
Kelsey Miller
Genres:
Nonfiction
Published by
Harlequin
on October 23, 2018
(305 pages) •
Source:
Hoopla
Goodreads
•
Amazon
•
Barnes & Noble

This definitive retrospective of Friends incorporates interviews, history and behind-the-scenes anecdotes to offer a critical analysis of how a sitcom about six twentysomethings changed television forever

When Friends debuted in 1994, no one expected it to become a mainstay of NBC's Must See TV lineup, let alone a global phenomenon. In the years since, Friends has gone through many phases of cultural relevancy, from prime-time hit to 90s novelty item to certified classic. Ross, Rachel, Monica, Chandler, Joey, and Phoebe have entered the pantheon of great television characters, and millions of people around the globe continue to tune in or stream their stories every day.

I'll Be There for You is the definitive retrospective of Friends, exploring all aspects of the show from its unlikely origins to the elusive reasons why we still watch it. Journalist and pop culture expert Kelsey Miller relives the show's most iconic moments, analyzes the ways in which Friends is occasionally problematic and examines the many trends it inspired, from the rise of coffee-shop culture to Friendsgivings to the ultimate 90s haircut, the Rachel.

Weaving incisive commentary, revelatory interviews and behind-the-scenes anecdotes involving high-profile guest stars, I'll Be There for You is the most comprehensive take on Friends, and the ultimate book for fans everywhere.
When I decided to DNF Enchantee, I picked another quick audiobook to catch up on what I felt was "lost time." I was extremely interested AND hesitant to try this books, as the show Friends is something near and dear to my heart for about a million reasons. I am SUPER protective over this show, my love for it, and my general feelings about the entire thing. I knew this book would either (a) make me so happy, thinking about my favorite thing, or (b) piss me off so much because the author really doesn't love the show as much as me and I'm bitter about that kind of thing all the time. I mean, I have CRIED at a New Years party because of how much I love Friends and how much it means to me.
The beginning of the book (the forward or intro by the author) was fine – she talked about watching the show and enjoying it, how she made it a part of her life and each day. I definitely felt my guard going up a little bit at this point. After that part, she launches into the history of the show itself and its creation: the careers of the directors, how they landed on the show, the cast members and their journeys to the show, etc. It was all pretty interesting! I knew quite a few details already, but it was laid out really well. I liked learning about the cultural moments and movements that happened while the show was airing as well. Because I was too young to watch and didn't really attempt to watch until I was around 8 years old (1997ish) with my mom (pretending I couldn't fall asleep and laying next to mom on the couch and secretly listening to the show), I wasn't ever aware of what was happening BECAUSE of the show. I knew of the Rachel haircut and the Windows CD with Rachel/Chandler but I didn't know about the Diet Coke Super Bowl ad or how the viewership/ratings could go up and down. It was nice to get backstory I wasn't aware of at the time and wouldn't necessarily know through my trillon watches of the show in the last 15-20 years.
I was a bit nervous to hear about the issues the show brings up, like the lack of minority characters (in NYC of all places??) and its treatment of LGBT people over the years.. This is not because I want to bury my head in the sand about these problematic areas, but because I wasn't sure what the author would say. Would she gloss over them too much? Make light? I think she did a thoughtful job of addressing the backlash (especially now in 2019), explaining the popular culture at the time, and not making excuses for the show. I'm fully on board with that kind of thoughtful criticism of something I love! I recognize fully that the show has a lot of problematic areas that I didn't notice when I was a kid. I cringe sometimes still when watching, even though I know what's coming. The main takeaway is that most of the issues that we hate now with the show were products of their time. They had the ability to NOT do them in the late 90s or early 00s, but they did them like everyone else did. There was a really good passage from someone on this but listening to the audiobook didn't enable me to write it down; I'll try to track it down and add it later.
Overall, this really is just a chronological history and "behind the scenes" of the show, highlighting cultural moments at the time of each season or certain episodes. It's awesome to see the impact that Friends had on the world, back then when it was airing new episodes AND now as it continues to gain momentum and see new fans starting to watch. It's not exactly a love letter to the show, which is a good thing for someone like me, but it touches on why I love it and taught me about that time when I was too young.
Related Posts