I received this book for free (hey, thanks!) in exchange for an honest review. I promise that this does NOT affect my opinion of the book or the content of my review. For real.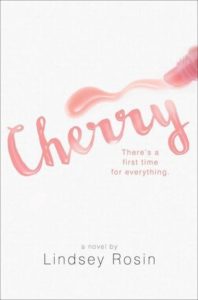 Cherry
by
Lindsey Rosin
on August 16th 2016
(400 pages) •
Goodreads
•
Amazon
•
Barnes & Noble

In this honest, frank, and funny debut novel, four best friends make a pact during their senior year of high school to lose their virginities—and end up finding friendship, love, and self-discovery along the way.

To be honest, the sex pact wasn't always part of the plan.

Layla started it. She announced it super casually to the rest of the girls between bites of frozen yogurt, as if it was just simply another addition to her massive, ever-evolving To Do List. She is determined to have sex for the first time before the end of high school. Initially, the rest of the crew is scandalized, but, once they all admit to wanting to lose their v-cards too, they embark on a quest to do the deed together... separately.

Layla's got it in the bag. Her serious boyfriend, Logan, has been asking for months.
Alex has already done it. Or so she says.
Emma doesn't know what the fuss is all about, but sure, she'll give it a shot.
And Zoe, well, Zoe can't even say the o word without bursting into giggles.

Will everything go according to plan? Probably not. But at least the girls have each other every hilarious, heart-warming, cringe-inducing step of the way.

From debut author Lindsey Rosin, Cherry is a coming-of-age, laugh-out-loud tale of first times, last chances, and the enduring friendships that make it all worthwhile.
Initial Excitement
I was sooooo excited for this book when I saw the premise. American Pie for girls? RIGHT up my alley. Of course the lovely Andi let me borrow her copy and I embarked on it pretty quickly. I love stories with sex-positive themes, and this book was literally nothing but sex-positivity throughout. The entire theme of the book!
Summary in a Second
Four best friends – Layla, Emma, Zoe, and Alex – form a sex pact to lose their virginities by the time they graduate high school. They've got less than 200 days to do it and the book counts down with each chapter. The girls have different relationship statuses at the time and their stories unfold in very different ways. I loved seeing the various types of relationships, situations, and feelings regarding losing your virginity.
Storytelling & Setting
The story was told from each girl's perspective but in 3rd person. It was hard to really get close to them even though we were kind of in their head a little bit? In any case, I liked getting all of their perspectives because they each had different approaches to losing their virginity. Each had a completely different experience as they all started losing it too. The story was pretty much 80% about sex and the other 20% was them talking about their friendship and moving on after graduation. I would definitely say romance/relationships weren't even at the forefront necessarily. I loved that because each girl had a different experience, there were lots of different kinds of relationships explored as well.
About those Characters
Layla is the creator of the pact because she's a major planner and organizer. She wants to just tick the box off her to-do list. She also has a long term boyfriend, Logan, so she thinks it'll be no big deal. I liked her because I definitely related to her in quite a few ways. I tend to plan things times a million.
Emma was not a memorable character for me except for how her story turned out. I don't like to spoil romance in general so I'll keep it spoiler-free. She had a really great journey while it was happening but I can't think much about her personality?
Zoe is super awkward about anything sex-related and is just now growing into her boobs. She's curious, excited, and hesitant all at once.
Alex supposedly has already done it, but she soon admits that it didn't actually happen. She's known around school for making out with a lot of guys and she doesn't think it'll be too hard to lose it for real.
All the Feels
This brought me right back into high school and reminded me a lot of my friendships. These girls were super honest with each other for the most part and talked about lots of "taboo" sexual things. Girls are not supposed to masturbate or feel like sexual people – in society's mind – so this book seriously broke that down like nobody's business. I loved hearing their frank conversations about all of these things.
Beyond the sex stuff, the book was super real. The friendship between the four of them felt natural and familiar. There were struggles about graduation and leaving each other behind, like all close friends deal with during their senior year of high school.
So, What's the Problem?
The characters themselves didn't leave an impact on me. I barely remember anything about each of them and don't think enough focus was given on their actual personalities. Zoe had frizzy hair and blushed a lot. Layla was a perfectionist and a planner. Emma was… in the yearbook club? Alex was known for making out with a lot of guys. I really, truly couldn't tell you much more about each girl. Again, I love that they each had different experiences when going through the process of losing it, but I don't want to spoil what that was.
Another issue was that this book was super predictable. I knew exactly who the girls would all end up with within the first few chapters, even if it may not have been obvious to them at the time. Not sure if others who read this would have the same issue; maybe I'm just THAT good at figuring out contemps now 😉
About that Ending
Parts of the ending felt rushed but I was overall happy with how things turned out. I loved where each girl ended up – and who they ended up with! Again, predictability was a problem at the end. I won't spoil it but I did predict who each girl would pair off with, even though there were lots of changes in the middle/end.
TL;DR?
I loved this book for its sex positivity and friendship feels, but wish the characters were even more developed. There was a lot of predictability but still an overall enjoyable book. I promise you've never read a YA contemporary quite like this one. If the synopsis intrigues you, I don't think you'll be disappointed!
Quick & Dirty
Describe it in a word: sex-positive
Recommended for readers who: want a unique story
Drink this beverage Eat with it: frozen yogurt
Recommended overall? yes!
Thoughts in a Gif
Rating Breakdown
| | |
| --- | --- |
| Plot & Premise | |
| Characters | |
| Writing Style | |
| Pacing & Flow | |
| Feels or Swoons | |
| Addiction Level | |
| Overall: | 3.9 |
Related Posts