I love finding new authors and reading books that I may not usually pick up… but there's something comforting about reading a book by one of your all-time favorites. You know how exciting it is when you find out they're releasing a new book! But I was thinking that I have so many authors I consider to be FAVORITES even though I may not have LOVED every single one of their books. Does this happen to anyone else?? I've read most of the books by my favorites but there are a few authors I'm quick to say "YES MY FAVE" but I actually didn't love every one of their books. It makes me wonder what qualifications I have for determining who is a favorite.
Didn't Love Em All
Miranda Kenneally
Loved or really enjoyed these: Catching Jordan and Breathe, Annie, Breathe are my absolute favorites by MK. I could see myself rereading and revisiting them for sure. Jesse's Girl and Defending Taylor come somewhat close behind. These stories are the ones that keep me reading the series without question.
Didn't like or felt meh about these: I have issues reading about religion in books, so Stealing Parker and Things I Can't Forget were not favorites of mine. I didn't mind Racing Savannah but it just didn't have enough OOMPH for me to really love it, or want to move it to the other category. It was hard to read the first two here but I powered through because I love the series as a whole and want to keep reading MK books!
Liane Moriarty
Loved or really liked these: The Husband's Secret was my first and favorite Liane Moriarty book. I made sure to add literally all of them to my TBR afterwards. This unfortunately meant a lot of them needed to live up to my lofty expectations! The twist at the end made me expect a crazy twist in each book, but that never happened. What Alice Forgot was pretty good as well, but not as good.
Felt meh about these: Big Little Lies was the second Liane Moriarty book I read and I was somehow able to predict the crazy twist, so it didn't leave a big impact for me. Truly Madly Guilty was kind of interesting and I loved the setup, but there was basically no twist at all. Just not in the same ballpark as her others!
Sarah Dessen
Favorites of them all: I recently read (Saint Anything) and reread some Sarah Dessen books, but have been leaving some of my all-time favorites for last. Maybe I'm nervous they won't hold up or maybe I'm just saving the best for last. I hope to get to The Truth About Forever, This Lullaby, and Along for the Ride really soon.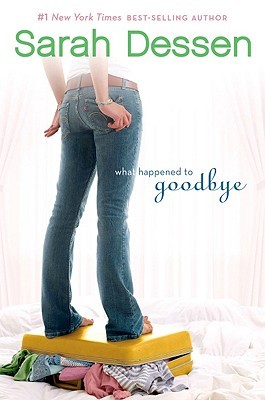 Loved these: What Happened to Goodbye always left a lasting impression for me plot-wise, so I was happy to revisit it recently and love it just as much. Colby is the best setting of Dessen's books, so I knew I would love Keeping the Moon all over again as well. I remember really liking or loving Someone Like You but it's been a long time since I read it. Just Listen was another recent reread that I enjoyed.
Haven't read these (I think): These two don't really ring a bell when I think back on Sarah Dessen books I've read. There is a chance I read Lock and Key but I'm fairly positive I haven't read Dreamland.
Didn't like these: I was so surprised that I DNFed a Sarah Dessen book, but The Moon and More was not for me. I don't have an issue with love triangles per se, but this one was ridiculous and frustrating to me. I saw a spoiler for how the book ends, which made me feel better, but I was just so angry about the character's actions I couldn't continue. That Summer wasn't great or terrible; it was a quick read but I just felt like nothing happened.
Didn't Read Em All
As you saw the other day, I always hoard books by my favorite authors for a rainy day. I love knowing that I have one guaranteed favorite, safe and fluffy book to read by them. Morgan Matson, Kasie West, and Jenny Han are some, to name a few. I already talked about this at length but I always feel like an imposter when I'm like oh yeah, that's one of my favorite authors but I haven't even read all their books yet. Come on girl.
When do you consider an author your favorite?
Do you still call them that when you didn't
completely love all of their books?
Related Posts