When Cristina and I discussed our new mini feature, Book Buddies Ask, we decided to start with the Sarah Dessen novels we both planned on reading or rereading this summer. Our first question debuted over on my review of Saint Anything (and hers!). I decided to reread Just Listen when she told me she was on the blog tour, but am still working my way through it. This post was inspired by the strong musical elements of the novel, as well as some general thoughts about it.
"A song can take you instantly back to a moment, a place, or even a person. No matter what else has changed in you or the world, that one song stays the same, just like that moment."
---
When I read Hannah's post last week about memories tied to music, I thought it would be a great way to discuss Just Listen. I started spiraling through Spotify and making my own memories-related playlist. I listened to it all day at work and reflected so much on different memories in my life. I don't think I got much work done, but what else is new. Like her, I don't really consider myself to be a crazy music person. There are actually plenty of days where I don't listen to music at all, thanks to my addiction to audiobooks. I will say that there will always be songs that make me crank up the volume when I catch them on the radio. (Namely, most classic rock songs.) Check out her awesome post here!
The biggest muscial memory (that of course isn't on Spotify)
I got my license as soon as I legally could. I have extremely vivid memories of driving down the main road that brought me from my mom's house to my dad's house, listening to Taylor Swift's debut CD with the windows down. I screamed "Our Song" the whole way, smiling because I felt so independent. Driving my car alone for the first time and listening to this CD will always be a special memory for me. It's the only thing I can think of when I hear any song off of this album. I would definitely have added it to my playlist if she didn't pull all of her music off of Spotify. I just had to share this one regardless!
The music that takes me right back
You're not sure that you love me / But you're not sure enough to let me go
Baby it ain't fair you know / To just keep me hangin' 'round
Leave the Pieces by The Wreckers |This song has always been relevant to me. I remember singing this with an old friend all the time because we kept getting screwed over in high school. I have listened to it over the years because I'd been jerked around so many times by one particular person.
---
But now my last wish / Is that you do this with me
Kiss me here and hold my hand
Let me feel like I'm the only one / I know you can
Won't you do it for me now
Do It For Me Now by Angels & Airwaves | I hate to include ex-boyfriend memories here, but it's too strong of a memory to resist. I went to the local Four Town Fair one night with a few of my friends and brand new boyfriend. We left early, went to a park, and then the girls had a campout on my friends deck afterwards. I remember being so giddy about my new relationship that I listened to this song on repeat until I fell asleep.
---
Baby it's you / You're the one I love
You're the one I need / You're the only one I see
Love On Top by Beyonce | My friend from college was obsessed with Beyonce – especially this song – and we have a lovely video of her dancing on a table to this. She was screaming the lyrics, still dressed in "professional" clothes from a conference, and was (surprisngly) very sober at the time.
---
Here I am waiting / I'll have to leave soon / Why am I holding on?
We knew this day would come / We knew it all along / How did it come so fast?
This is our last night but it's late /And I'm trying not to sleep
Cause I know, when I wake, I will have to slip away
Daylight by Maroon Five | This song came out right around the time I was graduating college. I vividly remember eating late night (early morning?) pizza the night before our graduation ceremony. We listened to this song and all cried about he impending graduation together. The lyrics are just so perfect for how we were feeling at the time!
---
I'm gonna pop some tags / Only got twenty dollars in my pocket
I'm hunting, looking for a come-up / This is fucking awesome
Thrift Shop by Macklemore | My friend has a tendency of discovering music before everyone else, so we were all listening to this on repeat a few years ago on New Year's Eve. Hearing this song still reminds me of the fun times we had up at his house in Maine that night. I came home from the trip and listened to it on repeat.
---
Baby you got, you got, you got, you got what I want
Baby you got, you got, you got, you got what I need
Baby You Got by G-Unit | My best friend and I had the most amazing summer one year while I was home from college. We drove around nonstop, went to some parties with friends, and bought Young & Reckless hats that we wore everywhere. We had a few mixed CDs (with very interesting names, I must say…) and every one of those songs reminds me of driving around with her, slurpees in the cupholders. This song is the epitome of those days for me.
---
Play me a song Curtis Loew, Curtis Loew
I got your drinking money, tune up your dobro
People said he was useless, them people are the fools
Cause Curtis Loew was the finest picker to ever play the blues
The Ballad of Curtis Loew by Lynyrd Skynyrd  | Anything by Lynyrd Skynyrd or Led Zeppelin generally reminds me of my parents, but this song reminds me of driving around with my dad. It's a pretty sad song, but I just picture the two of us driving and singing.
---
It's gonna burn for me to say this / But it's coming from my heart
It's been a long time coming / But we done been fell apart
Really wanna work this out / But I don't think you're gonna change ya
I do but you don't / Think it's best we go our separate ways
Burn by Usher | I'm kind of cheating because this is another memory with my best friend that involves singing in the car. We were headed to our friend's new apartment and we turned this up to the literal highest volume setting. We belted it out like crazy and refused to exit the car until it was complete.
---
Cornbread and butterbeans and you across the table
Eatin' beans and makin' love as long as I am able
Growin' corn and cotton too and when the day is over
Ride the mule and cut the fool and love again all over
Cornbread and Butterbeans by Carolina Chocolate Drops | Chris and I went to Charlotte for the first time in December 2013, to complete my lifelong dream of watching a Panthers game in their home stadium. We went to a concert the night before, at the coolest venue ever, and saw the Carolina Chocolate Drops. We were staying with my friend's parents down there and they had tickets, so we went on a whim! I looooved this song and it'll always take me back to that night and trip.
---
It's understood, I said it many ways
Too scared to run, I'm too scared to stay
I said I'd leave, but I could never leave her
And if I did, you know I'd never cheat her
Dumpweed by Blink-182 | It was always my dream that Blink-182 would get back together and make music again. The night they announced their reunion at the VMAs was easily one of the best moments I can remember. Of course, when they went on tour, I went to see them with the most excitement ever. I kept saying "I really hope they open with 'Dumpweed'" – and they did! It was awesome and I always think of that when I hear the song, especially the music at the very start.
---
On your mark ready set let's go / Dance floor pro I know you know
I go psycho when my new joint hit / Just can't sit / Gotta get jiggy wit it
Gettin' Jiggy With It by Will Smith | I have two very distinct memories for this song. One involves my dad and I dancing to this when my parents first got divorced, when I apparently was able to force him to listen to rap. The second one involves a hot guy at a college party dancing like a weirdo to this song, and my friends and I cracking up. Overall, classic song with many memories.
---
I wear my scars like the rings on a pimp
I live life like the captain of a sinking ship
Godlovesugly by Atmosphere | I became a huge Atmosphere fan a few years ago, and this song always reminds me of the concerts. We've been to two: one of them was at a waterfront concert venue in Boston, and the second was in a SUPER small venue in Albany. We actually met Slug, the lead singer, in the line waiting to get inside. He always alters this song during the concert to include some sing-a-long-style chanting, so this one in particular brings back concert memories.
---
In December drinking horchata / I'd look psychotic in a balaclava
Winter's cold is too much to handle / Pincher crabs that pinch at your sandals
Horchata by Vampire Weekend | This song reminds me of the funniest morning of my entire life. After an incredibly ridiculous night visiting my friend at college with a coupe of our guy friends, we woke up to some insane (hungover) antics from one of my friends. He was singing this song with different things based on the lyrics, like "In December drinking Horchata" became "In May drinking martinis" and other things. Among other things, this morning was hilarious.
---
Looking good plenty tight / Tell me is there any more room for me / In those jeans
In Those Jeans by Ginuwine | The summer before Chris and I started dating included some incredibly fun times driving around with one of our friends. We would always listen to throwback songs like this one and "Seven Days" by Craig David. It was so much fun and reminds me of the start of my relationship with Chris.
---
Pour me somethin' tall and strong / Make it a Hurricane before I go insane
It's only half-past twelve but I don't care / It's five o'clock somewhere
It's Five O'Clock Somewhere by Alan Jackson | This song reminds me a lot of my senior year of college, but I always think of the alumni weekend where we had a million visitors staying in our townhouse. We had some alumni, as well as four of my friends from home. I remember lots of beverages, gorgeous weather, and fun when I hear this song.
The rest of my playlist of memories will be shared and discussed at a later date! I got a little carried away with the playlist…
---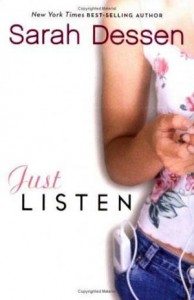 Just Listen
by
Sarah Dessen
Genres:
Contemporary
,
Young Adult
Published by
Penguin
on April 6th 2006
Also by this author:
That Summer
,
Saint Anything
,
What Happened to Goodbye
,
Keeping the Moon
,
Lock & Key
,
Along for the Ride
,
Someone Like You
,
Once and for All
,
The Rest of the Story
Format:
Audiobook
(371 pages) •
Source:
Owned
Goodreads
•
Amazon
•
Barnes & Noble

Last year, Annabel was "the girl who has everything" — at least that's the part she played in the television commercial for Kopf's Department Store.

This year, she's the girl who has nothing: no best friend because mean-but-exciting Sophie dropped her, no peace at home since her older sister became anorexic, and no one to sit with at lunch. Until she meets Owen Armstrong.

Tall, dark, and music-obsessed, Owen is a reformed bad boy with a commitment to truth-telling. With Owen's help, maybe Annabel can face what happened the night she and Sophie stopped being friends.
I loved revisiting Just Listen this month. It was a perfect way to continue rolling through Sarah Dessen rereads for the summer. There's something about her work that just grabs you and doesn't let you go. This book was no exception. I did a mix of physical book reading and audiobook listening, which is always my favorite mix for Sarah Dessen books.
"Book Buddies Ask" is a feature I do with my Book Buddy Cristina from Girl in the Pages! While we do an in-depth buddy read every-other month, we decided it would be fun to ask fun little questions for other books we read together more casually! These questions are inspired by fun little elements from the book.
What is a musical group/artist that a friend or significant other got you into that you had never previously discovered?
My boyfriend has definitley given me some new music to listen to, but I think I've impacted HIS listening habits even more! He listens to mostly underground hip hop. He got me into artists like Intuition and Odd Future/Tyler the Creator. His music tastes depend a lot on whatever mood he's in. Since I listen to pretty much only classic rock, he started listening to that too. His favorite band is now Queen, and he definitely has me to thank for that addiction. He even listens to more Queen than I do! We usually always put classic rock on when we're together in the car.
Related Posts